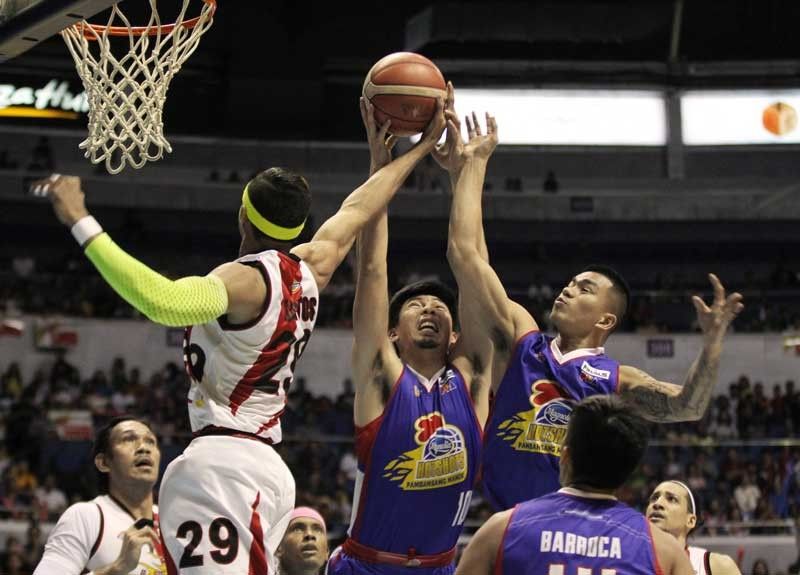 Arwind Santos of San Miguel (left) disputes the rebound with Ian Sangalang and Jio Jalalon of Magnolia last Sunday. The Beermen forced Game 7 with a 98-86 win.
Jun Mendoza
Olmin Leyba
(The Philippine Star) - May 14, 2019 - 12:00am
SMB, Magnolia prepare for Game 7
Game on Wednesday (Smart Araneta Coliseum)
7 p.m. – San Miguel vs Magnolia
Series tied, 3-3
MANILA, Philippines — Game Seven may be familiar ground for San Miguel but the battle-hardened Beermen insist they don't have the monopoly of experience in the PBA Philippine Cup title showdown with Magnolia, the challenger that is equally motivated to come out victorious in this protracted dispute.
"I don't think experience will be the biggest factor here," said SMB veteran Arwind Santos ahead of tomorrow's winner-take-all.
The Beermen hurdled a sudden death during the 2016 All-Filipino tournament, completing a famous fightback from a 0-3 deficit against Alaska to pull off what became famously known as the "Beeracle."
The fact that the Hotshots came off their own championship run in the 2018 Governors' Cup, and had gutsy rallies in the elims, quarters and semis of the current conference should give them strong points in the area of experience, according to Santos.
"If you look at it, they have championship experience and they have already proven themselves, too. It will really be about the effort now – how aggressive you are, how intent you are to defend and stop the opponent, how much you want to get the rebound, those things. Whoever wants it more, whoever is more focused, that's the one who will win Game Seven," he said.
June Mar Fajardo concurred.
"We can't say we have the advantage in experience because Magnolia also has a lot experience; they just won a championship. So there's really no advantage, it's all cancelled out," said the reigning Best Player of the Conference.
Rafi Reavis, the most seasoned not only in the Magnolia camp but also on either side with 11 rings, expressed readiness to go to the final reckoning.
"We're ready and we're happy to be here. We don't have anything to lose," said the 41-year-old Reavis. "I guess it would come down to who wants it more."
The Hotshots remained upbeat despite getting blown away in Game Six, 86-98, and being foiled of their coronation plans.
"It boils down to one game, do-or-die. We're still positive. The good thing was even if we blew our first opportunity, we have another opportunity on Wednesday so we'll grab it," said Magnolia coach Chito Victolero.
The Hotshots are looking to make it as Phl Cup champs after losing to the Beermen in five games last year.
Notes: As San Miguel made its way towards the exits after its Game Six victory, Arwind Santos huddled his teammates and pointed to the balloons on the Big Dome's rafters set up for a Magnolia celebration. "I told them those balloons should fall in celebration of our championship, not theirs (Magnolia's)," said Santos. "In a way, they gave us some scare because they were one win away. Fortunately we were able to stop their balloons from falling."...June Mar Fajardo, the primary victim of the "Spiderman" incident, is ready to forgive the fan who accidentally hit him on the jaw in Game Five. "I hope they release him from jail. I hope he won't get a harsh punishment," the Gentle Giant said of "Spiderman" who spent the weekend in detention and faces alarm and scandal raps from the PBA.