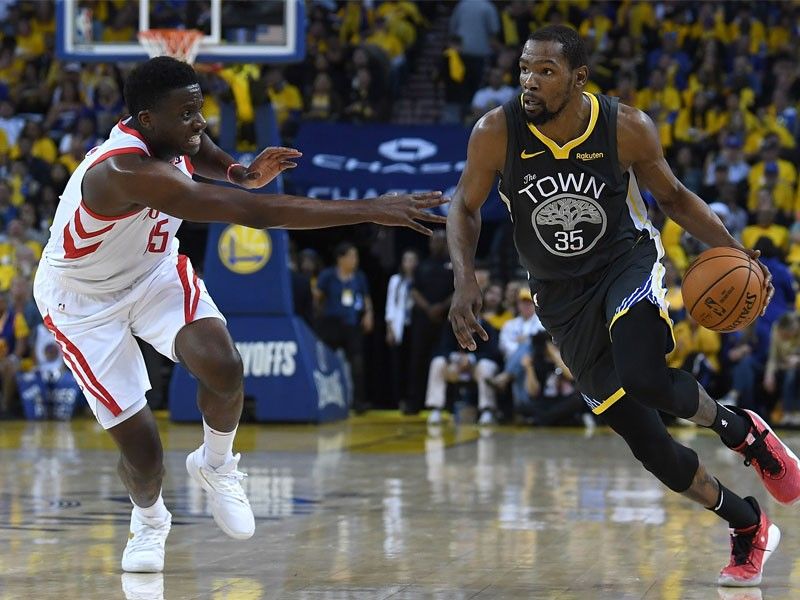 Kevin Durant of the Golden State Warriors drives on Clint Capela of the Houston Rockets in Game Two of the Second Round of the 2019 NBA Western Conference Playoffs at the Oracle Arena on April 30, 2019 in Oakland, California.
Thearon W. Henderson/Getty Images/AFP
Warriors hold off Rockets for 2-0 series lead
(Agence France-Presse) - May 1, 2019 - 2:32pm
LOS ANGELES – Kevin Durant scored 29 points and Klay Thompson added 21 on Tuesday (Wednesday Manila time) as the Golden State Warriors downed the Houston Rockets, 115-109, in a bruising NBA playoff clash.
The reigning champions never trailed, but they had to battle to the end to take a 2-0 lead in the best-of-seven Western Conference second-round series, which shifts to Houston for game three on Saturday.
Both teams had injury scares in the first quarter, when Houston's 2018 NBA Most Valuable Player James Harden departed with a left eye injury after he was inadvertently swiped in the face by Draymond Green as they battled for the ball.
Warriors guard Stephen Curry left briefly with a dislocated middle finger on his left hand, returning with it taped up before the quarter ended.
Harden returned in the second quarter, but appeared to feel discomfort from the injury during the game, sometimes squinting in the bright lights.
"He got raked pretty good in the eyes," Houston coach Mike D'Antoni said of Harden, who finished with 29 points — including 13 in the fourth quarter. "I'm sure he would have loved to have played better, but under the circumstances I thought he played great."
D'Antoni said he knew Harden would return to the contest unless the injury was "catastrophic" but even with their superstar on the court the Rockets couldn't find a way past the Warriors.
"Tonight we just stayed the course," Thompson said.
Houston trimmed a 15-point deficit to three points in the fourth quarter, but their 18 turnovers, leading to 24 Warriors points, were ultimately too costly.
Curry helped the Warriors' cause with 20 points and Green contributed a double-double of 15 points and 12 rebounds along with seven assists.
"We had our chances toward the end," D'Antoni said. "They made big plays."