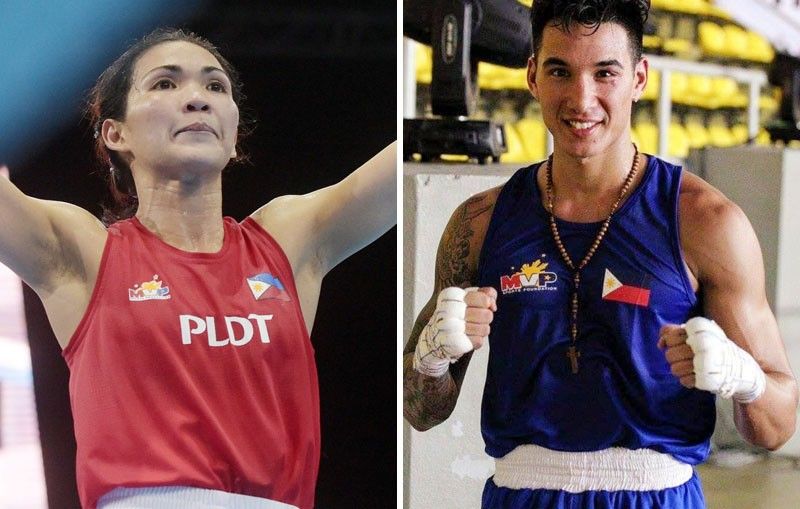 Josie Gabuco, John Marvin
WWW.INSTAGRAM.COM/JOHNMARVIN
ABAP gives boxers 7-of-10 rating
MANILA, Philippines — ABAP secretary-general Ed Picson yesterday commended the Philippine team for its gutsy showing at the recent Asian Boxing Confederation (ASBC) elite championships in Bangkok but gave the group of seven men and three women a rating of no more than 7 in a scale of 1 to 10. It was Picson's way of challenging the fighters to exceed expectations in future events leading to the SEA Games here late this year. The Philippine delegation returned home last night.
Lightflyweight Josie Gabuco, 32, struck gold for the country while lightheavyweight John Marvin, 26, took the silver and bantamweight Ian Clark Bautista, 24, settled for the bronze. Falling a win short of making the semifinals were lightflyweight Ramel Macado, 23, flyweight Marvin Tabamo, 22, welterweight Joel Bacho, 26 and bantamweight Nice Zzaa Petecio, 24. Struck out in their first action were lightweight Jeorge Edusma, 23, lightwelterweight Sugar Rey Ocana, 22 and featherweight Nesthy Petecio, 26.
Picson pointed out that the Philippines dominated the SEA countries in the competition with host Thailand sending only one finalist in the women's division. Vietnam was the only other SEA country in the finals with two women. "That could be an indication of how things will be in the coming SEA Games," he said. "Thailand was livid because as host nation, only one Thai fighter went to the finals. But they're in the process of overhauling their team. Thai anchor Chatchai Butdee, a two-time Olympian who's now 34, didn't make it to the bantamweight semis. But 2014 Asian Games gold medalist Wuttichai Masuk didn't participate as he came from competing in Germany two weeks before. We can't be sure which Thai fighters will show up for the SEA Games."
Picson said the Filipino overachievers in Bangkok were Marvin, Macado and Tabamo. "We expected Josie to win but John, Ramel and Marvin surprised us," he said. "John was competitive in the finals against Kazakhstan and although he lost 5-0, showed he can hold his own. Ramel suffered a cut after a clash of heads in the quarterfinals and couldn't go on. Marvin lost a disputed decision to Japan in the quarters. Ramel and Marvin are in Team B. They went to Bangkok as replacements for Carlo Paalam and Rogen Ladon. It was a gamble. But they both won two fights and were impressive."
Nesthy was the underachiever although Picson said it was understandable. "She trained only two to three weeks as she was busy with her graduation at the University of Baguio last month," he said. "Still, we expected more from her. Nesthy's sister Nice came out of a three to four year layoff after getting married and giving birth. She rejoined our pool only this year."
Ocana and Macado were the hard-luck guys, noted Picson. "Rey was doing well against Japan until he was cut from an accidental headbutt and the fight was stopped in the first round," he said. "Rey had beaten the Japanese (Daisuke Narimatsu) in Indonesia before so we were confident of winning. Ramel was also cut in the quarters. So there was no closure in both fights. We lost by stoppage but would they have won if the fights went the distance? On the first day of competitions, there were 12 incidents of cuts because of head clashes and coaches blamed the absence of headgear."
In all, the Philippine delegation posted a win-loss record of 12-9. At the previous ASBC championships for men in Uzbekistan and women in Vietnam two years ago, the Philippines came home with only two bronze medals. This year, the harvest was a marked improvement.
Picson said the focus is to prepare the fighters for the SEA Games. "We're participating in the Indian Open next month and arranging a two to three-week camp in India," he said. "We're also planning a two to three-week camp in Uzbekistan. There are several more competitions ahead like the World Championships in Ekaterinburg, Russia, on Set. 7-21. We'll study all the options available."
In the SEA Games, the Philippines will field eight male and five female fighters. The shoo-ins are middleweight Eumir Marcial, Marvin and Gabuco. Paalam and Macado are the lightflyweight contenders while Ladon and Tabamo will dispute the flyweight slot. Bautista and Mario Fernandez are the bantamweight aspirants. Other hopefuls are James Palicte and Edusma in the lightweight class, Ocana and Ronald Chavez Jr. in the lightwelterweight division and Bacho and Marjon Pianar in the welterweight category. In the female division, flyweight Irish Magno, bantamweight Aira Villegas, the Petecio sisters and lightweights Carolyn Calungsod and Analyn Velasco are the leading candidates.