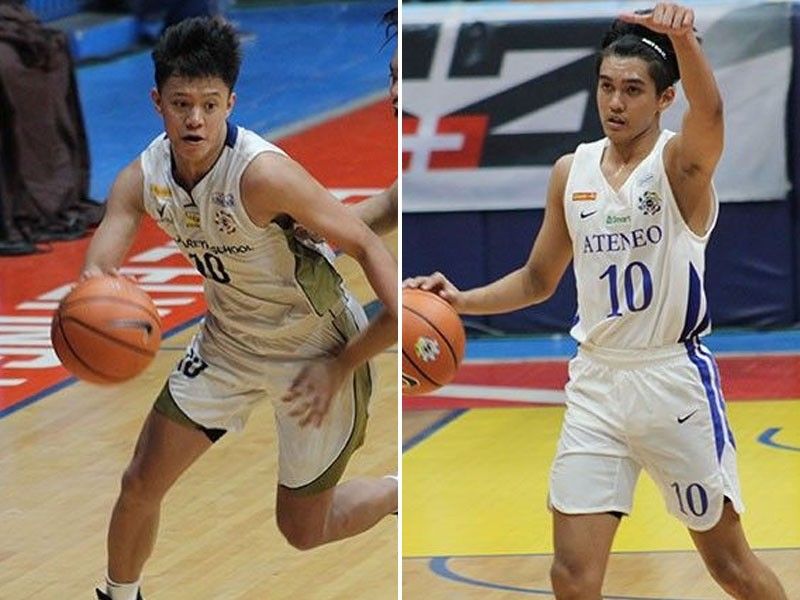 NU's Terrence Fortea and Forthsky Padrigao of Ateneo.
Philstar.com/Luisa Morales
UAAP Juniors Finals Game 2 preview: Coronation or extension?
MANILA, Philippines – Is today the coronation for the National University Bullpups? Or will Ateneo live to fight another day?
What must NU do to wrap up this title series and bring back the trophy to Sampaloc?
NU for the first time in three matches did not play Ateneo physical. They showed that they do not need to resort to that kind of play to win. After all, they have the personnel to defeat Ateneo.
It was the strong play of Gerry Abadiano and Ernest Felicida that helped them to an early lead especially when Terrence Fortea was saddled with fouls.
Kevin Quiambao and Cyril Gonzales must remain their unpredictable selves who can score from inside and out. And Carl Tamayo's ability to hit the outside shot stretch Ateneo's defenses further out.
I am really not surprised that NU head coach Goldwyn Monteverde went with a shorter rotation. In a series like this, he needs his main men to play well and they all responded to the challenge.
What must Ateneo do to prolong the series?
The onus is on Ateneo to show it, and they haven't. It has always been they are there, but they have never been able to put it together.
The only ones who played well were Kai Sotto, Geo Chiu and JC Fetalvero. Two others expected to do their part — Forthsky Padrigao and Ian Espinosa — did not. The others who much has been expected — Daniel David (three rebounds and one point in 21 minutes) and Joaquin Jaymalin (one rebound in 12 minutes and missed all four of his field goal attempts) — were absent once more. Jed Diaz pitched in with nine rebounds and five points, but it wasn't enough. His two missed lay-ups hurt.
When a team is playing catch-up, missed gimmes will hurt especially when the other team scored on the opposite end.
Zyrus De Ayre chipped in quality minutes with seven points and three rebounds. And that was good for head coach Reggie Varilla's side. But he needs his starters and main men to play well all together.
At this point, they should go to Sotto right away and to score inside and heavily. He has a deft passing touch and Varilla will hope his gunners find the range. But they have to play as a team. There was a stretch where Padrigao was looking for his shot and it didn't work out well. It is sharing that ball and getting the best shot off that will help Ateneo.
They have showed that they can hang with NU for two quarters, three even. Unfortunately, you need to bring it for the entire four quarters. If they don't. This is over for them. And perhaps the Kai Sotto era in the Ateneo High School.