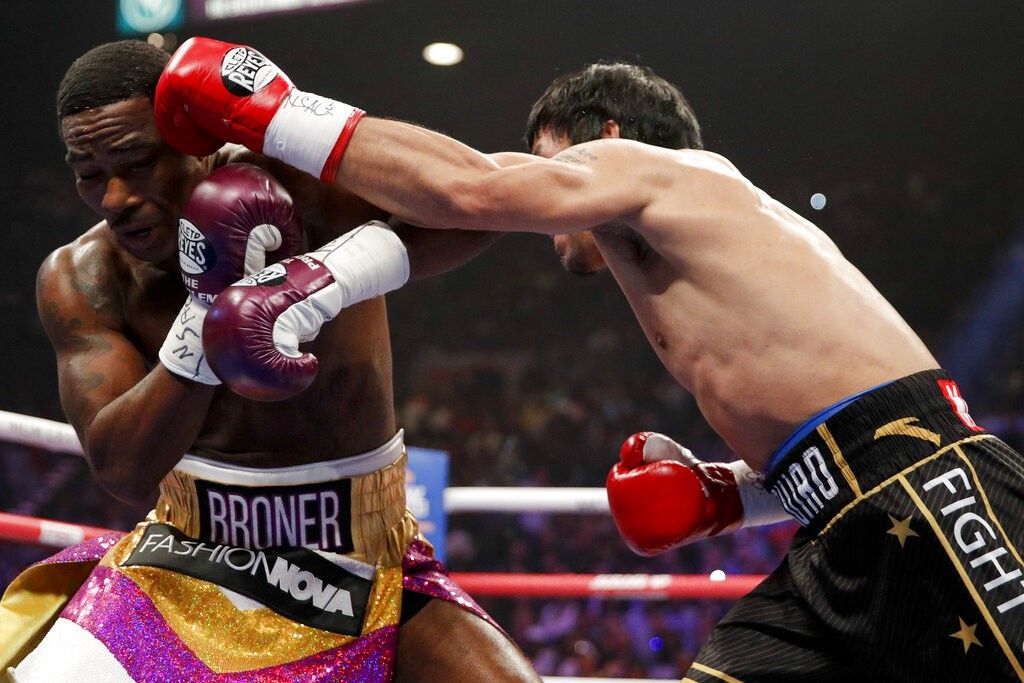 Manny Pacquiao, right, throws a left to Adrien Broner during the WBA welterweight title boxing match Saturday, Jan. 19, 2019 (Sunday, Jan. 20, 2019 Manila Time), in Las Vegas.
AP Photo/John Locher
Twitter mocks Broner after robbery claim
MANILA, Philippines -- Adrien Broner wasn't nearly as interesting throughout his 12-round bout with Manny Pacquiao than he was during the post fight interview.
"I beat him. Everybody out there knows I beat him. I controlled the fight, he was missing. I hit him clean more times. I beat him," He said shortly after the decision was announced.
Broner's statement came with boos in the crowd — a reaction that he received repeatedly throughout the fight. The 29-year-old even made a scene after the bell in the 12th round, jumping on the ropes to face the crowd and claim victory.
His antics and refusal of defeat came after a dominant performance by Pacquiao. Based on the numbers, Broner only made half of the punches his opponent landed and was forced to stay on the defensive through all 12 rounds.
The crowd's reaction to Broner's post fight shennanigans echoed outside the arena with boxing fans mocking the American boxer with unending memes and jokes.
Here are some of the best #PacBroner gags on twitter right now:
Pretty much sums up how the fight went #PacBroner #PacquaioBroner pic.twitter.com/IuYM34d0Qg

— Nate Antonio (@DCNateDawg) January 20, 2019
Broner was getting beat so bad that even Manny Pacquiao's wife couldn't stand to watch it ???? #PacBroner https://t.co/1PGoZFmNHU

— Dert (@Backtrack_Rewin) January 20, 2019
#PacBroner like , "Everyone knows I beat that boy"
Literally everyone: pic.twitter.com/vN3bjg3gTd

— ????????Shannen???????? (@Dumadawg) January 20, 2019
#PacBroner
Adrian Broner: Lands 3 Body Shots to 40+ Body Shots from Manny, Throws half as many punches as Manny does, Spends the whole fight moving around and not throwing punches

Adrian Broner: *Loses*

Adrian Broner: pic.twitter.com/Iprrn6mkvg

— Raphael (@TheRKG) January 20, 2019
#PacBroner

***12 rounds of boxing***

Broner: pic.twitter.com/GJPcJkbdFx

— Mai (@timatoooy) January 20, 2019
Was Adrien Broner robbed? What did you think of his reaction after the bout?