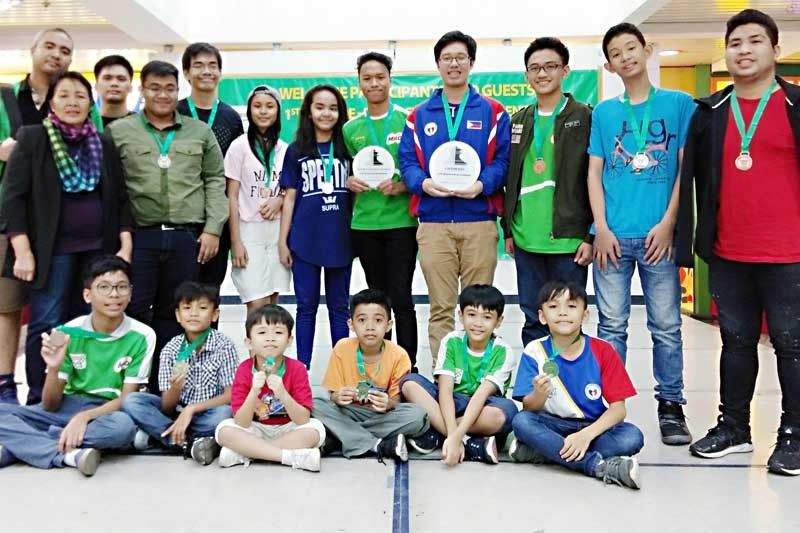 MCC president WNM Mila Emperado (left) with IM Jan Emmanuel Garcia (champion, fourth from right) and other winners in the MCC Fide-rated Rapid Chess Championship at Starmall EDSA Shaw in Mandaluyong.
Jan Emmanuel Garcia rules MCC rapid chess
(The Philippine Star) - December 29, 2018 - 12:00am
MANILA, Philippines — Second seed International Master (IM) Jan Emmanuel Garcia ruled via tiebreak the first Metropolitan Chess Club (MCC) Fide-rated Rapid Chess Championship at the Starmall EDSA Shaw in Mandaluyong.
Garcia with Fide rating 2404, tied for first-third places with fifth seed FM Mari Joseph Turqueza and eighth seed FM Austin Jacob Literatus with 6.0 points apiece in the event organized by MCC in cooperation with Milo. With the highest tiebreak points, Garcia took the trophy, a gold medal plus cash prize of P10,000. Turqueza finished second and Literatus third to share P10,000.
Rounding up the top 10 winners were 6th seed NM Emmanuel Emperado (4th); 11th seed Jayson Danday (5th); 10th seed Ryan Christian Magtabog (6th); 4th seed IM Chito Garma (7th); 3rd seed IM Barlo Nadera (8th); 70th seed Alwin Sopungco (9th) and 9th seed Sherwin Tiu (10th). Top seed IM Ricky de Guzman landed in 15th place with 4.5 points.
Category winners: Top senior – Raul Villate; Milo Checkmate Standout 2018 – Jet Miguel Mendoza (1st ); Carl Martin Arandillo (2nd); Francis Pio Cardenas (3rd) and Paolo Jerome Barandon (4th). Top Lady – Niña Anne del Rosario (1st); Alysah Buto (2nd); Kezia Ligutan (3rd) and Eunice Olivares (4th). Top High School – Chester Neil Reyes (1st); Joshua Maven Ching (2nd); Andrew Sopungco (3rd) and James Riehyl Baligat (4th).