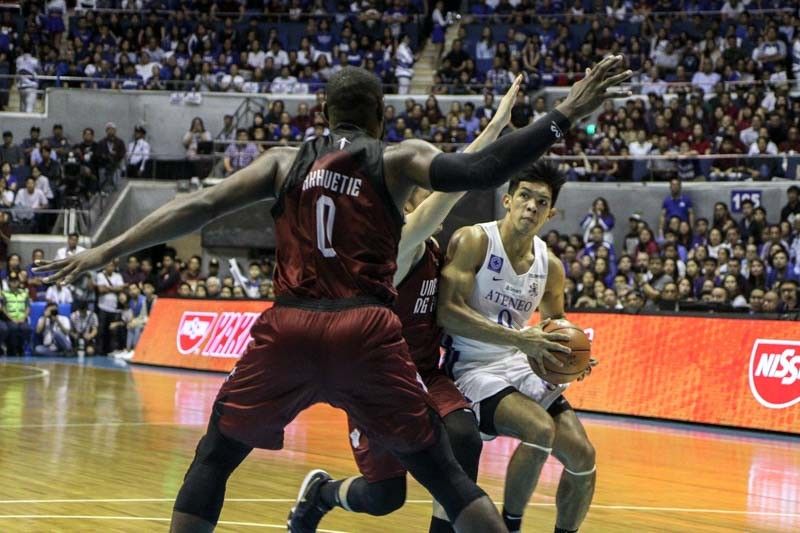 Thirdy Ravena exploded with a career-high 38 points in Game Two. He took home the Finals MVP honors.
Philstar.com/Efigenio Toledo IV
6 takeaways from the Ateneo-UP UAAP Finals series
MANILA, Philippines – The 81st UAAP men's basketball tournament ended the way most predicted it would — with Ateneo winning its 10th basketball crown (with a 99-81 blowout win over hard-fighting UP in Game Two).
What people didn't expect was UP's quick ascent. Many thought that Adamson, FEU or La Salle would make it. But instead, we got a marquee matchup.
Here are our thoughts about the series:
Ateneo played killer basketball after the first round of play
I know some people expected a sweep of the elimination round all the way to the finals. But it was good for the Blue Eagles that they experienced adversity in the first round when they could afford to lose and so they could adjust.
Adjust they did. They won 10 straight games. I think only two of those 10 wins were less than 10 points. All the others were blowouts.
Having pointed that out, this is the Ateneo team that we saw during the summer leagues and the William Jones Cup. And they were the top offensively (80.6 points per game) and defensively-ranked (63.9 points allowed per game) team. Ateneo hasn't accomplished that since the early years of the five-peat. Their 19.3 winning average is the biggest in UAAP history (since they began tracking this stat).
I asked former Blue Eagle Tonino Gonzaga (who I stood next to during Game Two) to compare the defenses of his five-peat teams to the back-to-back champs of now. In his opinion, the rim protection is better now, but his teams played better perimeter defense.
Thirdy Ravena is such a complete player
What a shootout between Thirdy Ravena and UP's Juan Gomez De Liaño! Thirdy scored 38 points to his UP counterpart's 24. While I will point out that Ateneo is steady with Matt Nieto manning the point and Angelo Kouame is that inside force, the Blue Eagles stand an even bigger chance of winning when Thirdy comes to play.
UAAP statistician Pong Ducanes points out that Ravena scored or assisted on 95 of Ateneo's 187 total points in the finals. For the season, he averaged 14.9 points, 6.5 rebounds, 3.1 assists, 1.2 steals and one block per game. If he wasn't suspended for one game, he would have been in the Mythical Five selection.
I used to wonder why he chose zero for his jersey number. I have no idea to be honest. I can only surmise, he might have heard all the talk about him being an underachiever when compared to his dad, Bong, and his older brother, Kiefer. But Thirdy has really come a long long way. What a game changer.
Ateneo repeats their 2010 feat in the individual awards
Okay, Kouame was named Rookie of the Year. But no one else was named to the Mythical Five selection or got any other individual award. Not since the 2010 season (the three-peat) has Ateneo accomplished that. As Ravena said, "The individual awards are nice, but the championship is better because you get to share it with everyone."
Will Navarro becomes a third player to win an NCAA and a UAAP title
Art dela Cruz won it with Ateneo and then San Beda. Robert Bolick Jr. won with La Salle and San Beda. Now, William Navarro has won it with San Beda and Ateneo.
Juan Gomez De Liaño is a shooting star
In my UAAP Season 81 preview, we pointed out that Juan Gomez De Liaño was ready to strap this team on to his back. And he sure did. Juan averaged 20.5 points in the finals and shot an incredible 57 percent from the field in Game Two.
That was a great crowd
I think schools, no matter what the animosity, come together when all is said and done. Well, some probably still do not get along. But this was refreshing for a change (outside that regent shooting his mouth off). And it was a great crowd. It would be easy to say that many of the UP "fans" only came out now. But better late than never.
And even when Ateneo was piling on the lead, they cheered their few baskets as if they were leading. It was great. Other schools would keep quiet. But no, UP kept cheering. And along with the blue and white crowd that is more often than not swell in their cheers and support, it made for a fabulous atmosphere.
People would say, "you have to see an Ateneo-La Salle game." I think you have to add Ateneo-UP to the mix now.