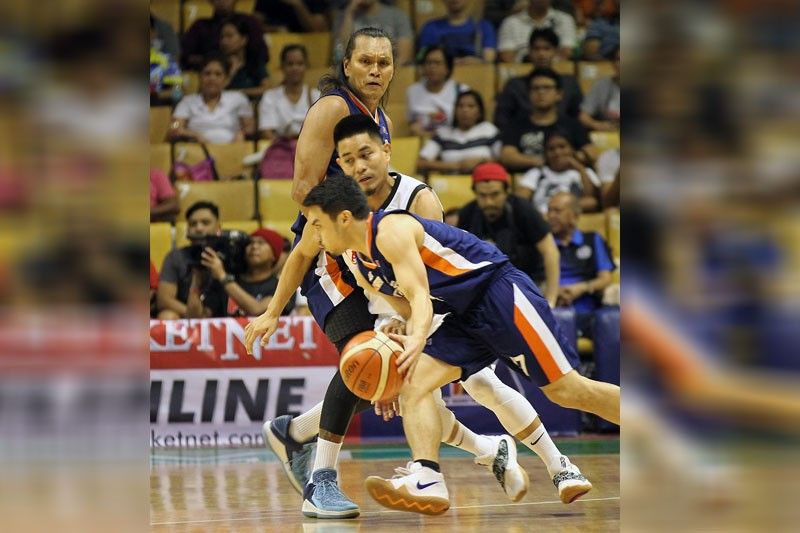 Anjo Caram of Meralco dribbles past Simon Enciso of Alaska on a pick by teammate Reynel Hugnatan in Game 3 of the best-of-five semifinal series last night at the Cuneta Astrodome.
Jun Mendoza
Abac Cordero
(The Philippine Star) - November 16, 2018 - 12:00am
Great Game: It's a shame somebody had to lose
MANILA, Philippines — Alaska coach Alex Compton described last night's game against Meralco as one that "nobody deserved to lose."
It could have gone either way.
"You know that expression that your heart is in your throat?" he said after Alaska's pulsating 104-102 win at the Astrodome.
"That was a huge game. I don't know what the TV ratings were but that was an excellent game played by both teams," he added.
"It's one of those games where nobody deserved to lose," Compton said after his team moved one win away from the finals of the PBA Governors Cup.
Alaska, now up 2-1, will try to wrap up the series tomorrow.
Both teams traded one big shot after another in the dying minutes. It was Alaska import Mike Harris who got the last laugh.
The 35-year-old NBA veteran scored the last nine points for Alaska, including two three-point plays and a charity with 9.6 seconds left.
Meralco had the chance to tie or steal the win. But Allen Durham missed on a drive and a tip-in. Reynel Hugnatan blew his own chance near the buzzer.
"I'll have to see if I can sleep at all tonight," added Compton, out to steer Alaska to its first finals stint since the 2016 Commissioner's Cup.
Harris carried Alaska on his broad shoulders with 31 points and 24 rebounds while Simon Enciso hit huge three-point shots. Chris Banchero, who would rather pass than shoot, had 17 big points.
Durham, the reigning Best Import, had 37 point and 13 rebounds but not the basket that could have sent the game into overtime.
Meanwhile, Magnolia takes another crack at a finals berth tonight when it faces a Ginebra squad with the famous never-say-die spirit.
The game is set at the Ynares Center in Antipolo where the Gin Kings are embraced by fans like it's the home team.
Magnolia took a 2-0 lead in the best-of-five, and when all seemed lost on Ginebra, it bounced back in Game 3.
Ginebra, starring import Justin Brownlee, is not the reigning back-to-back champion in the PBA Governors Cup for nothing.
"Mahirap talaga kalaban ang Ginebra (It's really tough to face Ginebra)," Magnolia team manager Alvin Patrimonio told The STAR.