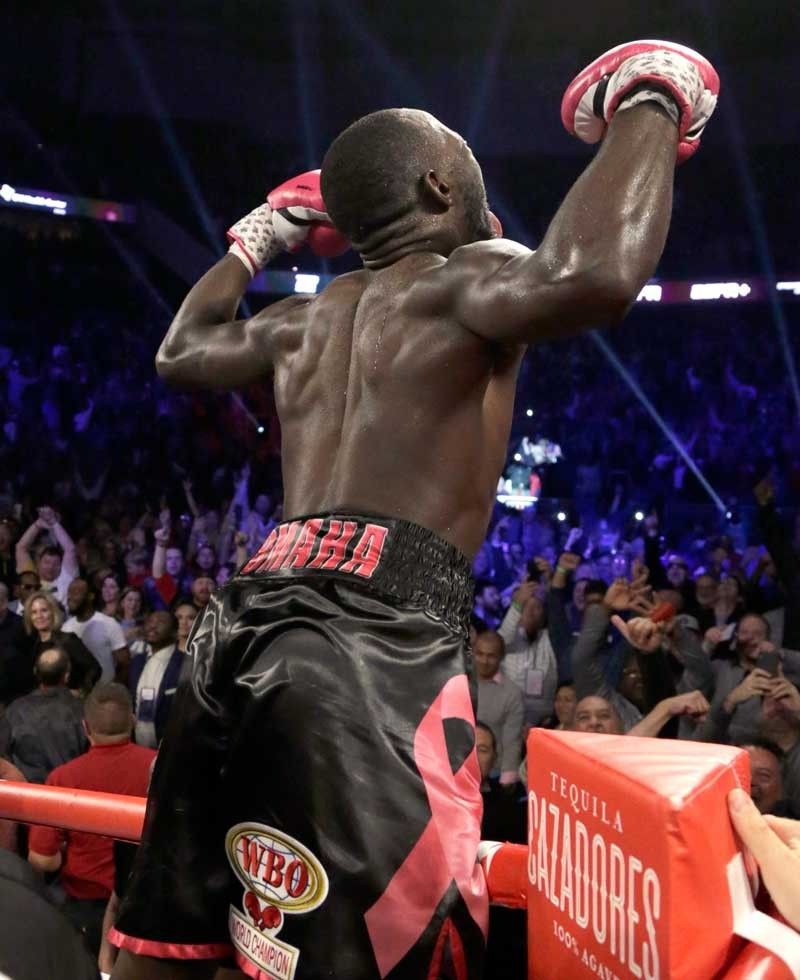 Terence Crawford raises his arms in celebration after defeating Jose Benavidez in their WBO welterweight title boxing bout in Omaha, Nebraska.
AP
Crawford TKOs Benavidez in duel of unbeaten faves, keeps WBO title
(Associated Press) - October 15, 2018 - 12:00am
OMAHA, Nebraska – Terence "Bud" Crawford stopped previously unbeaten Jose Benavidez with 18 seconds left in the 12th and final round to retain his WBO welterweight championship on Saturday night.
Crawford had knocked Benavidez to the canvas with a powerful right hand with 46 seconds left, and then Crawford finished him off with consecutive right hands.
After referee Celestino Ruiz stopped the fight, Crawford stuck out his tongue at his fallen opponent, who had made this a personal grudge match with insults he's directed toward Crawford for months.
Next up for Crawford could be a unification bout with IBF champion Errol Spence Jr., something promoter Bob Arum has said he would like to make happen sometime in 2019. The only problem is that Spence is promoted by Al Hayman, but Arum has said that would not be an insurmountable problem.
The 31-year-old Crawford (34-0, 25 knockouts), ranked first or second on the world's top pound-for-pound fighter lists, put on a workmanlike performance for the first half of the fight in front of a hometown crowd of 13,000 that included Crawford friend and billionaire Warren Buffett.
Benavidez (27-1, 18 KOs) began tiring in the seventh after taking body shot after body shot from Crawford, who started out in an orthodox stance but worked most of the fight as a southpaw.
Benavidez, 26, was plenty frisky, motioning for Crawford to keep coming toward him even as it became apparent Crawford had taken control of the fight, and he showed renewed life in the 10th when he landed a couple shots.
The crowd was on its feet for the 12th round, and "Craw-ford!" "Craw-ford!" chants echoed through the area. Crawford kept coming in the 12th, and Benavidez could take no more of the steady punishment the three-division champion doled out in his first title defense at welterweight.