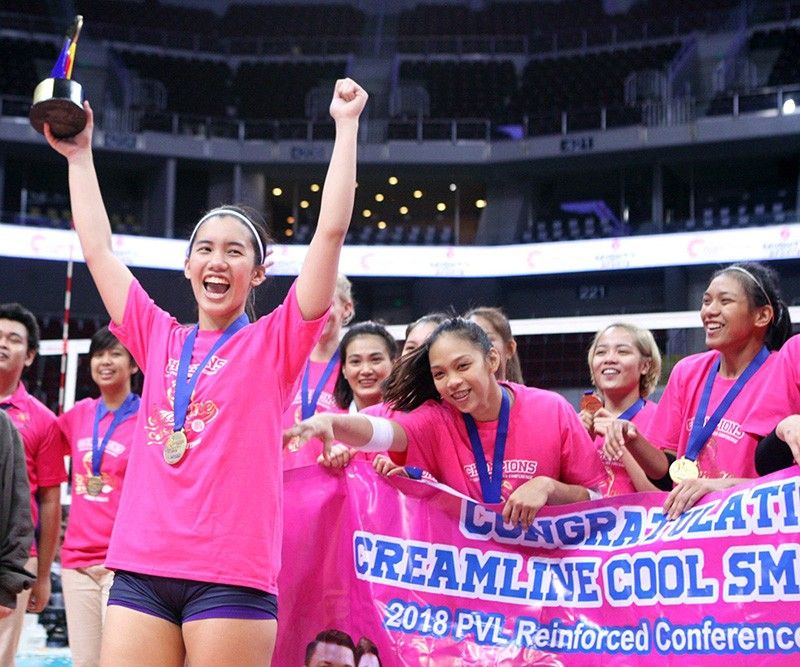 Ace playmaker Jia Morado hoists her Finals MVP trophy after helping power the Creamline Cool Smashers to the championship over the PayMaya High Flyers in the PVL Reinforced Conference.
Joey Mendoza
Creamline smashes way to first PVL crown
MANILA, Philippines — Creamline leaned on its superb blocking as it shackled PayMaya, 25-19, 25-20, 25-11, to claim its first ever crown in the Premier Volleyball League Season 2 Reinforced Conference at the Mall of Asia Arena in Pasay yesterday.
The Cool Smashers imposed their presence at the net with 12 solid blocks while also pounding the High Flyers from the attack line, 42-28, en route to fashioning out the masterful victory for a sweep of their best-of-three series.
Creamline prevailed in the series opener, 25-21, 22-25, 25-20, 25-19, last Sunday and coasted to the three-set romp in Game Two to close out the series that more than made up for its back-to-back third place finishes in last year's inaugurals of the league organized by Sports Vision and backed by Mikasa and Asics.
"The pressure became bigger for us because getting a championship means you need to improve more to achieve more in the long run. But more than the pressure, this first championship will always be memorable and will serve as a stepping stone to get bigger goals as a team," said Creamline ace Alyssa Valdez, who relished her first championship since winning in the defunct V-League Reinforced Conference in 2015.
The former Ateneo hotshot fired 15 hits, three aces and a block to lead the way for Creamline with 19 points, Michele Gumabao scored 12 on nine hits, two denials and an ace, Thai Kuttika Kaewpin also had 12 points highlighted by four blocks, American Laura Schaudt added nine markers while Risa Sato scored half of her six-point output on blocks.
Jia Morado tallied all of the team's 29 excellent sets and took the Finals MVP trophy.
American Tess Rountree put in 12 points for PayMaya which drew just six markers from Grethcel Soltones.
BanKo-Perlas repelled Pocari-Air Force, 23-25, 25-10, 25-14, 25-17, to clinch third place honors via superior quotient. The Lady Warriors took the opener of their best-of-three series for third in five sets.
The Cool Smashers jumped to an 11-6 lead early in the first set on a block by Sato and off-the-block hit by Valdez then sustained their charge behind Gumabao, Kaewpin and Morado after the High Flyers closed in at 15-17.
Valdez, Schaudt and Kaewpin then teamed up in Creamline's 5-1 closing surge in the second to take the set after PayMaya cut a 16-19 deficit to threaten at 19-20.
The Cool Smashers then roared to an 8-2 lead in the third frame anchored on two blocks and had four more as they pulled away unthreatened at 20-8 en route to sealing the quick victory.