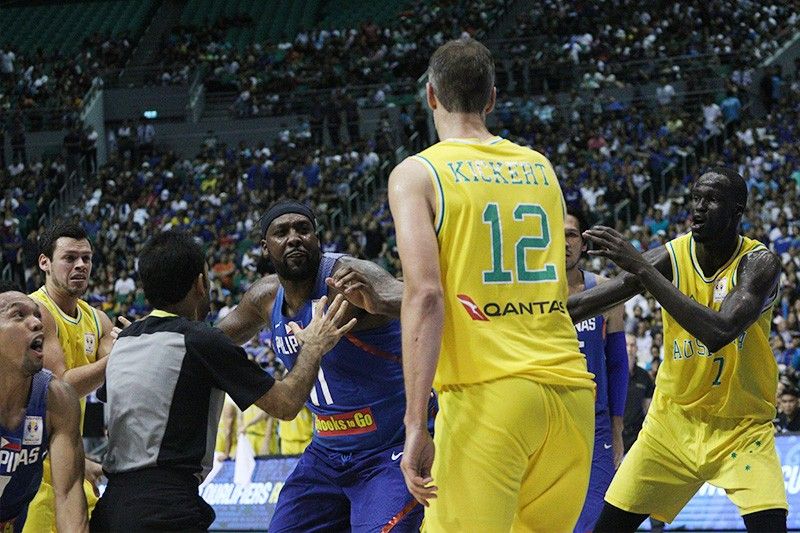 Andray Blatche Gilas Pilipinas about to approach Daniel Kickert of Australia during climax of the third period that led to a melee.
Jonathan Asuncion, PhilStar.com
Australia routs Gilas in fight-marred game
BOCAUE, Bulacan – It was a game ready to explode right at the start.
It all started from practice day Sunday where Australia angered the hosts by peeling away the logo stickers on the Philippine Arena flooring here.
And it came to a head in a rugged game that erupted to an ugly free-for-all causing the ejection of no less than 13 players and the early finish of the contest.
Australia went on to notch an 89-53 victory with only one player left from Gilas Pilipinas with 1:57 left to play in the third period, and the Boomers thus claimed top spot in Group B in the first round of the FIBA World Cup qualifiers.
It was a bizarre game and a bizarre victory that nonetheless gave the Boomers a solid 5-1 win-loss carry-over mark in the second round.
But there's no question that the Aussies played true to form as an elite team, dominating a Gilas side that could only showcase shades of what it put up in its 93-71 conquest of Chinese Taipei Friday.
Australia played with tremendous resolve after a loss to Japan Friday and relegated Gilas Pilipinas to a second-place in Group B with a 4-2 card.
Japan crushed Chinese Taipei, 108-68, over at the Taipei Heping Basketball Gymnasium in Taiwan to book the third and last second-round berth from Group B
In the second round, Australia, the Philippines and Japan clash with Iran, Kazakhstan and probably Iraq.
The Gilas-Australia match was a powder keg from the start, with the two teams having a mild commotion right from the warm-up.
On Sunday, the Samahang Basketbol ng Pilipinas through its legal counsel, Atty. Aga Francisco, has conveyed to FIBA a diplomatic but strong message about Australia's tampering of the stickers on the Philippine Arena hard court during practice.
In the first half, Calvin Abueva was caught throwing an elbow on Angus Brandt after a rebound play.
In the second half, RR Pogoy and James Goulding had a run of physical battles that escalated into a bench-clearing fracas after Daniel Kickert joined the action and sent Pogoy crushing down the floor on a hard hit.
And all hell broke loose in a mad riot.
During the game stoppage, Samahang Basketbol ng Pilipinas president Al Panlilio appealed for everyone to settle down, respect the game and make the guests feel safe.
After order was restored, only June Mar Fajardo, Gabe Norwood and Baser Amer were spared of ejection from the Gilas side. For Australia, only Goulding, Kickert, Thon Maker and Nathan Sobey were four players tossed out of the game.
At the resumption of play, Fajardo immediately gave up his fifth and final foul, then Norwood gave away his last two, then the refs called it a game.
Goulding sizzled with 4-of-5 three-pointers and a total of 20 points in 21 minutes of action while Kickert made two treys to highlight a 12-point game.
The Aussies proved too sharp and lethal against the Nationals with their 61.5 field-goal shooting spiked by a 13-of-26 clip from beyond the three-point arc.
Andray Blatche and Fajardo paced Gilas with 12 and 10 points, respectively.
The Nationals stayed right behind the Aussies in the first 13 minutes of play before the guest team ignited a nine-to-nothing run to open a double-digit margin at 32-20.
The scores:
Australia 89 – Goulding 20, Kickert 12, Dellavedova 9, Brandt 8, Kay 7, Dmic 7, Lisch 7, Sobey 7, Gliddon 6, McCarron 0, Cadee 0.
Philippines 53 – Blatche 12, Fajardo 10, Castro 8, Aguilar 6, Romeo 6, Norwood 4, Pogoy 4, Amer 3, Wright 0, Rosario 0, Abueva 0.
Quarterscores: 23-18, 52-37, 89-53
Related video: