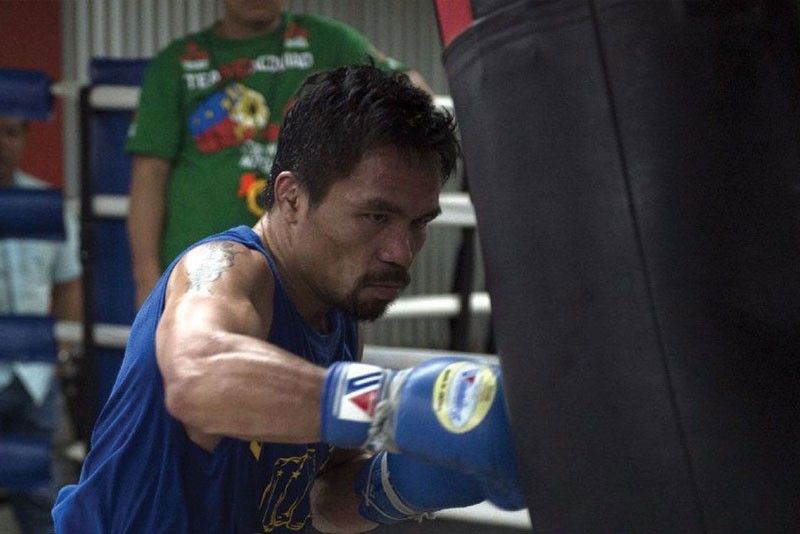 Pacquiao said the bout against WBA welterweight champion Lucas Matthysse is close to being finalized while American promoter Bob Arum said not until the Malaysia financiers come up with the money. AFP/ Ted Aljibe
Manny Pacquiao loosens up for Kuala Lumpur fight
Abac Cordero
(The Philippine Star) - March 13, 2018 - 12:00am
MANILA, Philippines — Manny Pacquiao yesterday marked Day 1 of his preparations for his ring return on June 24 in Kuala Lumpur, Malaysia.
There's some apprehension, some concern, whether or not the fight, his first since July last year, would happen.
Pacquiao said the bout against WBA welterweight champion Lucas Matthysse is close to being finalized while American promoter Bob Arum said not until the Malaysia financiers come up with the money.
Golden Boy chief Oscar deal Hoya, who promotes the Argentine champion, will arrive in Manila once the fight is sealed, according to Pacquiao.
But the 39-year-old Pacquiao is making sure that if it does, he'll be in the best shape possible.
"I started early because my last fight was in July last year. My opponent is a reigning WBA champion so I must be in tip-top shape when I climb up the ring," he said.
"I started doing just a light workout to boost my stamina, speed and power. Training at the boxing gym will begin in the middle of April," he added.
Yesterday morning, he stepped out of his mansion inside Forbes Park for a 30-minute run, with just a handful companions, two of them in bicycles, and a back-up vehicle.
Sportscaster Dyan Castillejo, a fitness buff, joined the run but said she couldn't keep up with Pacquiao, "as his pace is too fast even if it's just the start of training."
Pacquiao returned to his residence, and did some shadow-boxing and core exercises before working on his abs.
It's still a hundred days to the scheduled fight, and Pacquiao wants to loosen up before real training begins on the third week of April.