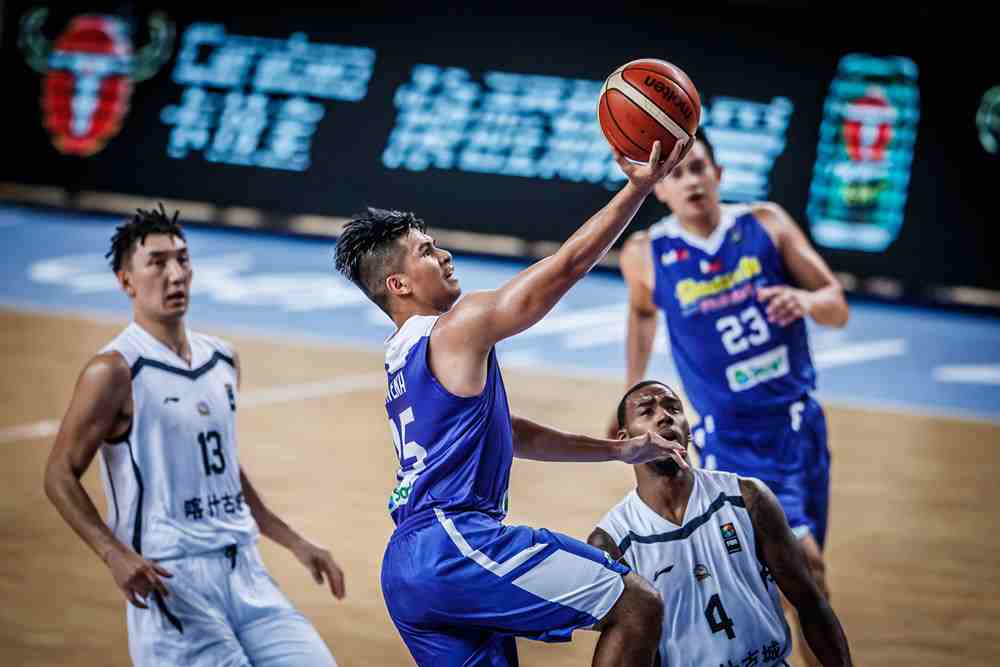 Chooks-to-Go Pilipinas' Kiefer Ravena soars for a basket against China Kashgar in the quarterfinals of the FIBA Asia Champions Cup in Chenzhou, China. FIBA Photo
Chinese oust Chooks To Go, reach semifinal
MANILA, Philippines — Defending champion China Kashgar, despite sitting out Andray Blatche with a slight injury, proved too much against Chooks To Go-Pilipinas, 86-70, in their quarterfinals matchup in the 2017 FIBA Asia Champions Cup at the Chenzhou Sports Center in Chenzhou, China last night.
American import Darius Anthony Adams, shooting guard Mugedaer Xirelijiang and power forward Changdong Yu led their searing offense which the Filipinos couldn't match in the second half.
The Chinese overpowered the Filipinos in the last two quarters and set up a semifinal showdown with BC Astana Kazakhstan, 83-53 winner over Shabab Al Ahli UAE.
Adams scored the bulk of his 23 points in the first half before Xirelijiang and Yu took over. The Chinese players combined for 31 markers.
The American guard was a virtual one-man wrecking crew for Kashgar early on, firing away 21 points as the Chinese took the half at 45-39.
Kiefer Ravena, Jett Manuel and Carl Bryan Cruz provided the firepower for the Filipinos as they stayed right behind the Chinese through the first two quarters.
Ravena scored 12 points while Manuel and Cruz contributed eight apiece in the first 24 minutes of play.
The scores:
Kashgar 86 – Adams 23, Xirelijiang 20, Yu 11, Wang 8, Makan 7, Sun M. 6, Li 4, Tang 3, Liu 2, Sun T. 2.
Chooks To Go 70 – Ravena 16, Austin 16, Cruz 10, Manuel 10, Torres 5, Jose 5, Teng Jeric 4, Tamsi 2, Vosotros 2, Teng 0, Revilla 0.
Quarterscores: 24-17, 45-39, 68-57, 86-70