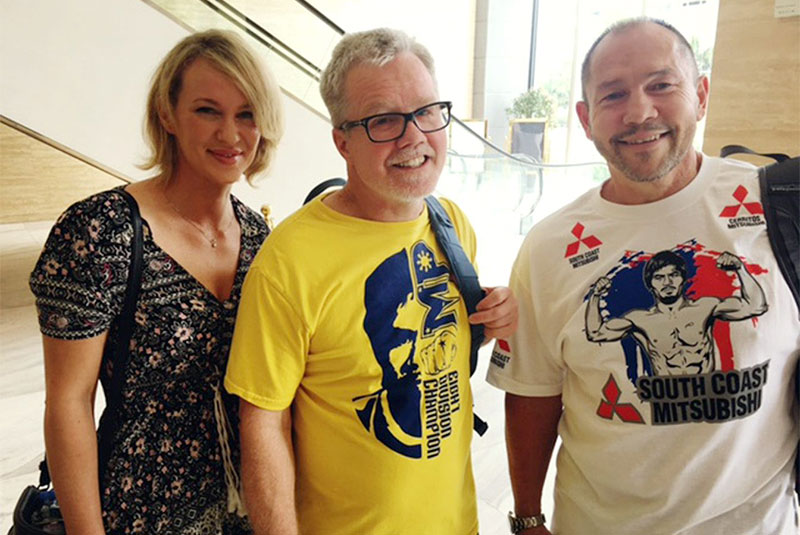 Freddie Roach is flanked by Australian friend Michelle Doble and Australian conditioning coach Justin Fortune. JOAQUIN HENSON
Roach not taking any chances
MANILA, Philippines - Boxing Hall of Fame trainer Freddie Roach said yesterday he's not taking any chances in getting WBO welterweight champion Manny Pacquiao ready for his title defense against challenger Jeff Horn in Brisbane on July 2, pointing out that the unbeaten Australian has stopped his last three opponents.
Roach arrived in Manila from Los Angeles last Sunday with Australian friend Michelle Doble and Australian strength and conditioning coach Justin Fortune. It's coincidental that Roach is here with two Australians and headed to Australia for Pacquiao's next bout against an Australian.
Doble, 37, said even if Horn is her countryman, she's rooting for Pacquiao. It's the same with Fortune who worked with Pacquiao for five years until 2007 then rejoined the team in 2014. Doble, who used to do behind-the-scenes work for a TV network in Sydney, met Roach in Los Angeles about four months ago. She went to the Wild Card Gym for a sweat session while on vacation from Australia and wound up as Roach's dinner date for six straight nights. Roach invited her to join the team in Manila.
Roach said he'll supervise Pacquiao's training at the Elorde Gym in the MOA district until the Senate breaks for a recess on May 31 then the camp moves to General Santos City. The plan is for Pacquiao's contingent to leave for Brisbane on June 25, a week before the fight. Roach said he's worried it may not be enough time for Pacquiao to get over jet lag.
"It's a nine-hour flight from Manila to Brisbane," said Roach. "If you ask me, I'd rather we leave for Australia two weeks before the fight so Manny can acclimatize. But that's not up to me. Mike (Koncz) is arranging Manny's schedule. It's also Mike who's bringing in sparmates for Manny."
Roach said he was ready to take along two top-caliber sparmates for Pacquiao from Los Angeles but was told Koncz would take care of it. "Mike wants sparmates who are lighter than Manny," said Roach. "I think he felt our sparmates in Manny's previous fight were too big. So I heard Manny will be sparring with lightweights. Roach said a lightweight who's now training at Wild Card is undefeated Australian George (Ferocious) Kambosos who has a 12-0 record, with six KOs. "George wants to come over and spar with Manny," he said. "I told him the Australian fans will hate him for it but that's okay. George joked that they already hate him back in Australia anyway."
Roach said Horn, 29, can't be taken lightly. "The guy's got two hands, two feet and power," he said. "Horn stopped his last three opponents (Ali Funeka, Rico Mueller, Randall Bailey). I don't care if they were contenders or not or whatever. Those were three live bodies and Horn took care of them. I know the fans will pack the stadium for the fight but I also know they're coming for Manny, not Horn."
Roach said he'd like for Manny to knock out Horn. "It's been a while since Manny scored a knockout," he went on. "The last time came against (Miguel) Cotto in 2009. I really think the reason is religion. Manny is now content to win by decision, he doesn't want to beat up guys anymore. But I think it's affecting his pay-per-view buys. He may not realize it. The fans want to see a knockout. Maybe, it'll come against Horn."
In Pacquiao's win over Jessie Vargas to regain the WBO 147-pound crown in Las Vegas last November, Roach said the Filipino icon could've notched a stoppage. "He should've knocked Vargas out," said Roach who shrugged off the notion that Pacquiao isn't able to elevate his power to the welterweight division. Vargas was decked in the second round but managed to survive the distance.
Roach said Pacquiao at 38 is in "incredible" condition. "We've got a lot more boxers fighting until their late 30s and 40s today than before because they don't fight as often," he said. Aside from Pacquiao, two fighters in their 30s under Roach's care are Cotto, 36, and Russian Denis Lebedev, 37. Last December, Lebedev lost the IBF cruiserweight title on a split decision to a much younger opponent Murat Gassiev who's 23. A rematch will be held.