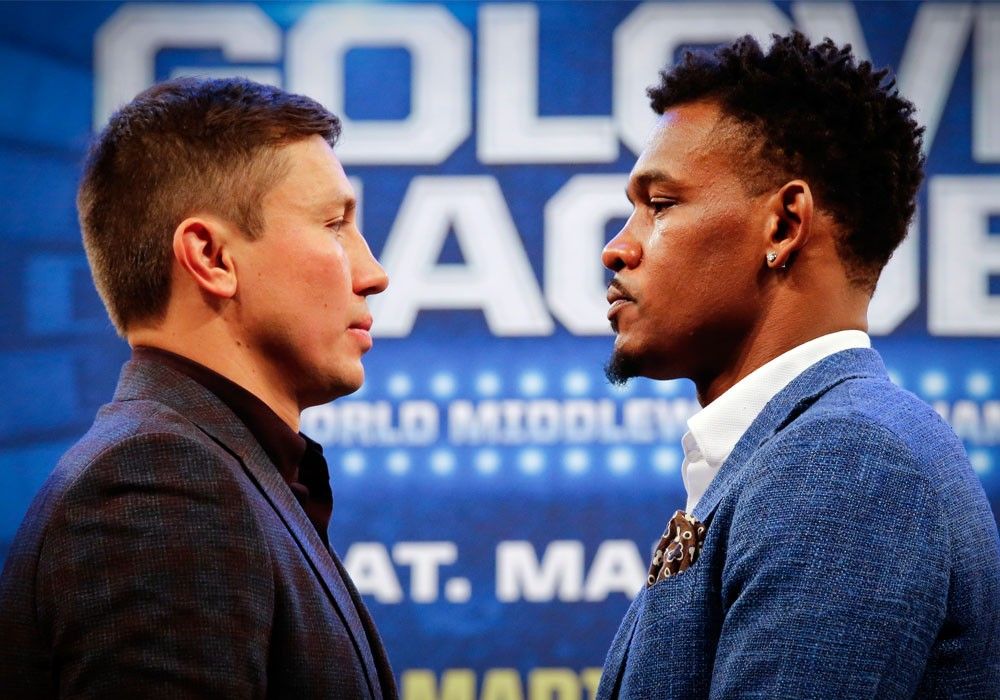 Middleweight champion Gennady Golovkin, left, poses with challenger Daniel Jacobs as they face off during a boxing press conference, Tuesday, Jan. 10, 2017, at Madison Square Garden in New York. Golovkin will put his belts on the line against Jacobs on Saturday, March 18 at Madison Square Garden.
AP Photo/Bebeto Matthews
Golovkin vs Jacobs: Big-punching middleweights set for March
Barry Wilner
(Associated Press) - January 11, 2017 - 11:41am
NEW YORK — Sitting behind all four of his championship belts, Gennady Golovkin was nearly impossible to spot.
Not that Danny Jacobs was eyeing his opponent for the world middleweight title bout set for Madison Square Garden on March 18. His focus was squarely on those belts.
"This is the fight I always wanted," Jacobs said Tuesday inside the Garden, where Golovkin will put his WBC, IBF, WBA and IBO crowns on the line. "This is the pinnacle to consider yourself the best. As long as I'm 100 percent mentally and physically prepared, I'm pretty sure I'll be victorious."
The odds-makers see it otherwise, installing the Kazakh as an 8-1 favorite. That's hardly surprising considering that Triple G is 36-0 with 23 straight knockouts and is one of the hardest punchers in boxing.
And while some may see this as merely a tuneup for a potential big-money bout with Canelo Alvarez, Golovkin vigorously shakes his head the way his punches sometimes involuntarily make opponent's heads go side to side.
"I am very excited, this is the best opponent,'" he said. "I am very respectful of Danny. I believe Danny is ready for this fight. I have four belts; that is a dream for everyone. Who is the best as this time in the middleweight division? I promise an amazing show, a historic show."
Naturally, so do the promoters, and it shouldn't be difficult to draw a big crowd to the Garden. Jacobs, who is a cancer survivor and has scored 12 straight knockouts, is from Brooklyn. Golovkin has been a popular fighter at the arena and this will be his fifth New York bout.
"This is all about legacy,'" Jacobs said. "This fight will represent the pinnacle of my career, being able to catch numerous belts. It's something I always envisioned as a kid."
There is no rematch clause in the contract, which took so long to put together that an original date in December was bypassed. MSG management was so eager to stage Golovkin-Jacobs that it enticed the WWE to move a March 18 event. HBO was just as eager to put Golovkin-Jacobs on pay-per-view.
Adding to the excitement will be the presence of Roman "Chocolatito" Gonzalez on the undercard. The WBC flyweight champ from Nicaragua is 46-0 with 38 knockouts. He'll take on Wisaksil Wangek of Thailand.
Golovkin's most recent fight was Sept. 10 in London, where he stopped another unbeaten boxer, welterweight champion Kell Brock, in the fifth round. That made for Triple G's 17th straight middleweight title defense.
Yes, some of the opponents weren't as highly regarded as Alvarez might be — or as Jacobs is by many — but Golovkin can only fight, and knock out, whoever is willing to get into the ring with him.
With Jacobs' punching power, this could be a dangerous matchup for the 2004 Olympic silver medalist.
"We have two guys in the ring with better than a 90 percent knockout ratio," said Abel Sanchez, Triple G's trainer. "It's fair to say somebody is going out."
Andre Rozier, Jacobs' trainer, insists his fighter has taken on rougher challenges.
"He has fought the hardest fight he ever can,'" Rozier said of Jacobs surviving bone cancer that temporarily paralyzed a leg. "After that, he fears no man."