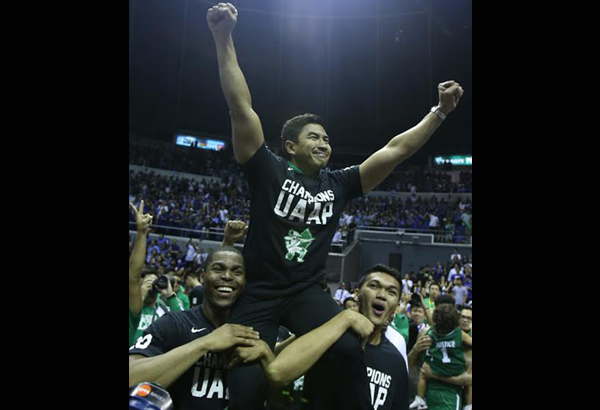 La Salle head coach Aldin Ayo. Joey Mendoza
Aldin's journey to the top
MANILA, Philippines - La Salle head coach Aldin Ayo is now in the history books as the first man to capture back-to-back NCAA and UAAP senior men's basketball championships in his rookie year with different teams. Last Wednesday, the 39-year-old former seminarian from Sorsogon piloted the Archers to a 79-72 win over Ateneo in Game 2 of the UAAP best-of-three finals to clinch the crown via a sweep. The previous season, he took Letran to the NCAA title.
Ayo said the Archers' ascent to the throne wasn't easy and it took a lot of sacrifice. The road to the top was far from smooth as Ayo installed a brand new system that demanded absolute commitment from the coaching staff and players. At the onset, La Salle struggled with Ayo's mayhem defense. In the Archers' first tournament under Ayo, they lost to NU, UE, San Beda and St. Claire in the TIP Invitationals. It was a process and Ayo realized the reorientation would be difficult.
Initially, Ayo called for 6 a.m. daily practice to get the players used to the discipline of sleeping and waking up early. He wanted to instil a sense of togetherness and scheduled workouts after team Mass every Sunday. Ayo spent quality time off the court with the players, getting to know them intimately and would sometimes take them out for a spin – one by one – in his red Mustang so they could bond. It was important for Ayo to get into his players' mind so that at practice or during a game, he would know up to what point to push them to their limit.
Ayo assembled a staff that he could rely on in whatever situation. Veteran Glenn Capacio was a key because of his experience. It was Capacio who brought Ayo to Kia, now Mahindra, in the PBA as a video coordinator and later to Letran. Ayo brought in Louie Gonzalez and Austin Erestain from his Knights staff and during the season, recruited one of his former players McJour Luib to act as scout and simulator at practice. Held over from last season's crew were Siot Tanquingcen, Paolo Sauler and strength and conditioning coach Marlon Celis.
Once the players embraced Ayo's system, the winning became less difficult. La Salle won two preseason championships, the Filoil Flying V and the Araw Ng Dabaw titles. But in a game just before the UAAP season started, the Archers lost to NU by 16 points so Ayo knew the team was still a work in progress.
Just as the season was about to begin, Ayo was dealt a blow when returning guard Andrew Langston was struck out of the lineup due to academic issues. Langston is now in good academic standing and ready to rejoin the squad next season. Ayo's baptism of fire in the UAAP came in La Salle's first game where the Archers barely beat FEU, 83-78. La Salle went on to post a 5-0 record then against UE, Ayo was ejected for storming onto the court and trying to put a pair of eyeglasses he borrowed from Tanquingcen on a referee for missing an obvious foul. That meant sitting out La Salle's game against Ateneo to serve the suspension. The Archers, however, weathered Ayo's absence to beat the Eagles, 97-81 with Gonzalez calling the shots.
After a 12-0 start, Ateneo brought La Salle back to earth with a numbing 83-71 win in the second round of eliminations. The Archers rebounded with a 73-67 win over FEU to close out the eliminations but Ayo was bothered by how the team had to scramble in surviving the Tamaraws' physicality. With a twice-to-beat advantage, La Salle faced Adamson in the Final Four and hacked out a 69-64 decision that the Archers somehow managed despite compiling only three assists. That set the stage for the finals showdown with Ateneo.
Ayo confided that he preferred Ateneo to FEU as a finals opponent but wouldn't disclose it in public. He was careful of what to wish for and didn't want to be a victim of the curse. "We match up better against Ateneo," intimated Ayo. "Our defense can stop their dribble-drive. FEU is bigger, stronger and more experienced." Besides, Ayo had an axe to grind against Ateneo for dealing La Salle its only loss in the eliminations. Of course, there was extra pressure in facing La Salle's archrival.
In Game 1 of the finals, La Salle beat Ateneo, 67-65, in a thriller that went down to the wire. The Eagles clawed back from 15 down to take a one-point lead with less than 30 seconds left but the Archers held on to draw first blood. Ayo said defense did it as Ateneo was held to 31.3 percent field goal shooting. La Salle's unrelenting pressure prevented the Eagles from executing their offense on a consistent basis with their assists down to 10. In Game 2, defense sealed the deal for Ayo as Ateneo was limited to 34.3 percent field goal shooting while La Salle hit 46 percent.
"We were scouted very well by Ateneo and they anticipated our moves on both ends so in Game 2, we did some change-ups to put them off-guard," said Ayo. "Ateneo is a well-coached and disciplined team. I learned a lot from all the UAAP coaches. But the players won the championship, not me. They deserve all the credit."
Ayo dedicated the win to La Salle's No. 1 benefactor San Miguel Corp. chairman Eduardo Cojuangco, Jr., the Lasallian community, his family and province-based coaches all over the country. He plans to visit coaches in provinces during the offseason to encourage them to work hard and live their dream. Only six years ago, Ayo made his coaching debut with the junior and senior teams of Aemillianum College in Sorsogon on Fr. Lino Juta's invitation. Two years later, he was named Best Coach in the Jr. NBA program. Then, Ayo moved from Kia to Letran to La Salle in a journey that was fast-tracked by his love for the game, dedication to his work and attention to detail.