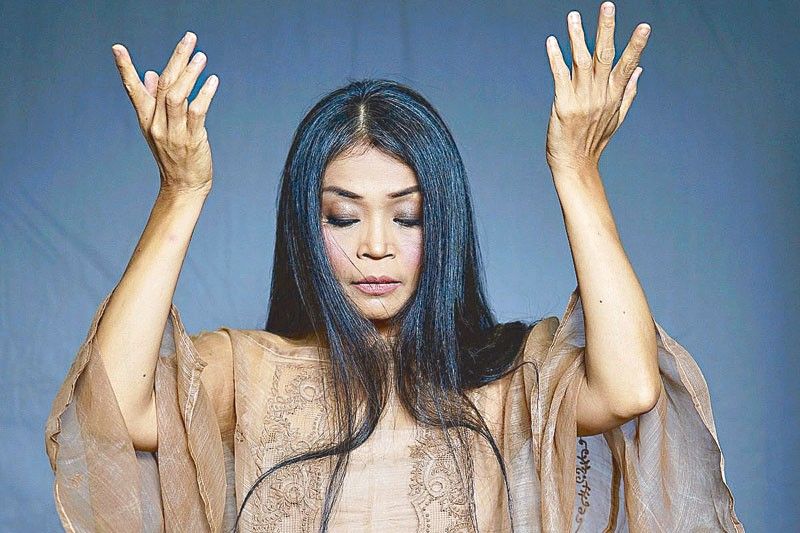 "When I am quiet, it is usually because I am busy doing something," says singer, ethnomusicologist and cultural worker Grace Nono.
For the past few years, while performing in a number of music festivals around the world, Nono has been busy with several projects, including her third book. With the working title "Babaylan Sing Back: Philippine Shamans, Voice, Gender, and Place," the book is based on her doctoral dissertation at New York University's Department of Music (Ethnomusicology Program).
"One of the book's central messages is that the 500 years of colonial and neocolonial histories have caused Native voices and the lands from which they have emerged to be embattled. And yet many of these voices remain resonant, resistant, resilient, providing crucial resources for a world on the brink of collapse," she says.
"I have been writing and editing my manuscript since my time at NYU, through a post-doc at Harvard and further studies at Yale, and at home in Agusan and in Quezon City. So it's been a long journey, but some things take time in order to become better (my hope and prayer, anyway)."
Nono has also been busy with her Tao Foundation for Culture and Arts, which looks forward to admitting a new batch of students at the Agusan del Sur School of Living Tradition (SLT) together with the National Commission for Culture and Arts and Agusan's Cultural Masters.
"We have been around for 25 years of quiet but meaningful work… a lot of good work happens without fanfare," she says.
She adds, "We would like the knowledge of chants and the archaic languages in which they are sung transmitted to our youth."
Nono also looks forward to spending more time with her daughter Tao, "who sings amazingly and has an album with her group called Sleep Kitchen coming out around May."
Together with her music performances, scholarship and grassroots engagement constitute her three-fold approach to cultural work that she hopes will contribute to Philippine cultural revitalization and the decolonization of social relations.
Nono says, "Now that my manuscript is close to being published, and the Agusan SLT is almost ready to open its doors to a new batch of Indigenous youth, it is time to sing again."
This February, Nono was slated to perform around the country in her 2020 Gugma Tour with guitarists Erskine Basilio, Glann Bondoc and Pepe Ednave. The concert features Visayan love laments.
The concert tour, however, has hit a snag. The COVID-19 scare has resulted in the postponement of her concerts in Marikina and General Santos, leaving one performance in Casa San Miguel in Zambales on Feb. 29.
Gugma's repertoire has been presented by Grace and her ensemble in solo concerts at the Yuchengco Museum, the National Museum of Singapore, the Cultural Center of the Philippines and the Sarawak Rainforest World Music Festival.
"These audiences recognized the value of music in relation to its historical context. One audience member likened the sound of Gugma's songs to that of the Buena Vista Social Club, the acclaimed Cuban group's award-winning album," says Nono, a thought which prompts her to connect the music with the Philippines' history of over 300 years of Spanish colonization, greatly influencing our music.
"As a result of this cultural traffic across the Iberian Empire, many of our people began to produce music that utilized the instruments, harmonies and tonalities characteristic of European musics and rhythms that drew from Spain and Latin America but put in the service of expressing the Filipino peoples' bittersweet sentiments," she says.
"Why bittersweet? Perhaps because the encounters that produced the music were undergirded by the yoke of colonization and by struggles for liberation. Perhaps because love itself can be so complicated, often mired by pain, and yet unparalleled in its redemptive power."
While Gugma has been positively received abroad, Nono wonders if it will generate the same response in the Philippines, especially among the youth. "Perhaps one of my roles as artist is to help remind people of different kinds of Philippine musics by actually lending my voice to those that are little heard… I say that all forms of music have value to those who create and listen to them, so each deserves to be heard," she says.
The concert is stripped down to the basics – three acoustic guitars and one voice, inviting audiences to do nothing but listen.
"Listening," Nono says, "is an often-undervalued skill. But it long predates the development of writing, and its return to prominence could spell the survival of humanity in an increasingly deaf and insensitive world."
In a time of uncertainty when it comes to health, climate change, political unrest and more, maybe we need music more than ever.
"Humans are not just physical beings but also psychological, emotional and sociocultural creatures requiring more than economic provision to stay alive and well," says Nono.
"In many Philippine indigenous communities, certain forms of vocal and/or instrumental musical expressions have often been part of healing rituals that address physical dis-ease often resulting from relational conflicts."
Thinking of music's place in today's world, Nono asks, "Can music still make a difference in the societal and environmental realms? That's a tough question that I'm not sure I have definitive answers for."
Still, she tries to answer: "It takes more than music to address these big issues that require transdisciplinary, transcultural and transnational cooperation; strategizing that considers not only present needs but those of future generations; sustained collective action and, for those of us who believe, utmost prayers," she says.
"At the same time, not adding music to the range of approaches impoverishes efforts and wastes a powerful resource that has been proven to energize bodies, spirits and communities in the pursuit of greater wellbeing. Hasn't the singing of the pasyon about Christ's anguish, sacrifice and resurrection been argued to help some peasant groups understand their suffering under colonial conditions in ways that helped them plot a path to liberation? So I say to myself, 'Sing again, Grace; sing, interspersed with writing and grassroots cultural work. Sing and contribute to your own and others' wellbeing'."
After her 2020 Gugma Tour – when it pushes through – Nono may soon go silent again as she becomes busy with her many projects, but for now, in a time when we most need grace, she sings. And we are called to listen.