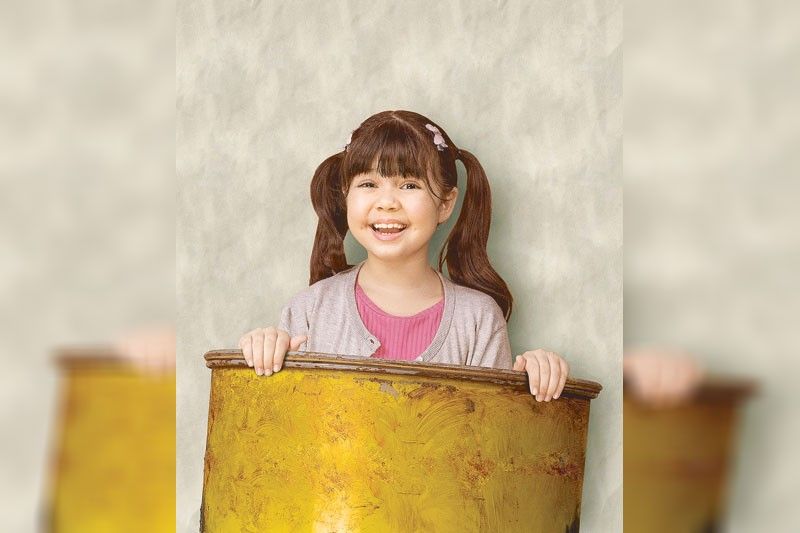 Born in England, Xia moved to the Philippines when she was almost five years old. "I was watching a contest on TV and I told mommy that maybe I can join," she says of "Mini Me 2," where her spot-on impersonation of Selena Gomez won her the grand prize.
Xia says she just wanted to be on TV and after winning, she didn't expect to be starting a career in showbiz. But the invitations and projects just came pouring in for the bubbly young actress.
It was Your Face Sounds Familiar that catapulted her to international fame. "It was hard for me to do both at the same time," she says, sharing that the show was being shot at the same time as drama "Langit Lupa." But Xia wanted to be part of both. "Binigay ko nalang ang best ko sa lahat ng ginagawa ko (I just gave my best in everything that I do)."
In Your Face, Xia amazed audiences impersonating Axl Rose of Guns N' Roses, Thalia, Ariana Grande, Pilita Corrales and more.
She became best known for her impersonation of Taylor Swift, which went viral worldwide. Netizens around the globe couldn't get over the tiny Taylor. What set Xia's performances apart was her ability to capture little nuances of those that she impersonated.
"It was so hard to copy their moves… I practiced a lot. Yung konting galaw ng kamay niya (Even the little movements of her hands)." She says there was some pressure on her, knowing that she would be impersonating the popstar. "Syempre there's only one Taylor Swift so mahirap naman po baka ma-judge ako ng mga fans niya at sabihin na bakit mo ginagaya ang idol namin (Of course there's only one Taylor Swift so it's hard because her fans might judge me. They might ask why I'm copying their idol)."
At that time, Xia says she didn't really understand what going viral meant. But now that she really knows what it means, she appreciates it even more. "I actually thought I was dreaming, pero totoo po talaga (but it's real)."
At ten years old, Xia has spent exactly half her life in England and half in the Philippines. "Here in the Philippines, it's so fun dahil ang babait ng tao wherever you go. Lagi kang babatiin. Ang sweet po nila kaya masaya rin po ako na napunta ako dito sa Philippines (Here in the Philippines it's so fun because everyone is so nice. They always greet you. They are so sweet, so I'm happy we moved here to the Philippines)."
Xia says she loves to travel and dreams of having her own camper van so she can travel the world. She would love to return to England soon, she says, but just to visit her grandmother who is sick. "Gusto ko po siyang maalagaan (I want to take care of her). Before she would always cook for me, so I just want to give it back to her… Gusto ko po siyang pasayahin at gustong-gusto ko siyang makita kasi miss na miss ko na siya (I want to make her happy. I really want to see her because I miss her very much)."
As a sweet girl who truly loves her family, it's not surprising that Xia landed the role of Yesha in the Filipino adaptation of the Korean film Miracle in Cell No. 7.
To prepare for the role, Xia says she watched the original film to better understand the role. She worked her acting with acting coach and veteran actor Raymond Bagatsing, who she says taught her to act naturally and truthfully.
Whether the scene is happy or drama-heavy, Xia says she thinks about her motivation. Showing discipline beyond her years, she says focus is very important in preparing for each scene – even if it means not using her phone or not talking to people so she can get into character. "Binibigay ko lang ang truth, ang pinaka natural na magawa ko (I just do it as truthfully and naturally as I can)," she says.
The film stars Aga Mulach and Xia says she really enjoyed working with the actor. "I'm so happy to work with him dahil veteran actor siya," she says, adding that he would give her tips for every scene and would always encourage her.
Xia also shares that she was pleasantly surprised that the actor was so down-to-earth. When she shared her favorite bibingka (rice cake) with him, she was delighted to find out that it was his favorite too. "Hindi ko alam na ang isang Tito Aga Mulach ay magkakagusto ng kakanin (I didn't expect someone like Aga Mulach would like rice cakes)."
She says the best advice that she'll treasure from the actor is not about acting. Rather, it's the reminder to stay humble. "Maging mabait sa lahat ng tao, lalo na sa fans (Be kind to everyone, especially the fans). I will forever remember that."
In fact, Xia has already been showing kindness through her love for charity work. The energetic star is the first child ambassador of Habitat for Humanity and Save the Children Foundation, and the youngest advocate of the World Wildlife Fund.
She says she always tells the kids she meets in the outreach programs to reach for their dreams. "Along the way maraming magsasabi na hindi niyo kaya, hanggang dyan nalang kayo. Huwag kayo makikinig. Sana abutin nila ang pangarap nila kahit gaano man kahirap (Along the way, there will be people that say you can't do it or that's all you'll be. Don't listen. I hope they continue to reach for their dreams no matter how hard it might be)," she says.
Xia's mother Christy says that she is proud of her daughter for using her influence to be a role model and a good example to other children. "I'm happy that she turned out to be a good, generous person because you can't fake that."
Knowing that behind the scenes, showbiz is not as glamorous as it seems – there's a lot of heartbreak and hardships – Christy says she hopes Xia will be able to continue "doing these things and doing them happily," especially when it comes to doing charity work.
Xia says, among all the singers and actors she's impersonated, she would love to meet Julie Andrews. Even before she did the impersonation of the iconic actress, Xia was already fond of watching her musical films. "It's such an honor na ma-impersonate ko siya," she says. Whether it's Julie Andrews, Selena Gomez, Taylor Swift or any other character that the talented young actress takes on, one thing's for sure: there will always be only one Xia.