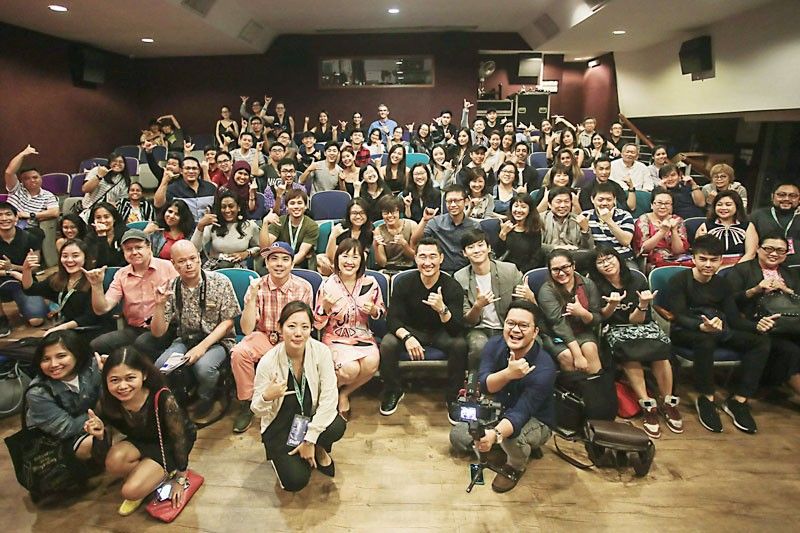 Actor-producer Daniel Dae Kim (seated, center) and SGIFF executive director Wahyuni Hadi (kneeling, third from left) join audience members after a festival event.
The future of Asian media
The 5th Singapore Media Festival explores
MANILA, Philippines — With its constantly evolving skyline and fast-paced developments, Singapore is known for being a forward-thinking nation. Fittingly, the recent Singapore Media Festival (SMF) has started the discussion on the future of media both in the region and even on a global level.
Singapore aspires to be one of the leading digital economies, say representatives from Infocom Media Development Authority (IMDA), the main organizer of SMF. As the nation continues to evolve and change, it strives to stake its claim in the region's digital economy by helping existing industry digitize better and faster; looking at new digital companies that can be groomed for the region and the global level; and creating the right ecosystem for this to happen.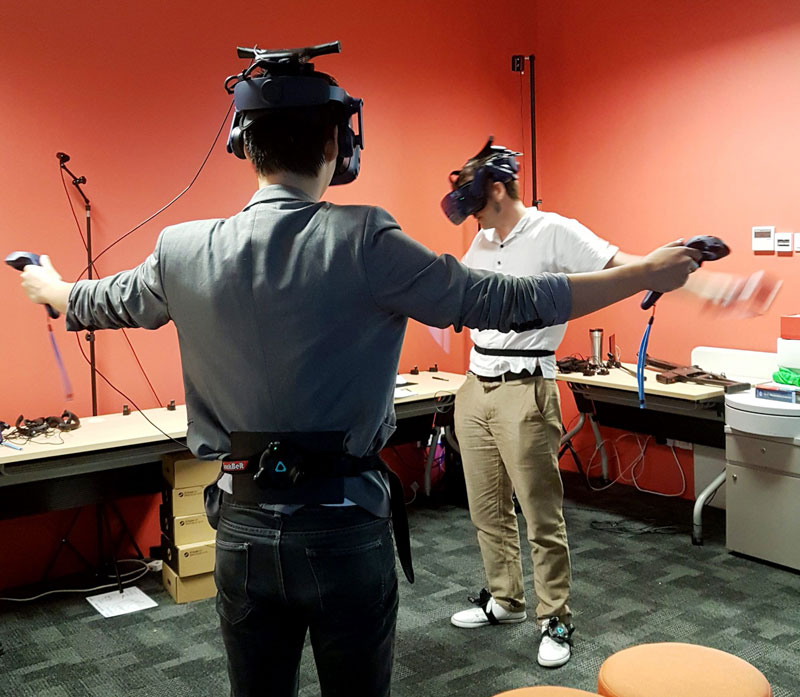 Creators test out a virtual reality application at Pixel Studios.
One way that the IMDA is fostering a healthy digital community is through facilities like Pixel Studios. Started in 2016, Pixel is a 25,000-square foot shared space intended not just as a physical communal office, but "a space where people connect… We recognize that in this new world of convergence and digital communities, values are where you can connect the dots – between media, between different kinds of talents, between different kinds of capabilities, different countries, as well as between tech and media."
At Pixel, start-ups and talents are given free use of several facilities to produce work that is not for commercial purposes. A new Youtuber, vlogger or podcaster, for example, can use Pixel's recording studios and editing bays. The studio even has several sets that can be dressed up as restaurants, rooms and even a test kitchen for talents to use for their videos. Equipment like lights, microphones and cameras are also provided for their use to produce high quality content.
Pixel also has workstations for start-ups developing technology. In one section of the office, there are several companies developing virtual reality hardware and software. For now, the applications are mostly for interactive games, but they hope to use the technology to encourage collaborative learning and interactive training through virtual communication.
In 2019, IMDA has announced the addition of four new areas to Pixel that are focused on design thinking, human user experience, immersive technology and digital storytelling.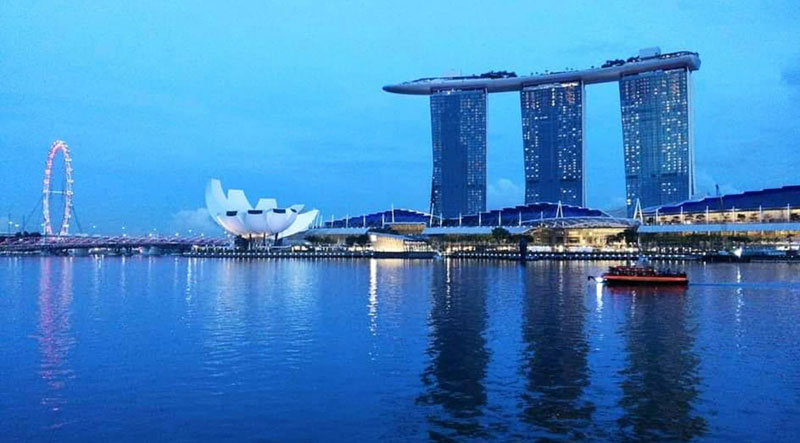 The futuristic Singapore skyline at night
Collaboration on several levels has become the buzz word throughout the SMF. "We want to create an environment where new creative partnerships can be struck, new business deals can be struck," says SMF chair Robert Gilby, noting the "three C's" that guide the SMF: connect, converse, collaborate. "The idea is really to bring people together." The SMF, which brings together film, television and digital industries, emphasizes not only a collaboration between different creators, but more so a collaboration across platforms.
As part of the SMF, the Singapore International Film Festival (SGIFF) is likewise determined to foster creative collaborations in the Southeast Asian region, and beyond. "It's very exciting because you can really feel the buzz of the region coming together in a lot of collaborations – directors and producers working on many international projects, so I think it's really time we elevate the celebration of Southeast Asian film talents," says SGIFF executive director Wahyuni Hadi.
She adds, "We really see the collaborative spirit, but it also blurs the line of countries. Some people think it's confusing, but I think it's exciting."
Hadi is positive that the connections made at the SGIFF events this year have established many promising projects in the near future. At the producers network event, for example, she says producers from around Asia came together and realized that they were experiencing common problems – and were all eager to find solutions together. "If we work together, we have more resources to pool together," she points out.
As SGIFF gears up for its 30th year in 2019, Hadi says she looks forward to creating that collaborative environment even more.
Doing his part to bring Asian stories to the world, Korean-American star Daniel Dae Kim – who was on the SGIFF Asian Feature Film Competition jury – took it upon himself to produce Asian-American stories through his own production company, 3AD. The actor-producer is known for his role on television series Lost and for speaking up on getting a lower salary than his Caucasian counterparts on the reboot of Hawaii Five-0.
As a Korean growing up in the US, Kim says there was very little on TV and film that he could relate to. As an actor, it has always been difficult to get roles that don't stereotype Asians or roles that are fully developed, much less roles where Asians are cast in the lead.
Representation has been a hot topic in Hollywood the past few years and in the advent of the success of Crazy Rich Asians, Kim is hopeful that there will be more roles for Asians in film and TV and that Asian or Asian-American stories will have a better chance to be told. "As a producer, I'm creating new shows and new projects and it's easier now for me to introduce projects that have all-Asian casts or Asian leads and that wasn't the case six or seven months ago. My production company has been in existence since 2013 and that's always been a primary goal – to put Asians in lead roles. It was always an uphill battle."
Where is the Philippines' place in the developing film and media scene of the future? "Our films, TV and digital content and services are ready to go out to the world and it is our responsibility to continue to create these opportunities and take advantage of platforms that offer such opportunities for business, network and trade," says FDCP chair Liza Diño-Seguerra. During the SMF, the Philippines made a significant impact as the festival's country of focus.
A highlight of the festival was the signing of a memorandum of understanding (MOU) between ABS-CBN Films and Singapore's Cre8 Productions. Following a successful collaboration with young filmmaker Mikhail Red on the horror film Eerie, which premiered at the festival, Cre8 Productions executives were eager to do more projects with Filipino filmmakers.
At the MOU signing, Malou Santos said, "As former head of ABS-CBN Films, I'm very lucky during my last year to do this collaboration with Cre8 Productions… This is really a wonderful experience working with them and we're happy because we have a very beautiful project and we are very, very proud to show it to the world."
ABS-CBN Films managing director Olivia Lamasan added, "We're very excited. We're opening ABS-CBN Films and the Philippines to the world." The collaboration with Cre8 Productions will be for five films slated to begin production soon.
"This is why we are very proud to partner with the Infocom Media Development Authority of Singapore for the Singapore Media Festival 2018 so we can bring our companies, films and leaders to showcase what our industry and business have to offer and explore partnerships throughout the region," says Diño.
"People are just attracted to good stories. The drive is to make Southeast Asian stories important to the world," says Hadi on filmmaking in Southeast Asia – a region that is bursting with unique and touching stories.
Looking towards the future, she says, "I think people can feel the time is now. You can feel that something is happening and you want to act on it. We want to provide those kinds of opportunities for people to make that happen… We are moving together."