Young musicians on a mission
October 14, 2018 | 12:00am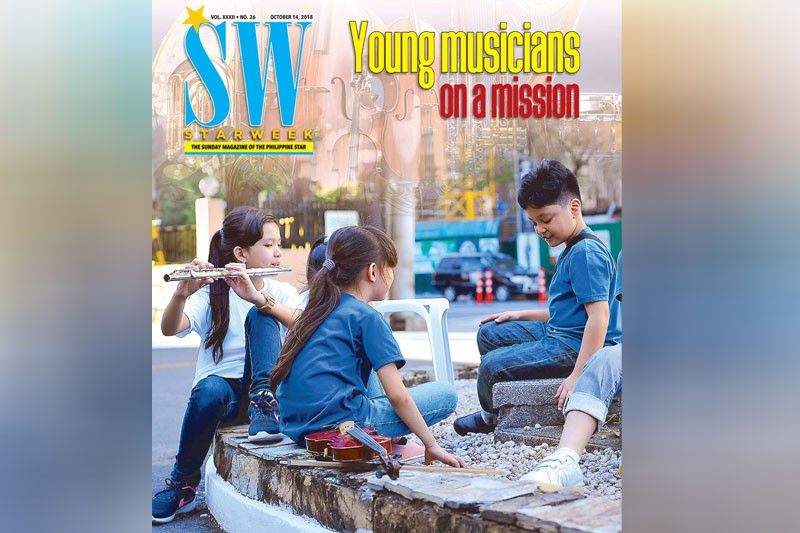 MANILA, Philippines — On the evening that STARweek visited the Orchestra of the Filipino Youth (OFY), rehearsals were running overtime – Venezuelan conductor and music director Joshua Dos Santos had to give the young musicians a lecture before adjourning, to light a fire under them as they prepared for their upcoming performances in Qatar.
"I was telling them just right now, OFY is a different kind of orchestra because it is not a cultural project. We are not another orchestra of the city. We are a social project. We really believe in free education, we really believe in the orchestra as an agent of social change. I believe the orchestra can create community, brotherhood, love, mutual compassion. Those things are values that we need in the world right now," Dos Santos says.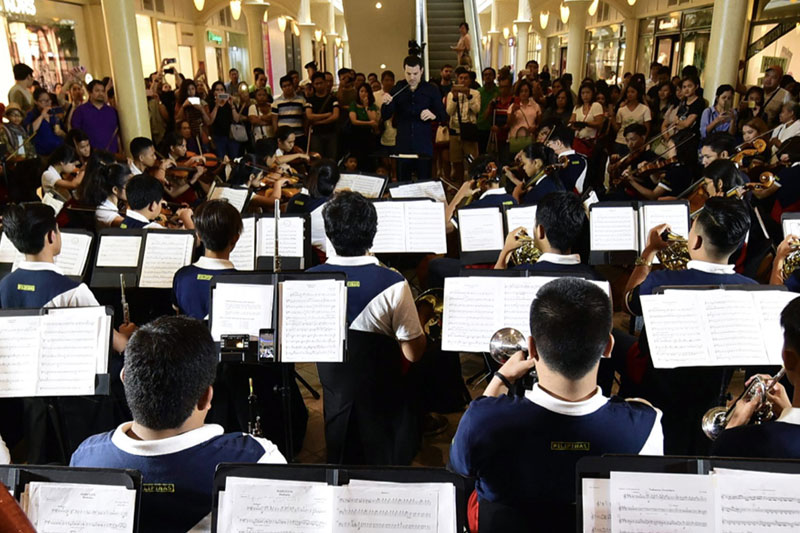 The OFY is the main performing arm of Ang Misyon, a non-stock, non-profit corporation that gives talented children, mostly from underprivileged communities around the country, the chance to learn to perform at a high caliber and to reach their full musical potential.
The upcoming tour is the first to bring the whole orchestra abroad; previously, select members had taken part in performances in Asia and the US.
With performances at the Qatar National Library (Oct. 25) and Qatar Royal Opera House (Oct. 26), the repertoire includes music from South America, Spain and the Philippines, and the full Shostakovich Symphony No. 12.

Young musicians big and small, from all walks of life, unite to form the Orchestra of the Filipino Youth
"They are just kids!" Dos Santos exclaims, proud that his young charges are taking on such a daunting piece. "They are amazing. I trust in them," he adds.
Supporting Dos Santos in honing the children's talents are several professional musicians who give individual lessons and group trainings. Among them is viola mentor Val Cad. "Since June I started to work on the pieces with them, especially the symphony that they will perform in Qatar," he shares.
He is excited for the opportunity for the children to perform abroad. "It will be a great experience for them to perform for our country," he says. "It will promote friendship amongst them, to other countries. It will be an example that the Philippines is a country full of talents in different fields."
"Each one is a book, each one has a story to tell," says Dos Santos on the members of the OFY. Indeed, each musician of the OFY has their own story to tell of triumphs over all odds, for the love of music. The musicians' dedication to their craft is evident – there are some who travel a total of eight hours every Saturday to attend rehearsals.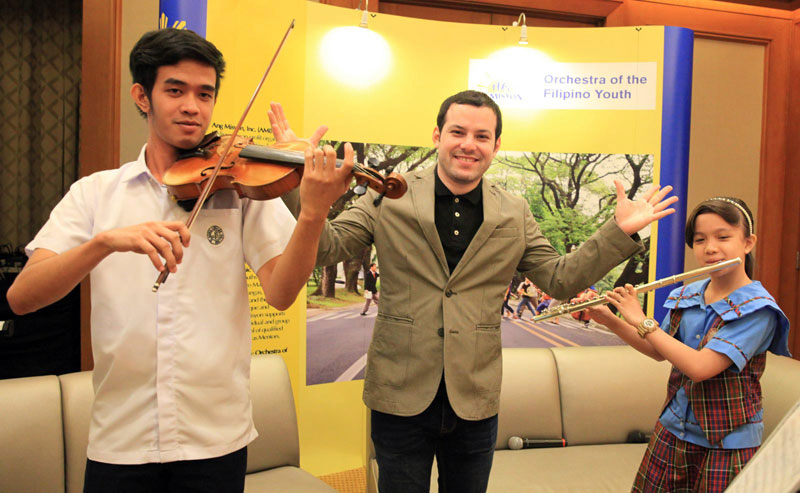 Music director Joshua Dos Santos is flanked by concertmaster JM Eserjose and flutist Carmela Casas
12-year-old flute player Carmela, one of the youngest members of the orchestra, travels from Cardona, Rizal every weekend to attend rehearsals in Pasig. She doesn't mind the long journey, she says, adding that the OFY has not only taught her music but also about the value of commitment and contributing to a team. She wants to go on to take up music education – "imbes na computer, music ang kaharap" – and adds, with a shy smile, culinary arts.
Another young member, Rheyvean, comes from a family of musicians from Bulacan. He and his brother Rey John are both members of the OFY, carrying on the legacy of their family. Rheyvean, the youngest in the family, started playing the drums as early as 5 years old and joined the orchestra at 8.
The older members of the group have flourished not only into capable musicians, but young mentors as well.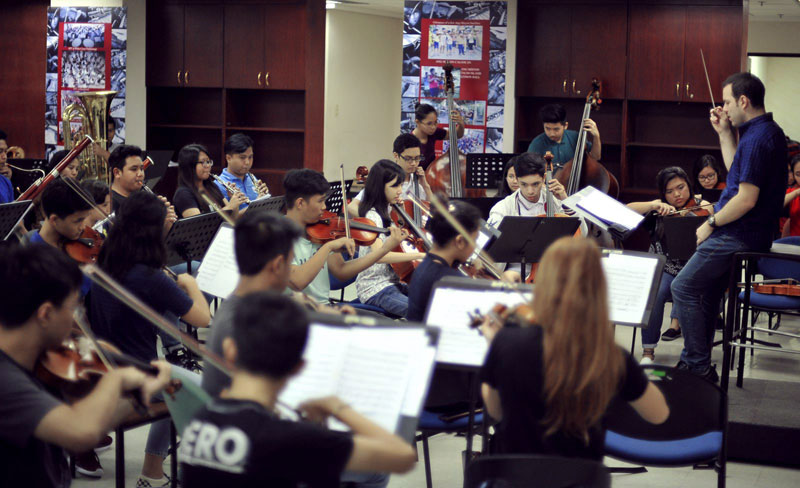 The OFY prepares for their performances in Qatar, under the baton of Dos Santos
Axelle, a violinist who is in 11th grade, is studying at the International School in Cebu on a scholarship she received because of her extraordinary talent. She currently serves as a mentor to some 20 children from an indigent community. She holds classes in a nearby community chapel and even lends her students the violins she has outgrown.
Vera, 22, has been with OFY from the start, and now teaches music in Valenzuela as well as in Talim Island in Taytay, Rizal. A violinist with the OFY, she says being in the orchestra teaches you to work as one, not kanya-kanya (on your own).
17-year-old John Patrick, on the other hand, mentors the Ang Misyon Caloocan Satellite while maintaining his grades as a class valedictorian. He uses his allowance as a mentor for his school expenses and daily needs.
The current concert master of the OFY is 18-year-old JM, a violin player from Taguig whose father works as a tricycle driver. He learned to play the violin from YouTube; when he joined the OFY, he was playing only at level one. But, he says, he wanted to be in front, so he practiced really hard. However, he can only practice until 6 p.m. so his neighbors won't complain. Three years later, he leads the orchestra and is a music scholar at St. Scholastica's College. JM says he hopes to become a professional orchestra or chamber musician some day.
I don't want to say I fell in love, but I could see something special. I could see something really special there," says Dos Santos on the first time he met the OFY. "I thought, I can do something here, we can build something special here."
Dos Santos admits the first time he was offered the position of OFY music director and conductor, he declined. At that time, he was based in Madrid and was not really considering a move. "After the offer from OFY, I got concerts with Malaysian Philharmonic Orchestra, suddenly a lot of performances in Asia. Asia was calling me," he recalls.
Dos Santos adds, "I really love conducting. You have no idea how I feel when I am conducting on the podium. I can spend 24 hours there. In Madrid, I was not spending 24 hours on the podium. I wanted more." So, some four months after saying no, he revisited the offer and thankfully, OFY was still looking for a conductor.
They played Dazon No. 2 by Mexican composer Arturo Marquez, says Dos Santos, the memory still very clear in his mind. "It was good! I remember thinking, this orchestra is really talented," he says. "They have such an amazing talent but at the same time there is a special relationship or chemistry between us."
"I'm not saying they are the best orchestra in the city or in the country. We are really far from that. For me a good orchestra is one that can improve and they want to improve. Every day is better, that's enough for me. If there is a hunger for more information, more music, I love that."
As he recalls meeting the orchestra for the first time, Dos Santos says, "It feels like years ago, but it's only eight months!"
The maestro, himself a young musician in his early 30s, graduated from the notable El Sistema in Venezuela, studying directly under its founder Jose Antonio Abreu.
He has worked closely with Gustavo Dudamel and other fellow Abreu disciples.
"I have been working in music almost my whole life," he says, starting at the young age of seven. He became part of a professional orchestra when he was 14 years old.
On bringing his experiences with El Sistema to the Philippines, Dos Santos says that it is not his objective to completely change what OFY already has.
"El Sistema is flexible. If you try to put El Sistema here in the Philippines exactly like how we have it in Venezuela, forget it. It won't work. When Maestro Abreu created El Sistema, it was based on the idea that even in the country, it is different," he says.
Instead, OFY is inspired by El Sistema. "I will just share what I learned, then you can adapt and mold to what you have here."
The conductor jokes, "What am I bringing? My bad English, maybe." More seriously, he says, "What I am putting here is the idea that you are really good... You cannot find the talent you have here in the Philippines in other countries. It's really special talent."
After a short eight months of working with the OFY, Dos Santos already knows that he does not regret his decision to move to the Philippines. "I'm really happy... with everything." He describes his experience so far as "crazy but amazing. Those words must always be together. If you want to do something amazing, it must be crazy also. I would like the world to realize that what you have here in the Philippines is really amazing."
Looking forward, Dos Santos' vision for the OFY is three-fold. "First, they will become professional musicians and they will play in professional orchestra here; second, they will be doctors, engineers... they will become good citizens. We are building here good Filipinos, good human beings."
Thirdly, he says, "They will become people who are willing to help in teaching and transmitting information to the next generations."
When asked about his plans for the future of OFY, the maestro says simply, "Stay tuned!"