Poinsettias: The star of Christmas
December 23, 2017 | 4:00pm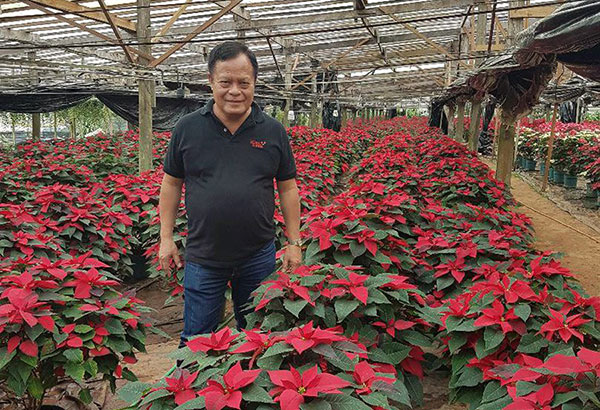 MANILA, Philippines — When the bright red plants start making an appearance at shopping malls and garden stores, you know it's Christmas. The appearance of the poinsettia announces the Philippine Christmas, and it lasts as long as our holiday season, touted to be the longest in the world.
This ubiquitous red and green yuletide plant is a species indigenous to Mexico. It derives its common English name from Joel Roberts Poinsett, the first US minister to Mexico, who brought this specimen back to his homeland.
Contrary to popular belief, the flower per se is actually the yellow green crowns in the middle of the shrub. The iconic showy red bracts are, surprisingly, modified leaves that make this plant the perfect Christmas ornament.
In the past, the Aztecs used the red dye as an anti-fever medicine. Today, the Mexicans fondly call it La Flor de Noche Buena – the Christmas Eve Flower.
According to local folklore, this moniker was coined in the 16th century, when a girl named Pepita, who was penniless to purchase a gift for Jesus' birthday, was instructed by an angel to gather weeds from the roadside and offer them at the altar. Blood red leaves started to sprout from the plucked grass, and thus poinsettias came to be. Eventually, it was considered a symbol of the Star of Bethlehem.
In the Philippines, this end-of-year bloom has become synonymous with its main source, King Louis Flowers and Plants, headed by its low-key president Efren Chatto, in partnership with his supportive wife Nikki, who handles Mom's The Flower Shoppe, their offshoot flower boutique.
The plantation slowly gained recognition due to their consistent participation and involvement in Baguio City's Panagbenga Festival, an annual floral float parade which started in 1996. Back then, the event was extremely modest and few had ever heard about it. Their entry was the very first fully decorated calesa to grace the event. Through the years, Efren and his team have been tapped by sponsors and participants as designers, suppliers and makers of winning mobile gardens in the fiesta.
Fast forward to 2017, and the Summer Capital is packed with tourists and visitors from all over the country – no, make that the world – who come to witness spectacles of blooms and greens.
In the mid-90s, Efren stumbled upon this curious pretty little plant – he did not know anything about it, other than it was apparently grown in Hawaii – in an agribusiness exhibit and fell in love with it.
During the year's last quarter, eager to propagate, he was able to acquire 20 cuttings. But this ended up in failure for, as he described, "It did not grow the way I saw it on that fateful day."
The following year, however, Paul Ecke, the owner of his self-named ranch in California, offered assistance to the eager grower by supplying some 1,000 rooted cuttings. End result – a complete success!
The two gentlemen established a friendly business relationship and the rest, as they say, is history.
Now, King Louis Flowers and Plants occupies a whopping 15 hectares, spanning the barangays of Longlong, Lamtang and Alapang in La Trinidad, Benguet, some 30 minutes from Baguio City. Expansion in the municipality of Impasugong in Malaybalay, Bukidnon – which shares similar climate and elevation as Benguet – make up the duo of floral sources which serve the demand in Metro Manila, Bohol, Cebu, Cagayan de Oro and Davao.
Three hectares of the farm is dedicated solely to poinsettias, while the rest is home to foreign and local flower varieties such as bells of Ireland, chrysanthemums, gladiolas, hydrangeas, petunias, phalaenopsis, snapdragons, tulips and many more.
The estate unfailingly participates in the annual Agrilink Convention, the largest local agribusiness exhibition for 24 straight years.
In a short chat with Efren, he shares that poinsettias are divided into two basic sizes: regular ones which grow in 17-centimeter pots over the course of six months, and mother plants which grow up to three and a half feet over two years of constant pinching and pruning.
Care for these Christmas stars is a rather delicate process. Due to its light-sensitive properties, farmers expose them to light for over 16 hours a day for approximately 21 days – often using artificial sources of illumination when the sun sets.
These are then covered with dark plastic, depriving them of sunlight for a month and a half, to induce it to produce its iconic red color.
"Although the process isn't easy, it never fails to seem like a miracle when the green leaves turn to red," Efren shares with a genuine smile.
Surprisingly, King Louis' plants do not depend on soil and earth. Their plump, quality products are instead grown in a mixture of absorbent organic coco coir and lahar, with certain amounts of fibrous peat moss imported from Europe.
These minute greeneries are watered every morning – just enough until the pot drips, and then treated with a small drop of liquid enhancers.
In addition, NPK fertilizer, trace elements package, and Triple 14 – all nutrients to ensure bigger blooms – are used.
Red – by an enormous margin – is the most popular variety, while pink, salmon, yellow, white and glitters all share three percent of demand.
Deliveries start at the beginning of October, while the bulk of orders are shipped out from the final week of November to the first week of December.
Once the season is over, the plants must be re-potted. However, a certain balance between the roots and the leaves must be maintained, so King Louis farmers are trained to cut down on either factor which throws the ratio off.
An economics graduate from the University of San Carlos in Cebu City, this former banker and present entrepreneur with over 35 years in the business is passionate about the development of agriculture, for it is an exciting and ever-expanding field.
The self-described "simple follower of God" employs over 200 officers and staff members across all his farms, and he is committed to hire the best workers – or, ultimately, train them to be the best they can be.
This inspirational gentleman, who dubs himself a straightforward plant grower, believes in re-assigning employees from various islands for better immersion.
"I bring the best workers from Baguio to Bukidnon, and vice versa, as stay-ins – with complementary housing, electricity, and water – where they will be able to influence each other to become admirable versions of themselves," he shares.
A common frustration for Efren is the lack of available land. "Owners are holding on to it, aware of the livelihood possibilities!" he stresses.
The father of two sons, active in the fields of medicine and law, and two daughters, engaged in advertising and marketing, he hopes that eventually, one of his children follows in his footsteps.
When you see someone setting up poinsettias, try and ask where they got their plants. More often than not, the answer would be King Louis, indeed the king of poinsettias.