Mothers know best
November 18, 2017 | 4:00pm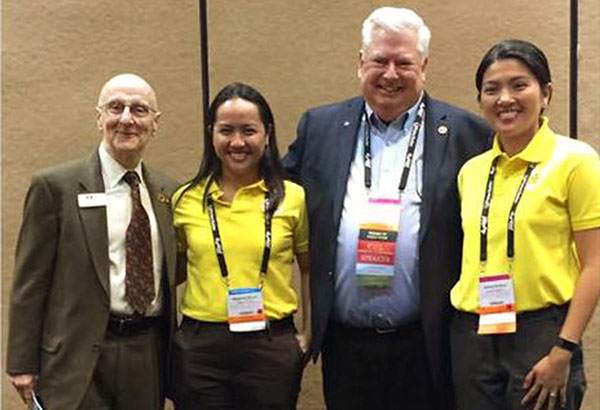 MANILA, Philippines — The atmosphere in the Happy Helpers headquarters is indeed bubbling with joy as founders Maan Sicam and Jo Endaya and their staff can't contain their enthusiasm while reciting their core values – positibong disposisyon, palaging tapat, pagpapahalaga sa pamilya ng Happy Helpers, pakikitungong may paggalang, propesyonal sa puso at gawa (positive disposition, always honest, value for the Happy Helpers family, respectful, professional in heart and action) – complete with actions.
The company provides cleaning services around the metro area and employs women from Gawad Kalinga communities as well as other partner barangays.
"As a social enterprise, compared to a regular company, we do spend more for our people in terms of training and resources," says Maan. "We provide everything – their uniforms, their training, the cleaning tools, transportation, even shoes and bags because we want to ensure that the salary that they receive at the end of the day is completely for them."
She adds, "The thing that we're changing here is the value of the service that we offer."
A live-in kasambahay would probably earn around P5,000 a month, though being in-house, they are most likely on call 24/7. "Here in Happy Helpers, the objective of our company is to ensure that the women have sufficient supplementary income.
It's not the main income of the house. It's the supplementary income and what we're targeting is that if they work here four to five days a week, they'll earn P5,000 a month, working only five hours a day."
Jo says, "In Happy Helpers, we provide a more holistic training. Hindi lang siya (It's not just) skills training. Values formation, personal growth, one on one coaching. We're not just changing the way they view the work, but we're trying to change the way they view themselves."
Happy Helpers found the need to do this when they realized that the women would see themselves as "nanay lang (just mothers)."
"We're both mothers," says Jo. In fact, both she and Maan first bonded over cleaning when they met abroad.
Maan moved to London in 2008. "I was a trailing wife. I gave up my career in order to follow my husband who was expatriated. At that time, we had two kids." Coming from a background with yayas (nannies)and housekeepers, she had to adjust to life abroad taking care of everything.
"The first year was really hard for me," she admits. "Eventually I loved the idea of what I was doing. I was spending time with my children, I was actually getting to know them. I also realized a lot of things about myself. I was a BPI scholar, I graduated from Ateneo, I worked at Unilever and here I was cleaning the toilets. Yun nga lang in London, pero ganun pa rin (It was in London, but all the same), cleaning the toilets," she reflects.
"But that experience also made me realize the value of mothers at home. We know we love our moms and they are valuable, but it's not something you realize until you become one yourself."
Jo got her first taste of the cleaning life when she spent some time living alone in Canada. "At first I was shocked, coming from the Philippines where at home everything is taken care of. By myself I have to survive. But the beauty of that experience is that I learned. And more so, I enjoyed it. I enjoyed managing my own home."
While living abroad, Jo worked, finished her masters and met her husband along the way. By the time they got married, he was working in London and Jo followed shortly after. It just so happened that Jo's husband was a friend of Maan's.
"We would see each other, go to Ikea. We found something in common – cleaning. We found joy in it," says Maan.
In 2012, Maan and her family moved to Brazil. "In Brazil the set up is very similar to the Philippines. It was my first time to live in a condominium. The hardest part of living in Brazil was that they did not speak English. But since slightly cheaper yung labor, I could afford to have someone come to the house." She admits she would get a helper to do the ironing – her Achilles heel. "Sometimes you just need a little help."
"In São Paulo, there are condominiums as far as the eye can see. I could see that this could be Metro Manila ten years from now. Wala nang bahay (no more houses), it's all buildings. There's really no space for a helper. In São Paulo, most of the helpers were live-out, whether they were part time or full time."
When Maan's husband was re-patriated, the family moved back to the Philippines and she was able to reconnect with Jo, who had also moved back to the country.
"A part-time cleaning service is something that we can create as a market," Maan thought when she returned to the country after six years.
Jo adds, "We didn't know where to start. We were thinking about a business idea, not even a social enterprise. We didn't know where to find manpower."
Turns out, what they needed was woman power.
The two partnered with Memey Mendoza, who introduced them to the ladies of GKnomics, an organization that started as a way to create livelihood opportunities for Gawad Kalinga communities and has now become a platform for social enterprises. Memey helped Happy Helpers really become a social enterprise.
"Memey transformed the way we do our business," says Maan. "We started officially in 2015, just posting on Facebook."
Working out of Jo's garage, both Maan and Jo would buy the supplies themselves and drive their Happy Helpers to the cleaning jobs while picking up their kids along the way. They would even end up cleaning side by side their Happy Helpers. "That's what gives us credibility with our women. We can do what they can do," says Maan.
From three jobs a week at first, demand started to pick up. Eventually, they bought a van and hired a driver. There were jobs booked everyday, proving demand for their service, and Happy Helpers was able to do continuous recruitment of nanays in the community.
By the end of 2015, they had formed a partnership with Messy Bessy, another social enterprise. Happy Helpers now uses only Messy Bessy products in their cleaning. "That's another differentiating factor," Jo says. "A lot of our clients now are particular with the cleaning solutions."
With Messy Bessy, the Happy Helpers use only natural, chemical-free cleaning products. This again goes back to their background of being mothers – they only want to use the best and safest products for their homes.
Only a few years into the business, Happy Helpers has been recognized as one of the 20 finalists of BPI Sinag, a business challenge for social entrepreneurs to help them scale up their business and enhance business skills.
Maan, who was also a BPI scholar, is grateful for the BPI Sinag program.
It is the first competition that Happy Helpers has joined that is really for social entrepreneurs. As a finalist, Maan and Jo have been able to learn from a boot camp given by Bayan Academy.
"It's hard enough to start a business, let alone a social enterprise." She adds, if they are able to receive a grant, it will go directly to training the women of Happy Helpers.
Maan describes joining Happy Helpers as a journey. Nanays who pass the medical, barangay and NBI clearances receive an orientation and skills training. Their "OJT" is done under the supervision of Jona, a Happy Helper from Payatas who is now a full-time coach to new recruits.
The Happy Helpers also get constant feedback, especially positive comments, which they are not used to hearing. "They don't have self-esteem," says Maan on what she wants to change in the mothers in the program. "They stop dreaming at 30, or even younger."
"Matanda na po ako (I'm already old)," they tell her, to which she replies, "I'm starting a business at your age. You can't say that you're too old… What they feel resonates with me and we're all in this journey together."
During their regular consultations, Maan and Jo try to introduce the concept of dreaming and aiming for goals. Usually, as mothers, the dreams are all for the children, Maan notes. "But we tell them 'You can still improve yourself. We can still do a lot of things for YOU.'"
She says, "This process is something that is integral not just as a social enterprise, but as a business. We really have to invest in people."
"Our product is our women. No matter good branding, cleaning products… if the women aren't happy, it won't work. Kung masaya ka na ginagawa mo ang trabaho mo (If you are happy about the work you do), it will show. Cleaning is a very personal thing," says Maan, noting that the clients let them into their homes, their personal space.
Jo agrees, "It's a personal relationship, because a stranger comes into your home. The moment that they call us, we're already trying to build a trusting relationship. So it's more than just 'I'm here to clean your bedroom, to vacuum your upholstery' – 'I'm here to give you convenience. I'm here so that you do not have to think of the stress of cleaning.'"
Looking forward, Maan and Jo want to keep growing the company. "In five years time, what we want to do is have 1,000 women who are part of Happy Helpers all over Metro Manila, who we are changing the lives of," says Maan. "Naniniwala kami na (We believe that) if you change the mother, you'll change the family… 1,000 women is equivalent to 1,000 families."
Jo says, "We're at another milestone. Now that our mission is clear on why we are a social enterprise, we want to create a culture of affirmation and positivity. When you come to work, you know you are valued." She adds, in ten years, they hope to build a community center with a head office, training facility, daycare center and a fleet of vehicles.
Maan adds they hope to build on the skills of their employees. Soon, they will be able to provide all-around home services – cook, driver, electrician, plumber, carpenter – all done by mothers. After all, she points out, "Sino bang tinatawagan mo pag may kailangan ka? Hindi ba nanay mo? (Who do you call when you need something? Isn't it your mother?) Your mother will solve all your problems."
Indeed, mothers know best, whether it's the Happy Helpers cleaning with love and positivity, or the mothers behind the social enterprise who are building not only a successful business, but are encouraging women to grow, dream and transform their families and communities.
Contact Happy Helpers by email [email protected] or www.facebook.com/happyhelpers