How good governance worked for Clark
February 7, 2016 | 12:00am
MANILA, Philippines - Things are looking up at Clark Freeport Zone these days.
It wasn't hard to spot how vibrant this economic zone in Central Luzon was when STARweek visited it late last month. Traffic is well-managed, joggers can freely sprint in new jogging paths around the Parade Grounds, there are plenty of new commercial establishments (including an SM mall), and there's even the new Fontana International Convention Center, Clark Museum and 4D Theater, as well as a 24/7 Command Center that monitors traffic and security around the freeport zone through hundreds of CCTV cameras.
What is not usually seen are the smiling employees of Clark Development Corp. (CDC), the government-owned and controlled corporation (GOCC) in charge of managing and developing Clark Freeport Zone. We were greeted cheerfully by every employee we met, even the company president and CEO, Arthur Tugade, who sat down with us for an interview.
Red tape, corruption
"Coming from the private sector, I was shocked by the culture and values in government service when I arrived," says Tugade, who was appointed CDC head on Dec. 18, 2012 by President Aquino.
He added that he has also received reports of graft and corruption in some of the ranks. He said it was customary for locators to bring gifts or give dinners to CDC employees and officials just to speed up processes.
Chronic red tape, graft, and corruption, which Tugade describes, have prevented Clark Freeport Zone from realizing its full potential. In the 17 years that the zone has been operating prior to his arrival, the zone only grew up to 606 locators that employ 71,000 workers and generate $3.66 billion in exports.
During the same period, the zone only had revenue of P10.6 billion and a net income of P1.4 billion. It contributed only P634 million in dividends to government coffers.
Changing Clark's culture, values
When he assumed office in 2012, Tugade knew he had a formidable task to accomplish in line with President Aquino's daang matuwid platform. To eradicate red tape, graft and corruption in Clark, he had to strike at the very root of the problem — the prevailing culture and values among some CDC employees.
Tugade says he instituted stricter policies, focusing on punctuality, respect, honesty, excellence, and service with a smile. He even has slogans for these new polices, such as "Ang intrigero pang impyerno, ang chismoso, pang kalaboso" or "Hindi pwede ang pwede na." He prohibited employees from accepting gifts, meals or doing "extra business" with locators. Furthermore, he corrected some employees' sense of entitlement and debt culture which breeds nepotism and corruption.
He made it a point to practice what he preached. He set management and department meetings before or after office hours to ensure employees' attendance — meetings he was never late for. He would leave his home in Alabang in the early hours of the day and would stay in Clark until 10 p.m. When he meets with board members or investors, he pays for his own meals and transportation, declining the personal benefits offered by CDC to employees.
Tugade also ensured that services in Clark are not just friendly and corruption-free, but also speedy and red tape-free. This was done by reducing the time period for business permit processing by 60 percent through mergers of several departments, and automation such as faceless transactions.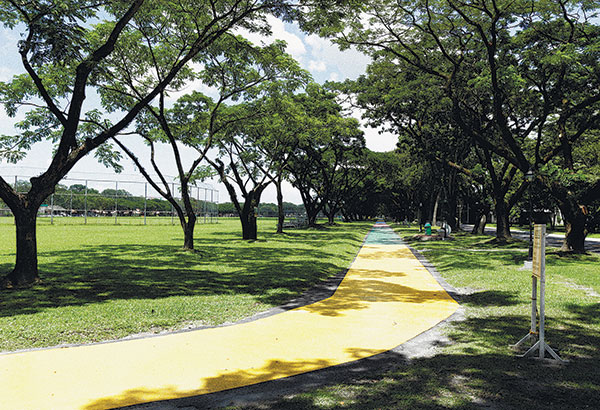 Among Tugade's infrastructure projects inside Clark Freeport Zone is the rubberized jogging path along the Parade Grounds to promote a healthy and active lifestyle among CDC employees and locators.
Breakthrough transformation
Three years after taking over the reins of CDC, Tugade says Clark had a breakthrough transformation in terms of revenues, as well as growth and development.
With streamlined process, Clark's revenues grew by up to P4.1 billion. Hence, the number of locators increased, from 606 in 2012 to 821 last year, which accounts for 84,000+ employees and $4.425 billion in exports. The zone posted a net income of P1.6 billion and was among the top GOCCs under the Aquino administration, remitting P720 million in cash dividends to the National Treasury.
The Tugade administration also encouraged investors to develop their idle lands, lest the CDC returns their investment in exchange for the return of the real estate. In 2015, CDC was able to recover 33.57 hectares, as well as revived 326.162 hectares of idle lands.
Validating these economic indicators are the several awards CDC received under Tugade's leadership. In 2014, it was commended by FDI Magazine's Bespoke Awards Asia for its successful reduction of red tape in the zone. Among the Top 50 Freeport Zones of the Future for 2012–2013 by FDI Magazine, Clark Freeport Zone ranked eighth. Tugade and his team also received the Asia CEO Award for Executive Leadership Team of the Year in 2015.
"One of our keys to success in CDC is the people: the employees who continue to work despite their thankless job, the CDC Board who would advise me on policy, my family who always supported me no matter what, and investors and locators who placed their trust and confidence in our administration. Without them, our transformation would not have been possible," Tugade says.
Clark is an exemplar of how good governance and the right culture and values can bring about progress, development and stability in a community. Tugade hopes that Clark will continue, even exceed, what it has accomplished for years to come, regardless of the changes in the political or economic landscape.