From CLOY to Dr. Romantic 3: Romance starts with the letter K
September 26, 2023 | 12:00am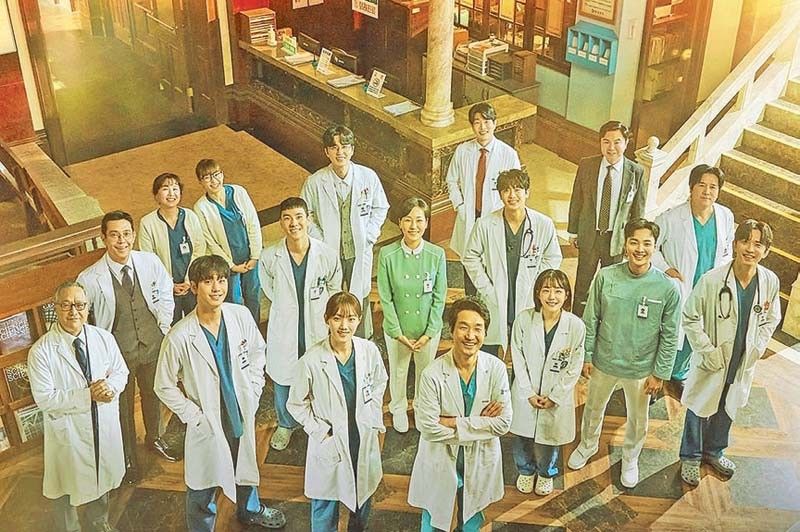 I started my romance with K-Drama with Crash Landing on You (CLOY) in 2020, and after an on-and-off three-year love affair, I put a comma on it with the Korean medical drama series Dr. Romantic 3, which I finished watching last month.
I say "comma" because I intend to resume the romance of K-Drama when another long holiday comes along. (There is actually a link between the two drama series — the actor Lee Shin-young, who portrays Captain Ri's boyish trusted aide in CLOY and Jang Dong-hwa, a resident in Dr. Romantic 3.)
My K-Drama fangirl group "Noona-tics" had given Dr. Romantic 3 a perfect "5" so I was lured to the series, season one and two of which I previously watched on Netflix.
But alas! Dr. Romantic 3 was not on Netflix, but on Disney+, which I hadn't activated (yet) on my smart TV. I didn't know how. So there I was, cajoling my adult son to let his mama watch Disney+, much like he used to beg me to let him watch Disney 'toons when he was little.
So, one fine day I had Disney+ on my TV but instead of watching fairy tales, my fingers scrolled beyond Sleeping Beauty's castle to a once-decrepit hospital in a place called Doldam in Gangwon province, South Korea.
The lead actor Han Suk-kyu as Boo Yong-joo, who portrays a triple-board certified surgeon, is no McDreamy of Grey's Anatomy. But he is a dreamer who turns his dreams into reality. "McDreamy" indeed in a sense, though he doesn't have the looks of Sleeping Beauty's Prince Charming either. Or my all-time K-Drama oppa Captain Ri (Hyun Bin).
But Boo Yong-joo, later Kim Sa-bu or "Master Kim" to his junior doctors and nurses, has the heart and soul — almost fairytale-like in its resolve and pureness, its nobility and purpose — of a legendary character.
The head nurse of Doldam Hospital, Nurse Oh, portrayed by Jin Kyung, the glue that keeps the staff of Doldam together, especially when there are occasional cracks, describes the fictional Master Kim as "gravitational."
"I think there's a difference between being skilled and being gravitational. Your gravity pulled everyone here, Master Kim," she said to him in a very relatable moment in the series, when even the most romantic are beset by doubts about their abilities.
In Season 1, Master Kim, after leaving his job at a top Seoul facility, begins working at a small hospital named Doldam, located in Gangwon province. The province exists but the hospital is actually a former hotel, a traditional low-rise building that has not reopened to the public, in Pocheon City. But since the location became popular, much like Iseltwald in CLOY, this building has reportedly changed its name to "Dr. Romantic Filming Location" in Naver Maps and Google Maps has reportedly even listed the building as "Doldam Hospital."
In Doldam, Master Kim guides young doctors to not just make the best of their skills, but to use them for a purpose.
Season 2 puts a magnifying glass on the politics that come with keeping a hospital on its feet. New characters are introduced including Ahn Hyo-seop (also of Business Proposal) as Seo Woo-jin. Ahn Hyo-seop is my next favorite oppa after Hyun Bin. For me, this season was all about second chances, not just for patients but also for doctors.
Season 3 is all about realizing impossible dreams, the pains and gains. It also is robust with oppas. But be prepared to look away from the TV set if you're not too keen on super-realistic surgery scenes.
***
To me, Master Kim is like the Korean "Man of La Mancha," the Don Quixote de la Doldam. He also reminds me of DA Jack McCoy in Law and Order. Please stop me from saying he reminds me, too, of JFK. That would be a stretch, but that's how much I admire the fictional doctor created by brilliant Korean writers and breathed into life by Han Suk-kyu.
I have met brilliant, selfless doctors, lawyers, teachers, politicians and journalists in my life in the mold of Dr. Romantic, and I believe young and old can still be inspired by the romance of nobility.
Why you ask, is the series thus titled? You must see it, if not all three seasons, then not the last one, to know the depth and breadth of the answer.
But here's a quote from Master Kim in Season 3 that sums it up for me: "Don't give up on the question of why we live and what we live for. The moment we give up on that question, our romance is over."
Dr. Seo, Master Kim's protégé, also nails it. "Sometimes, there are levels that you can't reach without going crazy. And Master Kim calls it romance."
Finding joy in lives saved, fulfillment in a team working together like a well-rehearsed orchestra, realizing the meaning in and of our work, getting giddy with results (whether it's an article published for a writer, broken bones and broken hearts mended for surgeons), loving what we do despite the ups and downs — that's romance. Seeing roses instead of scalpels in the work the doctors do at Doldam makes it, indeed, a romantic medical series (despite it not having as many linen closet trysts as Grey's Anatomy.)
"They say saving one person is like saving a universe," says Master Kim, the man of dreams from Doldam Hospital.
Watch Dr. Romantic and believe in the "impossible dream" again.
You may e-mail me at [email protected]. Follow me on Instagram @joanneraeramirez.