Where would you travel to if you could?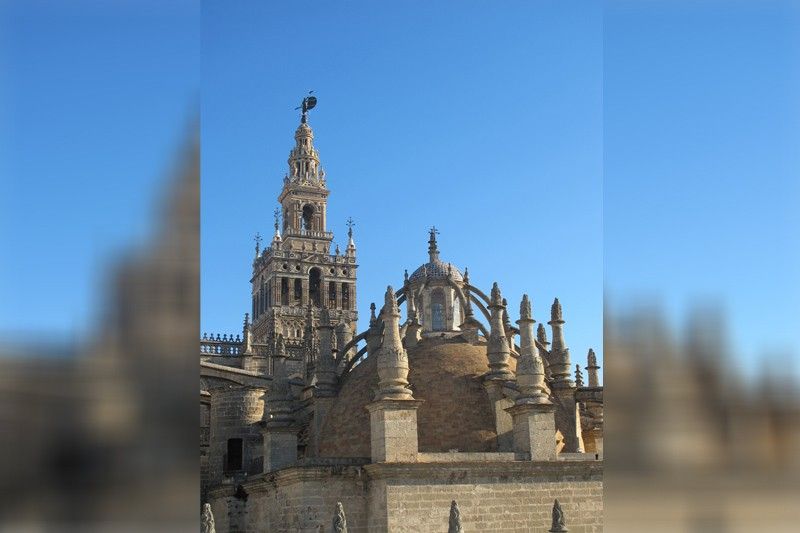 Now is not the best time to travel. Even if one were able to deal with all the precautions and restrictions, one should still stay home because of the risks. Yet no quarantine or lockdown can stop our minds from wandering. In our minds, we can continue to explore distant lands. Our imagination can roam freely and, more importantly, safely. After all the video conferences and the online classes, it can be quite relaxing to plan fantasy journeys. Part of the fun is being as detailed as possible: what will your hotel room look like, where in the town plaza will you sit to listen to church bells as the day ends?
While businesses and economies are still grappling with the effects of this pandemic, it's nice to once in while dream. As they say, dreams are for free. After being cooped up in our homes for weeks and months, traveling is what comes to our minds when the situation gets better. I asked a good friend, Ino Manalo, current executive director of the National Archives, if he were to travel in his mind, where would he go?
"Of course, since everything is imaginary, at the moment our options are actually limitless — I can travel for months and not have to worry about my job, I can stay in the most luxurious resorts and not think about the expense," Ino replies. "But, somehow, boundless travel wouldn't be satisfying. I think one becomes more creative when there are constraints. Vacations are precious because one only has so many days and only so much money at one's disposal."
Here then is where Ino would go and what he would do if he could:
1. Where would you go?
I've been taking virtual classes in Spanish as well as an online course on the art of Andalusia in Spain. We studied the Mudejar, the style that developed from the interaction of cultural elements during the hundreds of years that portions of Spain were dominated by Islamic rulers. I've developed a yearning to revisit Andalusia and examine more closely the Mudejar buildings and artworks that we discussed in my classes.
2. What would be your itinerary?
I would land in Madrid then immediately head off to Sevilla and stay there for three nights. Then I would stay overnight in Cadiz and overnight in Sanlucar de Barrameda. I've never been to Cadiz or Sanlucar, so this part of the trip is completely made up from photographs. I would then spend two nights each in Malaga, Granada, and Cordoba before returning to Madrid for my homeward flight. All together it would be 11 days plus three days for flying: a total of 14 days.
3. What are some of the sites you would visit?
In Sevilla, I would look for the Palacio de Pilatos, a jewel of a mansion that my professor in Andalusian art, Dr. Phillipa Joseph, told us about. I would also check if it was true that the Cathedral's bell tower (it used to be a minaret) had a ramp for horses to climb all the way to the top.
In Cadiz, I would seek shelter from the blazing sun by ducking into the main museum to examine its famous display of ancient, human-shaped coffins.
In Sanlucar, I would spend some time at the archives of the Dukes of Medina-Sedonia before trekking in the nature reserve of Donana, which is supposed to be where the lost land of Atlantis is buried.
In Malaga, I would see the Picasso museum while in Granada I would do the nocturnal tour of the Nasrid Palaces of the Alhambra. I can almost relish how the rooms would glow!
Finally, in Cordoba, I would explore the abandoned city of Medina Azahara and listen as the winds sing tales of the people who once lived there.
4. How would you get from place to place?
Trains in Spain are very comfortable but if the train schedule doesn't quite fit mine, I would hire a car service with a driver. These car services will take you from your present hotel to the next one so that you don't have to take taxis to the station or lug your bags around.
5. Where would you stay?
In Sevilla, I would stay in a lively area like Barrio Sta. Cruz. Since I have to keep to a budget — even though this is a make-believe trip — I would only have a cup of coffee at the splendid Hotel Alfonso XIII and pretend I am there to study the Mudejar decorative elements!
In Cadiz, it would be the Hotel La Catedral because of its central location.
In Sanlucar, my choice would be the Hotel Guadalquivir, which is named after and has broad views of the river that Magellan sailed on at the beginning of his epic journey. I might spend hours picturing Magellan's ships passing by, manned by sailors who were unaware that they would end up in the Philippines.
In Malaga, I would try the newly restored Palacio Solecio. It is a bit pricey but it is a few minutes' walk from the Picasso Museum.
In Granada I would stay at the quaint Hotel America, which is within the walls of the Alhambra itself.
Finally, in Cordoba I would go to Las Casas de Juderia and imagine that I'd been given a big discount so I can afford a room with a spectacular view of the Cathedral that used to be one of the largest mosques in the world.
6. What would you eat at least once?
A refreshing, garlicky bowl of salmorejo, a typically Andalusian cold soup.
7. How would you keep fit?
I would do my 10,000 steps every day when no one else is about, walking in the cool air among cobbled streets and gracious buildings.
8. What special item would you pack from home?
My late grandmother's book of daily prayers.
9. What special activity would you do every day?
I would go to Mass every day, usually in a small chapel of the local cathedral. There would be very few attendees and so the mass would feel quite intimate. On the third day, some of my fellow churchgoers may even recognize me and greet me with a half smile.
10. What would you bring back?
Two or three boxes of sugar-free turron Alicante.
When I get home, I will immediately make a PowerPoint presentation of my trip and force my nieces and nephews to attend my videoconference lecture on Mudejar art. If they refuse I will bribe them with sugar-free turron Alicante.