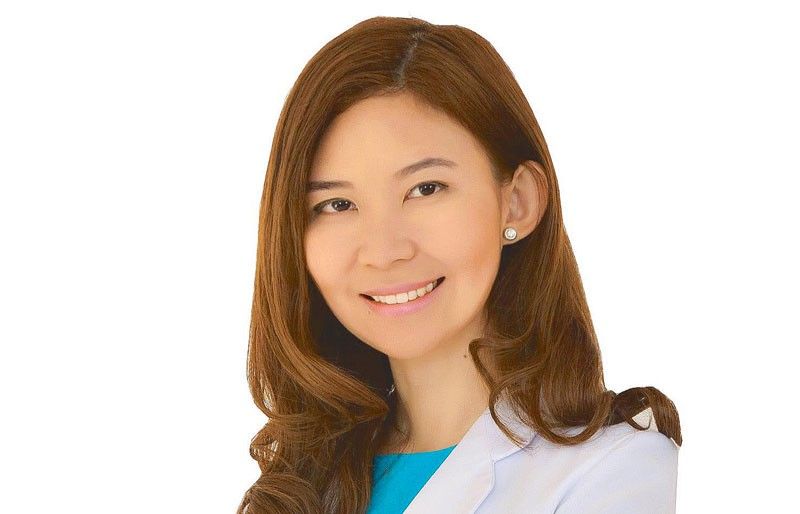 Dr. Geraldine 'Ging' Zamora.
Tips for a healthy you this New Year
When one sees Dr. Geraldine "Ging" Zamora walk through the halls of St. Luke's Hospital, one would think that this tall, lovely and intelligent young lady is a fashion model.
Graduating valedictorian from the University of the Philippines College of Medicine, Ging also trained in internal medicine and rheumatology at the UP-Philippine General Hospital, followed by a postdoctoral scientist program at the Cedars-Sinai Medical Center in Los Angeles, California in 2014. She was awarded The Outstanding Young Men (TOYM) in 2016 and most recently, The Outstanding Women in the Nation's Service (TOWNS) 2019 for her contributions in the field of medicine as science and art. During a recent interview, one of her celebrity patients Kris Aquino introduced Ging to everyone as "the doctor who saved my life."
Being still in the season for merrymaking and endless celebrations, we asked Ging to share with us her Top 10 tips to be healthy not just for the New Year, but all year round!
1. Try to get the sleep your body needs. Studies have shown that both too little and too much sleep are not ideal and can lead to health problems. The average adult should get about seven to nine hours of sleep. While this duration may vary, there should be enough time for your body for cellular repair, as well as to rid itself of waste products, including a type of protein that is associated with Alzheimer's disease.
2. Hydrate. Unless you have a medical condition wherein your physician has set a limit on your fluid intake, such as congestive heart failure or severe kidney disease, it is advisable to hydrate and drink more water. Also try to avoid excessive consumption of fizzy sugary drinks, which has been linked to pancreatic cancer.
3.Try healthier alternatives to the usual party fare. There are many ways to make party food healthier while not sacrificing taste and presentation. Basket of fruits can be given in lieu of the usual sweets. Natural sweeteners can partially replace the many cups of white sugar needed for cakes and cookies. In general, it's important to reduce salt and sugar in our diet unless there is a medical indication for not doing so, and to consume more monounsaturated fat than the saturated counterparts (e.g. oil in deep fried food).
4.Keep warm food warm, and cold food cold. It's good to observe proper food handling to help avoid food poisoning. Wash fruits and vegetables well especially if you'll serve the latter as a salad. Cook poultry and eggs adequately to lessen the risk of salmonella infection. Serve rice as soon as it is cooked and refrigerate leftovers promptly; the same goes for most types of cooked food. Remember that children, the elderly, pregnant women, and people with chronic illnesses have higher chances of becoming sick with food poisoning.
5. Wash your hands especially before eating. Make this a habit.
6. Do not drink and drive. Trauma and vehicular accidents rank high in emergency room consults. Assign someone to drive you home if you're planning to get tipsy.
7. If you have colds and cough and you cannot skip a get-together, please wear a mask. Virus particles are spread far and wide with a single sneeze or cough. You can also spread viruses simply by talking. Wearing a mask protects not just the people around you, but also you, as an infection already lowers the immune system and more pathogens can readily infect the weak. And get your flu vaccines yearly unless you're not allowed to because of certain medical conditions.
8. Get active! Schedule more interactive get-togethers and parties; let there be dancing and games! Try to burn the calories you consume so these don't accumulate and settle on your abdomen and love handles.
9. Avoid smoking and vaping. It's already common knowledge that smoking causes a myriad of health issues — from dull-looking skin, teeth problems, worsened rheumatoid arthritis, to many kinds of cancer. Quitting smoking is one of the best things one can do for better health. Some might turn to e-cigarettes (vape) to help curb this addiction, so it is good to be aware that as of November 2019, the United States Centers of Disease Control and Prevention confirmed 47 deaths in patients with EVALI (e-cigarette or vape-associated lung injury).
10. Practice gratitude. Gratitude enhances wellbeing. Keep in mind that the best gifts in life include time, presence and love.