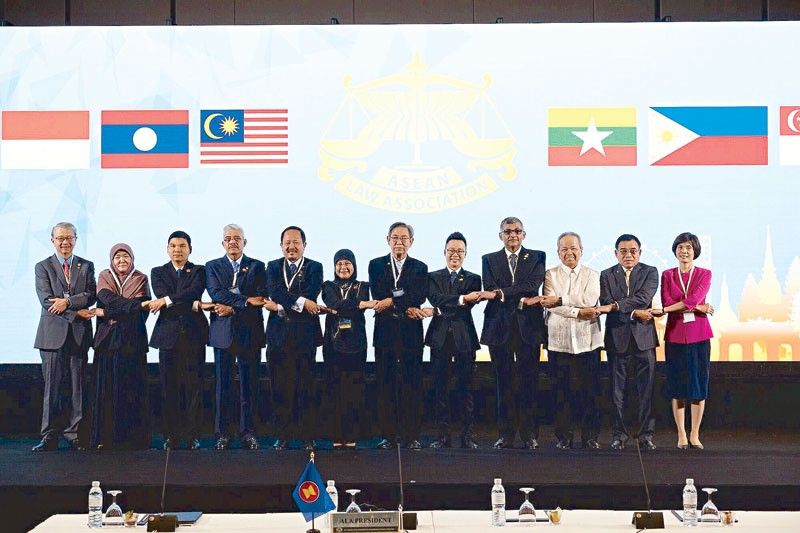 (From left) ASEAN Law Association (ALA) Singapore chairman Justice Lee Seiu Kin, Brunei Darussalam Attorney General's Chambers Solicitor General Hajah Zuraini Haji Sharbawi, ALA Cambodia permanent VP lawyer Prom Vicheth Akara, Indonesia Supreme Court Chief Justice and ALA Indonesia chairman Muhammad Hatta Ali, ALA Lao PDR chairman Justice Phomsouvanh Philachanh, Federal Court of Malaysia Chief Justice and ALA Malaysia chairman Dato' Seri Utama Tengku Maimun binti Tuan Mat, Myanmar Union Attorney General's Office deputy Attorney General Win Myint Win, ALA Secretary General Paul Quan, Singapore Chief Justice and ALA president Sundaresh Menon, retired Supreme Court chief justice and ALA Philippine national committee chairman Artemio Villaseñor Panganiban, Supreme Court of Thailand president and ALA Thailand chairman Slaikate Wattanapan and ALA Vietnam VP Thanh Thi Kim Le.
An ASEAN law gathering in Phuket
It is no secret that the known British author Alex Garland wrote his 1996 opus The Beach while living in El Nido in the Philippines. Also, that he had to set the story in Thailand to ward off travelers and backpackers from finding "that perfect beach," which he believed to be Coron and El Nido. So the story of The Beach (starring Leonardo DiCaprio) was set on Phi Phi island in Phuket, Thailand.
Some say that Phi-Phi island is the only reason to go to Phuket, but there are other islands, other resorts, and, of course, other reasons. Like a law conclave, for that matter. And you would perhaps chuckle at the thought of holding such amidst the recreation, fun and sun Phuket would offer.
Ahh, but justices, judges and lawyers are not all work and no play. Members of the bench and bar, to which I belong to, do know how to kick back and relax on occasion. Not doing so could lead to insanity, what with the pressures we face.
And this is perhaps the reason why we found ourselves amidst the lush greenery, white sand and sparkling blue waters of Phuket — in a law summit.
The ASEAN Law Association or ALA held its 41st Governing Council Meeting at the chic Phuket Marriott Resort and Spa on Merlin Beach, Phuket Island. Merlin Beach is a lesser known strip of sand compared to the famous Patong Beach, the so-called crown jewel of Phuket, but that does not mean it pales in comparison to the latter.
On the contrary, the unfamiliarity to the casual traveler of Merlin Beach gives it an air of exclusivity and privacy, which, in my view, is the best way to enjoy its powder-fine white sand and clear waters.
But, I digress.
Coinciding with the 41st ALA Governing Council meeting was the 7th Council of ASEAN Chief Justices Meeting and the 17th ALA Championship Golf Tournament 2019 held at the Red Mountain Golf Club.
These events were hosted by the ALA National Committee of Thailand and the Office of the Judiciary of Thailand, both ably headed by Chief Justice Slaikate Wattanapan, president of the Supreme Court of Thailand.
The ASEAN Law Association, established in 1979, is a non-government organization that brings together all the members of the legal profession in the region. It is "a dynamic organization, moving forward in collaborative efforts, to understand and harmonize laws in the region."
The first and founding ALA president was the late former senate president and executive secretary, Edgardo J. Angara, who clearly established himself as a distinguished lawyer and legislator in his lifetime.
The current ALA president is Chief Justice Sundaresh Menon of Singapore while the current Secretary General is Paul Quan, also of Singapore.
The previous president who served illustriously from 2015 to 2018 is top-notch lawyer Avelino Cruz. Both Cruz and Angara were founding partners of ACCRA Law, the firm I joined right after law school and where I learned the rudiments of the legal profession.
Cruz now serves as chairman of the ASEAN Law Institute, which was launched by ALA in Manila last April.
The chairman of ALA Philippines, who is an ex-officio ALA vice president, is retired chief justice Artemio Panganiban.
Both Cruz and Panganiban are a driving force behind ALA, both in the Philippines and in the ASEAN.
The ALA Governing Council meets at least once during each calendar year. Together with the governing council meeting is the meeting of seven standing committees.
Meanwhile, the meeting of the Council of ASEAN Chief Justices (CACJ), formerly known as the ASEAN Chief Justices Meeting, was established in Singapore on Aug. 23, 2013. Its institutionalization was made and recognized by ASEAN in 2017.
The main objectives of the CACJ are to strengthen regional partnership between judiciaries of ASEAN members; to provide a regular forum for ASEAN chief justices to exchange views on common issues and share best practices; to facilitate judicial cooperation and to collaborate in capacity building of the judiciaries in ASEAN.
Our newly appointed Supreme Court Chief Justice Diosdado Peralta led the Philippine delegation and attended both the ALA governing council meeting and the CACJ.
My hats off to the ALA National Council of Thailand and to Chief Justice Slaikate Wattanapan for a successful hosting of the these events.
In a world which has been aptly described as volatile, uncertain, complex and ambiguous, a regional gathering of legal luminaries to tackle pressing issues, from disruptions caused by technological advancement to seismic shifts in the geopolitical landscape, is a must.
Happy holidays and Merry Christmas!