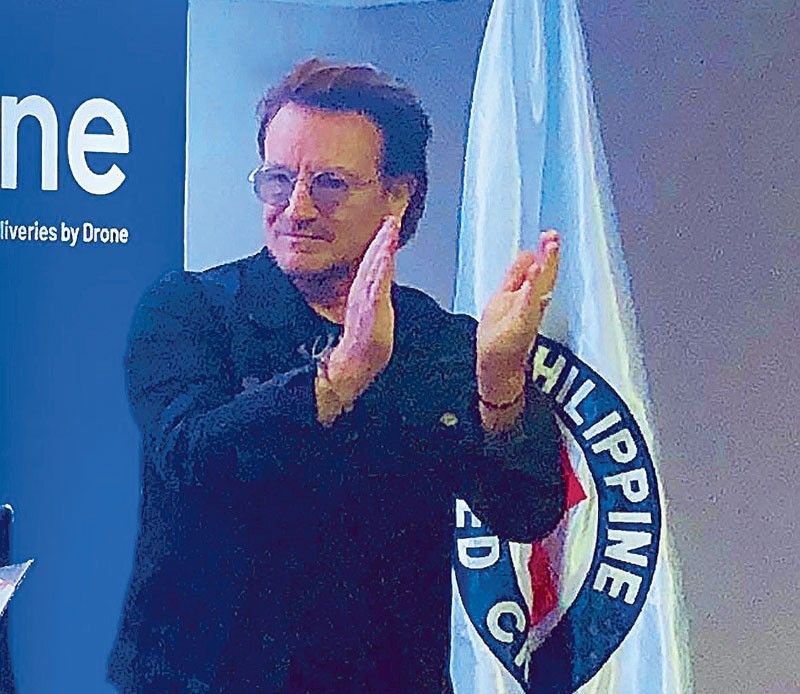 U2 lead vocalist Bono, who says he would have been a journalist if he weren't a musician.
Joanne Rae M. Ramirez
It is easy to be pro Bono, a.k.a. Paul David Hewson, an Irish singer-songwriter, musician, venture capitalist, businessman, philanthropist and the lead vocalist and primary lyricist of rock band U2. U2 just had its historic first Philippine concert last Wednesday at the Philippine Arena in Bulacan.
I met Bono last Tuesday at the Philippine Red Cross (PRC) office and found him to be friendly and oozing with — humility.
He made the Red Cross volunteers the real rock stars of the day and he continuously referred to PRC chairman Sen. Richard Gordon, US Ambassador to the Philippines Sung Kim and Zipline CEO Keller Rinaudo as the real heroes.
"I consider myself a volunteer, too, like Senator Gordon. This is an extraordinary man sitting there," he said, gesturing toward Gordon, adding, "and all of the Red Cross volunteers sitting outside. I have a day job. It turns out I have a few. And thank you Mr. Ambassador, thank you for being here and for helping Zipline drones in this project," began Bono as cheers erupted in the hall where he met the press.
Even as the press conference would sometimes touch on political issues as Bono is a member of Amnesty International, Bono would always tug the topic back to the Red Cross volunteers and to people who give to a cause greater than themselves.
"The people on the phones here at Red Cross, these are heroes. I am an over-recorded, an over-regarded — and I have an over-inflated opinion of myself — rock star, and I know that I am not a hero. I am delighted to be the lead singer of U2 and I'm not giving it up that easy. (But) that's what being a hero looks like (pointing to volunteers), that's what real heroes look like."
When Gordon invited everyone to the U2 concert at the Philippine Arena, with the caveat, "But you have to pay," Bono had this rejoinder: "Unless you're a Red Cross volunteer." (I wonder how they handled the logistics of this last Wednesday?)
Anyway, wouldn't you be just pro Bono yourself with such a man who constantly deflects the attention from himself to those whom he believes deserve it more? Bono, you rock!
Fast, fresh & furious
Bono, Zipline, and the Philippine Red Cross announced their plans to begin making on-demand and emergency blood deliveries by drone across the country at a signing ceremony at the Red Cross headquarters in Mandaluyong. Bono is a Zipline board member, by the way. The US Ambassador has been very supportive of the project, which Bono described as "indispensable."
"I agree 100 percent with Keller that where you live should never decide whether you live," Bono stressed.
Starting with fresh blood from the Philippine Red Cross, and expanding to include over 150 critical and life-saving medical products, the revolutionary new service will use a network of autonomous drones to make on-demand emergency deliveries. The service, which is expected to be launched in the summer of 2020, is capable of operating 24 hours a day, seven days a week.
"Zipline is where all my other passions come together, which is the idea of commerce should serve people, not people serve commerce. The idea that the brightest minds shine even brighter when they work for the vulnerable, for vulnerable lives and I suppose that all of us — our intellect serves our ideals."
Bono said that at Zipline, people are "angry."
"They are angry as indeed you're angry when regular people can't get access to life-saving medication," he explained.
"I'm just here, we want to believe that you know, you can serve purpose beyond mere profit. And so we're trying to serve — I have a little bit of background in global health, fighting the HIV-AIDS pandemic… I saw it once, I saw up close what it was to not get access to life-saving retroviral medications, I saw that, I felt that ache, I felt that space between the need and the supply for that need."
This is why he is passionate about Zipline, praising its CEO Keller, who is married to a Filipina. "He is a rock climber. He likes to do difficult things. But this is a steep climb."
Zipline plans to establish three distribution centers, which will be collectively capable of making hundreds of deliveries per day to thousands of health facilities serving millions of people across the country. The company plans to launch the first of its three planned distribution centers in the Visayas region. Future distribution centers will potentially help the partnership expand service to eastern Visayas and Mindanao.
"Geography and Mother Nature can get in the way of our work in reaching the most vulnerable, making it difficult for them to get access to blood and vital medicines," said Gordon. "We're no longer going to hope that those that need help have to make their way to the Red Cross in a medical emergency. We are excited to bring the newest technology in fulfilling our mission. The Philippine Red Cross will soon be able to reach patients at hospitals across the country on-demand and within minutes. We're going to use drones to bring you the life-saving blood you need right away. This new technology could help us save thousands of lives. And we're honored to partner with Zipline to help make it possible. The PRC stands committed to being the lifeline of the people — of being always first, always ready and always there."
I think the applause for Bono still reverberates to this day, two days after the U2 concert.
"Young people appreciate him because he's taking up causes that will also impact on their future," says Karen Kua Lerma, a mother of two millennials.
And the standing ovation they gave him wasn't just for his performance onstage. *