Big in Japan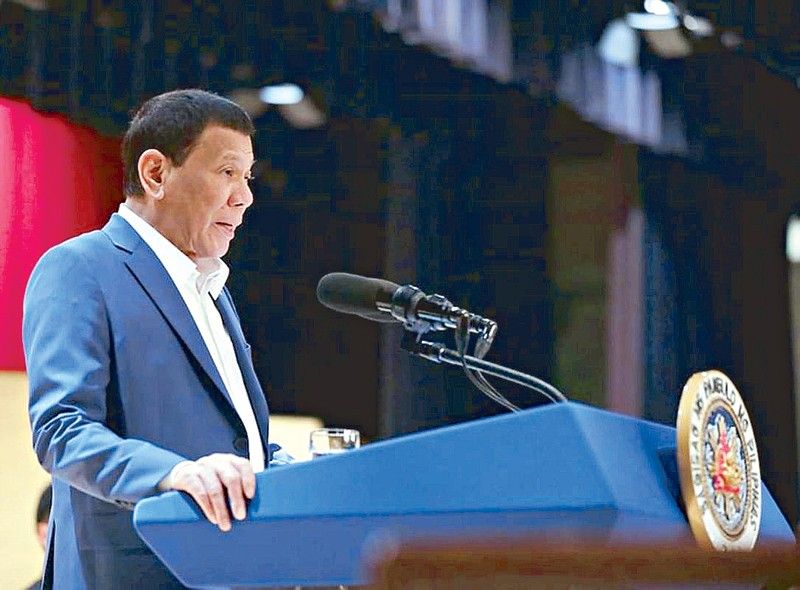 I could not emphasize enough the very good relationship that the Philippines and Japan have, as well as the warm friendship between President Duterte and Japan Prime Minister Shinzo Abe.
Japan was one of the first countries President Duterte visited when he assumed office, and Prime Minister Shinzo Abe had likewise visited our country twice, also going to Davao City.
I was part of the official business delegation that accompanied President Duterte in his visit, which was upon the invitation of Prime Minister Abe himself (word has it that the invitation was personally carried to President Duterte by the Japanese Prime Minister's representative).
Hats off to our indefatigable Trade Secretary Ramon Lopez as well as his DTI team led by Undersecretary Rowel Barba, Assistant Secretary Angelo Taningco, Board of Investments director Angelica Cayas and Special Trade representative Dita Angara-Mathay for another successful organizing.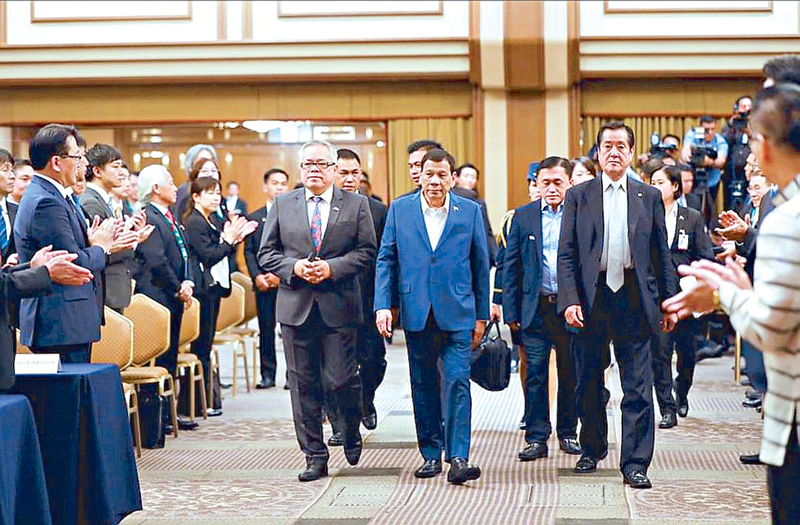 President Duterte is accompanied by Trade Secretary Ramon Lopez upon his arrival at the Imperial Hotel for the business forum.
This Japan trip was also significant because it highlighted the race to the House Speakership.
The President and madam Honeylet Avanceña hosted a private dinner where the three perceived top contenders were in attendance. In order of geographical location of district from north to south, and not according to preference, lest I be accused of favoring one over the other, they are Taguig-Pateros Rep. Alan Peter Cayetano, Marinduque Rep. Lord Allan Velasco and Leyte Rep. Ferdinand Martin Romualdez.
If you recall, this was the time the President had mentioned that he would "step into the contest," so to speak, so all eyes were on the potential candidates, the thrill and the suspense akin to something out of Game of Thrones, perhaps, without the fire-breathing dragons and White Walkers.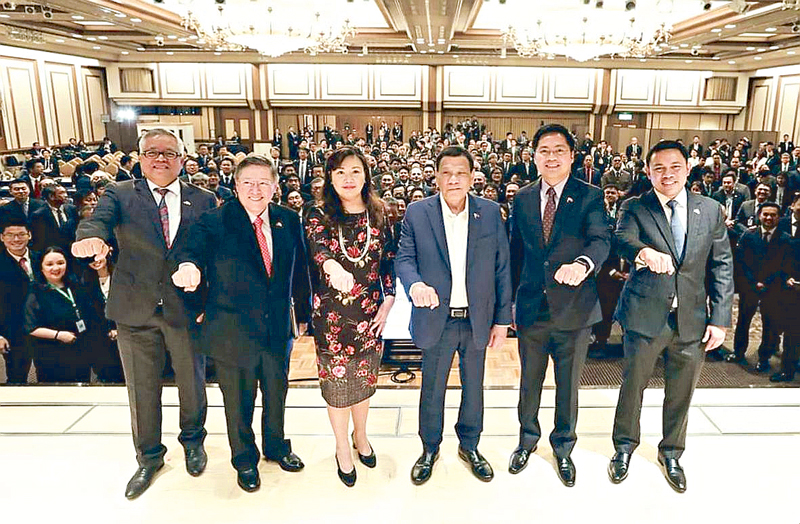 President Duterte with (from left) Secretary Ramon Lopez, Finance Secretary Carlos Dominguez III, Honeylet Avanceña, Cabinet Secretary Karlo Nograles and Public Works Secretary Mark Villar.
It was a "Night of Speakers," indeed (not of the audio component kind, mind you, of which Japan is also famous for), because two former Speakers of the House were also there: former Speaker Sonny Belmonte and former Speaker and Senate President Manny Villar, the latter enthralling me with his sharing of his experience and insights in aspiring for the Speakership before.
What both SB and MBV told me confirmed what I knew: that aspiring to be Speaker requires a herculean effort and that being elected Speaker was just winning half of the battle, the other half of the arduous task being the performance of the functions and responsibilities of the office.
I spoke with the three contenders separately, and I think that all of them are most qualified for the post — they are all well-educated, top-notch in their respective fields, and with a wealth of experience tucked under their belts.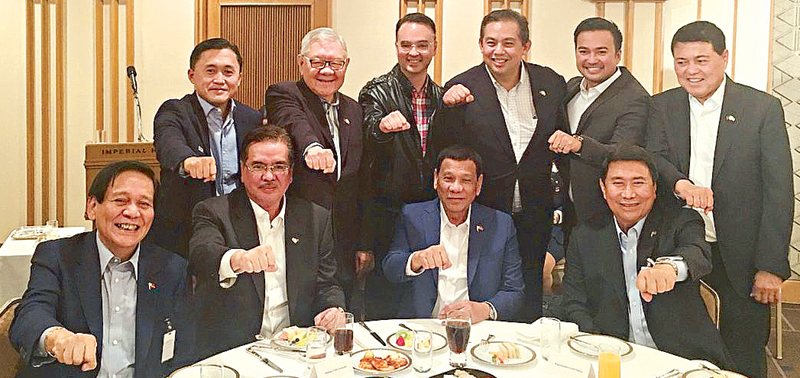 President Duterte with (seated, from left) Special Envoy to Japan Fernando 'Ding' Borja, Ulticon Builders Inc. founder and president Carlos 'Charlie' Gonzales and Special Envoy to China Ramon Tulfo; (standing, from left) Sen. Bong Go, former Speaker Feliciano 'Sonny' Belmonte Jr., Taguig-Pateros Rep. Alan Peter Cayetano, Leyte Rep. Martin Romualdez, Marinduque Rep. Lord Allan Velasco and former Speaker Manuel 'Manny' Villar Jr.
Whatever the outcome, I can only wish them the best of luck and that any of them would surely serve the Speakership well.
President Duterte spoke at the Future of Asia conference organized by Nikkei. I was privileged to have been invited to attend this prestigious event attended by political and business leaders from the Asia Pacific region. It was in this conference where he called on China to come up with a code of conduct for the South China Sea.
Two days prior to the Nikkei conference, the President spoke at a business forum held at the Imperial Hotel, and this was after the signing of 26 business agreements between the Philippines and Japan, a strong show of confidence in our local business and economy.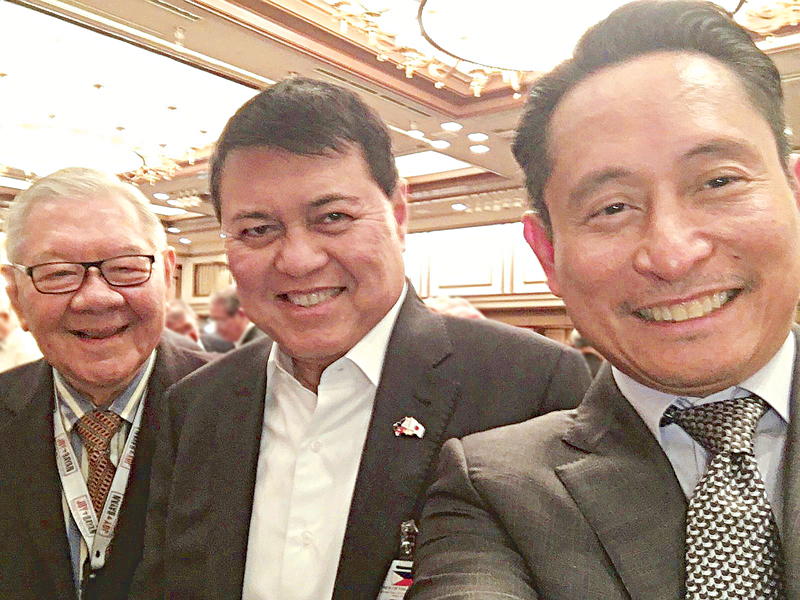 The author with former Speakers Sonny Belmonte and Manny Villar.
The business agreements had an estimated investment value of P288.804 billion or $5.511 billion, translating into about 82,737 jobs for Filipinos.
The President concluded his working visit by having dinner with his host, Prime Minister Abe, before flying back to Manila.
My fellow GINOO member, Presidential Legal Counsel and Spokesperson Sal Panelo rendered an impressive song number at the dinner. Guests all thought that the President brought along a professional singer with him all the way from Manila.
Methinks that the GINOO — Secretary Panelo, former senator and now top hotelier Joey Lina, and myself — are ripe for another concert. In Japan, perhaps? Ahh, that would be one for the bucket list.
Hai!