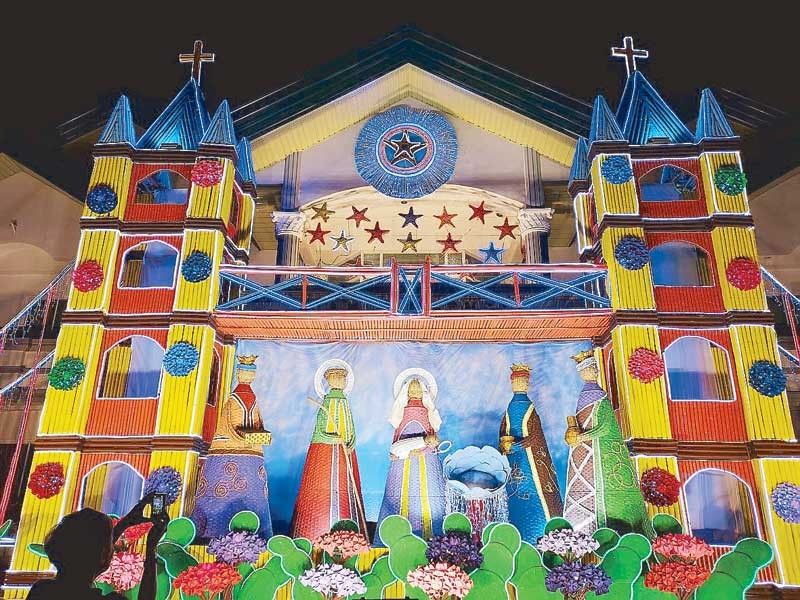 San Clemente's Tower of London-inspired belen in Tarlac.
Photo by Mike Mina
Can't let go of Christmas?
PEOPLE
-
Joanne Rae M. Ramirez
(The Philippine Star) - January 15, 2019 - 12:00am
The Christmas season officially ended last Sunday, according to Christian doctrine. However, it isn't unlikely that Christmas trees and décor will linger on just a little bit longer.
It is hard to move on from the most wonderful time of the year, especially since the chill these past few weeks has evoked memories of Christmas mornings past, before climate change, that is.
The Christmas season burst with family reunions and feast-laden tables — it is the only time in the year when we are allowed to "sin" on a holy day. Sin with decadent desserts and calorie-laden dishes. It is Christmas, after all, we told ourselves. We can diet another day.
To add to the Christmas joy was the exultation over the cherished victory of Miss Philippines Catriona Gray in the Miss Universe 2018 beauty pageant. To this day, people are still talking about her, especially after her interviews in US-based TV talk shows.
Several of our relatives came home for the holidays, bearing good cheer and balikbayan boxes. Of course, this made us merry! And in virtually all Filipino homes, no matter how humble, there were family gatherings on Christmas Eve and Christmas Day, strengthening the ties that bind.
A Makati denizen said she loved the streets of Makati after the Christmas shopping rush, because offices had shut down, traffic, both vehicular and pedestrian, eased up like Vicks VapoRub had been rubbed to decongest the city's passageways.
Well, January has come, and reality is starting to sink in. Traffic is back with a vengeance. The weighing scale shocks us like a horror movie. There's an upsurge of dysmenorrhea on Jan. 2, as female employees call in sick. No one wants the season to end.
Can't we prolong Christmas, please?
* * *
Like the cliché goes, all good things must come to an end. It wouldn't be called Christmas anymore if we could stretch the season like spandex.
The true meaning of the season would be lost if it were a year-long feast, for during the season we celebrated the birth of our Savior and the visit of the Three Kings or Magi (they who study and follow the stars) to the stable in Bethlehem. If Jesus remained a baby forever, if He never got past the Nativity, He would never have had a Resurrection and we would never have been redeemed from sin.
Happy occasions would lose their impact if they happened every day. This is not to say we should not be happy every day. But imagine how blasé we would be about birthday surprises if we were given one every month, every time we turned a month older, instead of every year?
Or if Christmas were not a spiritual feast, just a commercial feast (which it is, too, realistically speaking) and we were allowed to celebrate it twice — would it be that highly anticipated? Would setting up Christmas trees then be a chore, not a delight, especially since many homes make a career out of trimming their trees? (I know of a couple who don't take down their tree at all the whole year through.)
* * *
Getting over the feasts and the other joyful activities of the Season (including binge-watching on Netflix) teaches us that just like Christmas, we must move on. We must face the morning after. Whether it is after a joyous experience or a traumatic one, we must learn to move on.
In one scene in the Netflix series Tudors, Henry VIII's future second wife Anne Boleyn, in a dream, says upon stirring at dawn, "Oh sun, go away!" Some people who have to say goodbye to their loved ones the next day wish the sun were late. People also don't like Mondays — a lot of women also have dysmenorrhea on Mondays.
But the sun rises every day, and Mondays come every week. So does the moon, and so does Friday.
We just have to learn to move on, put our work clothes back on, roll up our sleeves and start our diet. We just have to realize that after the revelry, the laundry. After the shopping, the bills — and the work that must be put in so we can pay them. It's the sobering times after the celebrations that enable us to celebrate in the first place (unless we live off a trust fund), so we must look forward to Mondays as much as we look forward to Fridays. We should be as thankful for Jan. 2s as we are of Dec. 24s.
Like the Christian calendar, our lives are a journey. Our lives are a series of feasts and celebrations.
Santa Claus must take a break, and it's our turn to go to work.
Till next Christmas, I remain, forever grateful.
Happy New Year, everybody!
* * *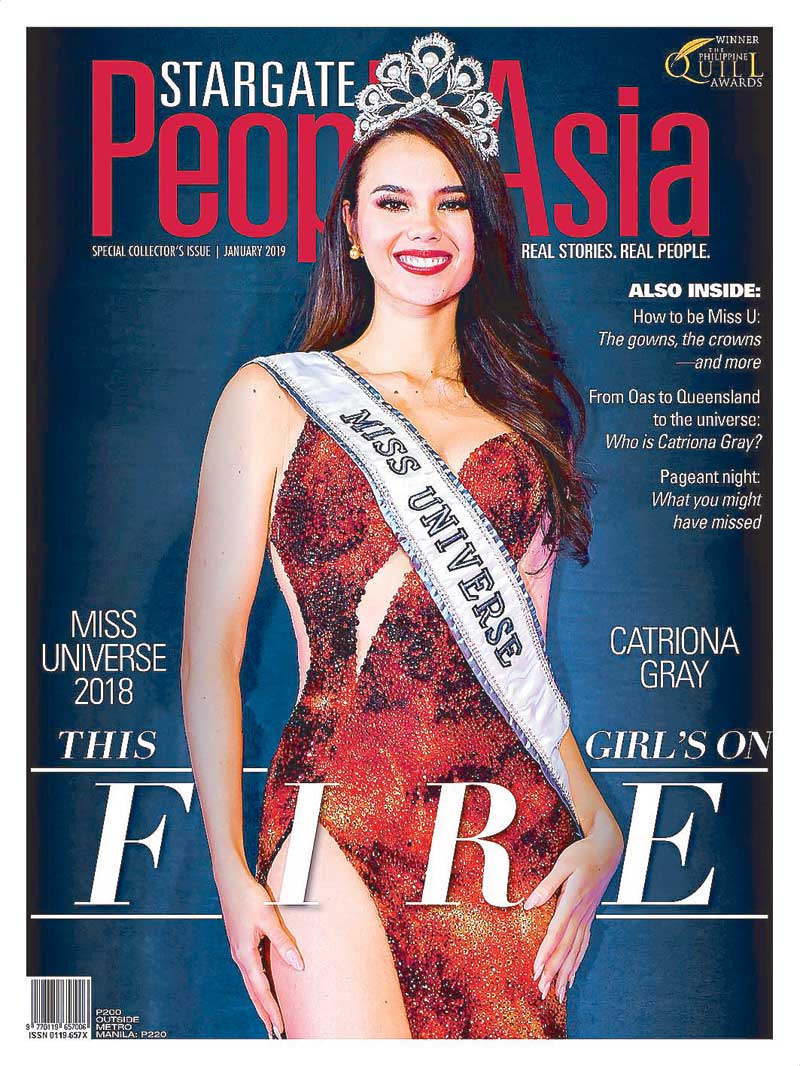 The universe is at your fingertips, as PeopleAsia unveils a special January 2019 issue dedicated to Miss Universe 2018 Catriona Gray. A must-have for pageant aficionados from everywhere in the Philippines, this special collector's item chronicles every step of Catriona's journey — from her childhood in Queensland in Australia to Oas, Albay and Manila, to her heartbreaking loss in Miss World in 2016, to her ultimate moment of vindication as the fourth Filipino beauty queen to be crowned Miss Universe.
PeopleAsia's special January issue is now available in leading bookstores and newsstands nationwide. For more information, or to have your copies delivered, call Bong at 892-1854 or text 0922-8776556.
(You may e-mail me at joanneraeramirez@yahoo.com. Follow me on Instagram @joanneraeramirez.)