Ed Angara at 80: 'SWS' is my secret
October 7, 2014 | 12:00am
Former senator Edgardo J. Angara turned 80 last week, and he credited his longevity to: "SWS."
"Socialization, wine and sex," he told guests who came in droves to his 80th birthday party at the Manila Polo Club. Of course, his beautiful wife Gloria blushed.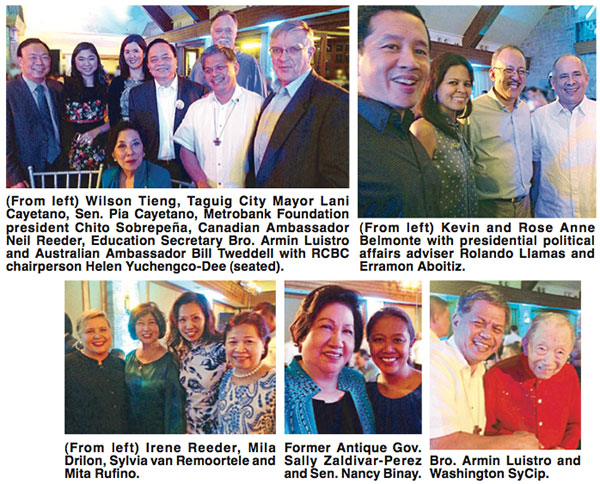 His birthday wishes? A Galleon museum that will celebrate and preserve relics from the historic Galleon trade between Mexico and the Philippines; and football development among Filipinos. An Azkals fan, Angara believes Filipinos can excel internationally in football.
His only son Sen. Sonny Angara, who admires his "work ethic and dedication to what he does," has this birthday wish for his father: "More grandkids."
"And good health!" added the handsome lawyer. Ed and Gloria Angara have four grandchildren: Manolo, Ines, Javier and Allegra.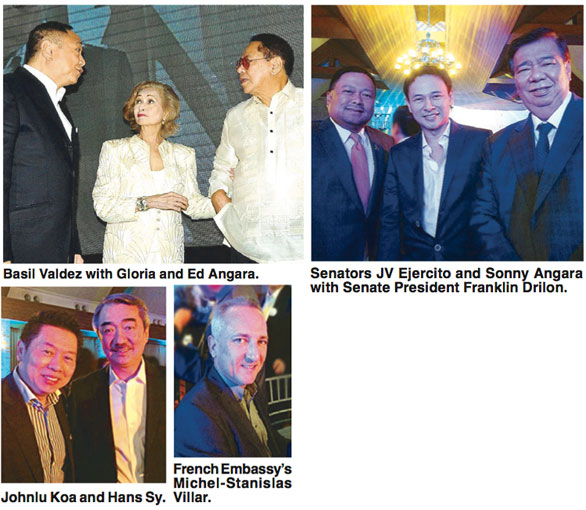 Ed Angara shuttles back and forth between Baler and Manila, drinks wine (but no more than two glasses when he does) and several cups of coffee a day (decaffeinated, according to his daughter-in-law Tootsy.)
When Ed turned 77, his wife Gloria said she wished he would live to be a "centenarian" — not just so they could be together longer, but also because of the many things her husband can still contribute to the country.
To which Angara, the quintessential achiever, replied: "Why not? My neurologist Dr. Martecio Perez says that with the many advances in Medicine, with the progress in stem cell research, living to a hundred nowadays is achievable."
Angara — an educator, lawyer, banker, farmer, patron of the arts — has served the longest in the post-EDSA Senate. Except for a mandatory term break, he was elected to four consecutive terms of six years each.
Fondly called "SEJA" by his Senate staff, he has pushed for the passage of several landmark pieces of legislation that have changed the lives of all Filipinos, and in a way that their gut can feel. These include the Free High School Act, Philhealth (National Health Insurance Act), Senior Citizens Act, Commission on Higher Education (CHED), Technical Education and Skill Development Authority (TESDA), the Agriculture and Fisheries Modernization Act (AFMA), the Renewable Energy Act and the Procurement Reform Act.
Angara has also shown deep commitment for the promotion of culture and the arts as the author and sponsor of the laws creating the National Museum, the National Commission on Culture and the Arts (NCCA) and the Natatanging Manlilikha Award, which bestows honor on the Filipino folk and traditional artists. He also authored the National Book Publishing Industry Development Act and the National Cultural Heritage Law.
To every Juan de la Cruz burdened by the everyday cost of living and the inequitable conditions that make it impossible for him to compete in a level playing field, these are laws that improve the quality of his life and ensure a brighter future for his children.
* * *
Former Antique Gov. Sally Zaldivar-Perez, who has attended virtually all of Angara's birthday celebrations, says this recent one was the most memorable, "because of the sheer number of well-wishers he had from all shades of the political spectrum, from all sectors of society, despite the fact that he is no longer in power."
"That just shows you how highly regarded Ed Angara and his contributions to the country are," said Perez. Photos by Joanne Rae Ramirez (You may e-mail me at [email protected].)