'Living life fully charged'
One of the world's leading premium mattress brands is finally here in the Philippines. Simmons, known for its commitment to making consumers have more quality sleep through its "Living Life Fully Charged" campaign, launched its concept store called Simmons Studio at the Ronac Art Center in San Juan City. The mattress company made its expansion in the country with its new dealer, Uratex.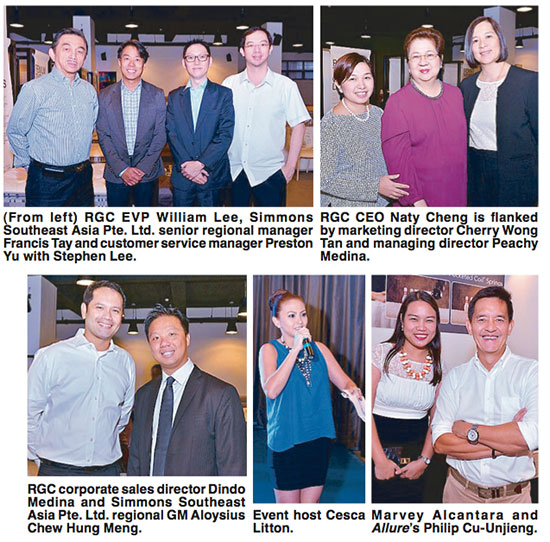 The launch was graced by Simmons regional general manager for Southeast Asia Aloysius Chew Hung Meng who said, "As a firm believer that the mattress one sleeps on makes a difference in one's wellness, Simmons is committed to developing superior mattresses and thus help consumers attain better quality of sleep to live life fully charged."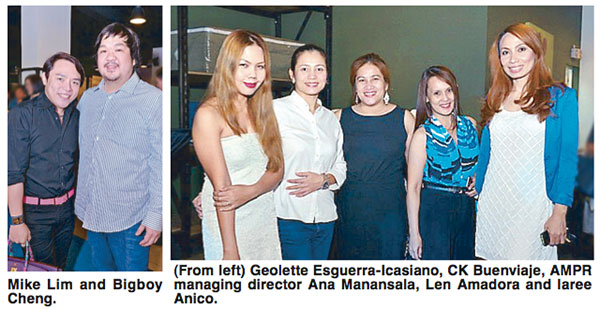 With over 140 years of history in delivering quality mattresses, Simmons is the forerunner in technological innovations, which include the individually wrapped Pocketed Coil mattress with its legendary Do-Not-Disturb benefit.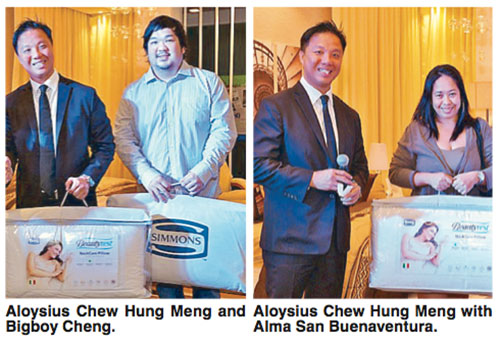 Premium Mattress Gallery owner Bigboy Cheng expressed his excitement. He said, "Through our partnership with Simmons, we hope to provide a whole new refreshed and rejuvenating sleep experience to meet the consumers' sleeping needs."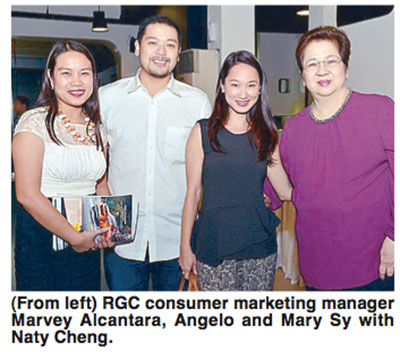 Simmons Studio introduced exclusive mattress models through the renowned Beautyrest product line. Beautyrest mattresses are made from the best materials sourced worldwide and coupled with the Original Simmons Pocketed Coil that offers the signature Do-Not-Disturb benefit. These mattresses are equipped with different layers of foam, fibers and natural materials like cashmere, silk, wool and memory foam on top of the pocketed coil unit. These layers enhance the cushioning feeling as one lies down.
(Check out Simmons' mattresses and pillows at Ronac Art Center on Ortigas Avenue, Greenhills, San Juan City.
For inquiries, call 570-9815.)
Painting the town 'White'
The White Party is an annual event catering to the LGBT community. Known as a circuit party, it is just one of a hundred such events that take place around the country and around the world all-year round.
This year, APEX by Clubbing TV at the New World Makati Hotel hosted "Snow: The White Party Year VI." It drew long-time White Party alumni and a new generation of first-timers who all enjoyed the music of Boyet Sison, Steven Love and Badkiss (Christina Bartges) along with the resident White Party drag queens.
The event featured Belvedere Vodka drink specials for those patrons who sported their chic, snowy-white outfits. There was also a raffle draw, which included fabulous prizes like lamps from Firma Manila, an overnight stay at the Mövenpick Hotel Mactan Island Cebu, Levi's gift certificates and Calvin Klein fragrances.
Kitz Congmon was adjudged Firma's Snow Queen while Ramon Cacho was Firma's Snow Icon. Both of them won a Firma Manila lamp each. Other raffle winners were Isaac Puno, James Ko, Jussi Hoikka, Yves Posey, Dawn Gust, Emel Rowe and Juan Ceballos. Mariko Jacinto won an overnight stay at the Mövenpick Hotel Mactan Island Cebu.
The very first White Party began 29 years ago as AIDS began slowly crippling the gay population. Frank Wager and Jorge Suarez began planning an event they hoped would raise awareness — and a few dollars — to help fight HIV/AIDS in South Florida.
(APEX by Clubbing TV is located at the lower ground floor of the New World Makati Hotel and is open during evenings, from Wednesday to Saturday.)
Comfortably trendy
Amplify your rugged or smart casual get-up with stylish and comfortable kicks that match your plans for the day.
This canvas collection by Skechers fits the need of the men in style — from street sneakers to dressier loafers and boat shoes.
The versatility of these canvas shoes makes it a wardrobe must-have for men. It captures the comfortable yet trendy vibe while showing off one's individual style — whether one is out on a night of partying, hanging out at a favorite hub or an outdoor escapade.
Made of canvas and smooth leather with vulcanized rubber sole fit for any occasion, these canvas sneakers have a Relaxed Fit technology that features Skechers Memory Foam for optimized cushioning in every stride. The Skechers Memory Foam insole molds and contours to the feet, giving instant comfort, pressure relief and support.
(The Skechers Relaxed Fit and Skechers apparel are available in leading department stores nationwide.)
(Follow me on Instagram @pepperteehankee.) Photos by Alex Van hagen