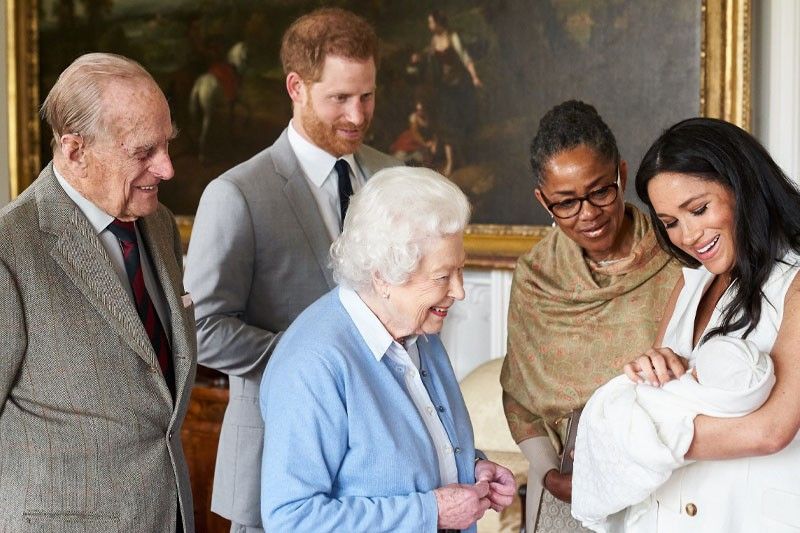 A handout photograph released by The Duke and Duchess of Sussex on May 8, 2019 shows Britain's Prince Harry, Duke of Sussex (L), and his wife Meghan, Duchess of Sussex (R), accompanied by Meghan's mother Doria Ragland, showing their newborn baby son, Archie Harrison Mountbatten-Windsor to Britain's Queen Elizabeth II (C) and Britain's Prince Philip, Duke of Edinburgh (L), at Windsor Castle in Windsor, west of London on May 8, 2019.
Chris Allerton/SussexRoyal/Duke and Duchess of Sussex/AFP
WATCH: Getting to know the British royals
(Agence France-Presse) - June 6, 2019 - 5:34pm
LONDON, United Kingdom — United States President Donald Trump went to Britain for a three-day visit.
The president visited the Buckingham Palace where he met Queen Elizabeth II.
The queen has been the central figure of Britain's monarchy for more than six decades.
Head of State of the United Kingdom and 15 Commonwealth nations, she married Prince Philip, the Duke of Edinburgh, in 1947.
The couple has four children, eight grandchildren and six great grandchildren.
Get to know the royal family here:
— Agence France-Presse