EDITORIAL - Stressed out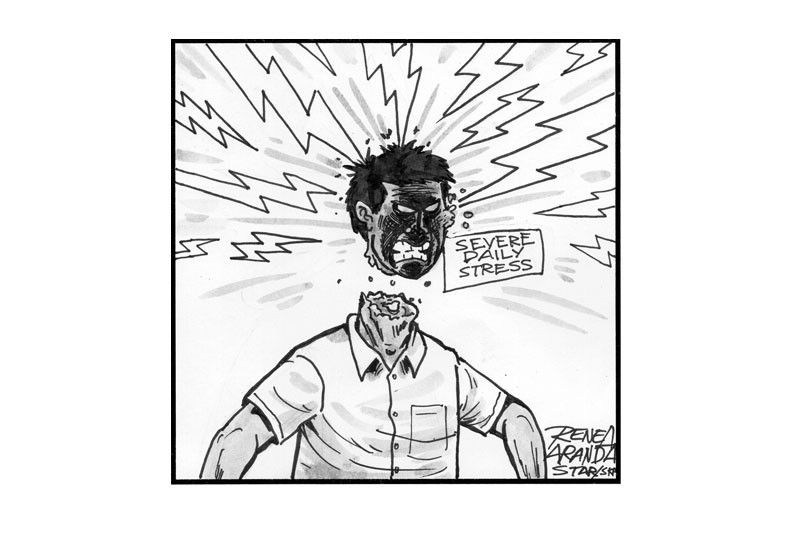 Job-related stress is common worldwide, and many countries have reported elevated stress levels among workers during the COVID pandemic. There is additional cause for worry in the Philippines, however, as an international survey showed that in Southeast Asia, Filipinos are the most stressed at work.
The 2022 State of the Global Workplace Report prepared by analytics firm Gallup showed stress among workers worldwide hitting another record high last year compared to the start of the pandemic in 2021. While worry, sadness and anger among workers declined last year from their all-time high in 2020, the global levels remained higher than before the pandemic.
Stress among Filipino workers is down by three points, but the 50 percent in the 2022 survey is higher than the global average, and the highest within the Association of Southeast Asian Nations. Thailand followed the Philippines with 41 percent of workers reporting stress. The figure was 38 percent in Cambodia, 37 percent in Myanmar, 35 in Vietnam, 34 in Singapore, 32 in Laos, 27 in Malaysia and 20 percent in Indonesia.
The Gallup Work Poll was conducted from 2021 to early 2022. Reacting to the report, organized labor said low wages and contractual work were the top causes of stress among Filipino workers. The Federation of Free Workers said the stress builds up as the six-month deadline for automatic regularization approaches.
While pandemic restrictions have been relaxed in the Philippines, workers still face the risk of catching COVID and infecting other members of the household. Workers must also contend anew with pre-pandemic causes of stress, such as long hours stuck in traffic. The continuing fuel price surge, which is keeping many public utility vehicles off the streets, has also made commuting a nightmare.
Worldwide, healthcare workers have been among the most stressed in the past two years. Decades before the pandemic, the World Health Organization was already urging governments, educators and other professionals as well as civic groups to implement measures to prevent mental, neurological and psychosocial disorders among HCWs.
The Philippines has passed Republic Act 11036, the Mental Health Act, with the implementing rules and regulations released in January 2019. The 2022 Global Workplace Report highlights the importance of fully implementing the law. Reducing stress in the workplace enhances productivity and is critical in post-pandemic economic recovery.