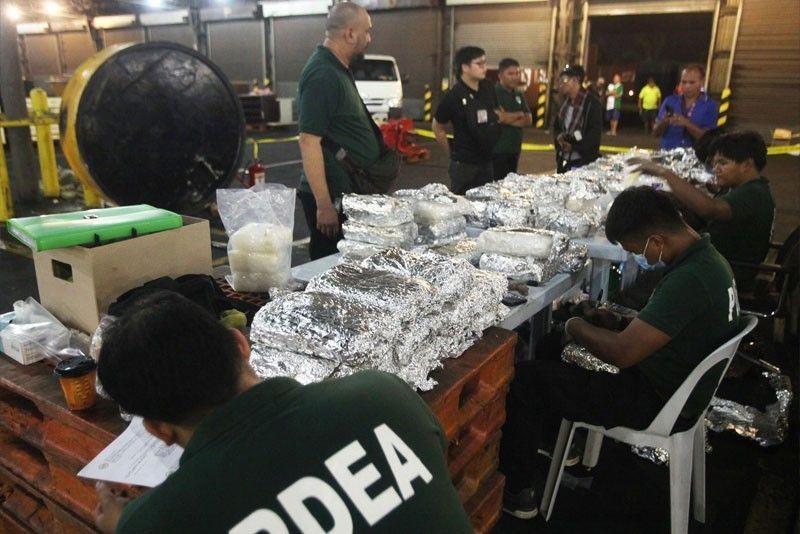 Robredo must attend to up to eight million druggies, as President Rody Duterte counted in Feb. Going by findings since the 2000s, half of them – four million – are habitual users needing treatment.
STAR/Joven Cagande
[OPINION] Cutting drug sources: The challenge for Leni Robredo
GOTCHA
-
Jarius Bondoc
(The Philippine Star) - November 13, 2019 - 12:00am
Drugs not only is a crime but a social and public health issue." In taking that approach VP Leni Robredo draws from global success stories. But it's tough work. As new co-chairperson, she will need to reorient the Inter-Agency Committee Against Drugs (ICAD) from just police raids and buy-busts. The Dept. of Education, schools, and student groups must be mobilized for prevention drives. Rehab camps have to be put up in all 82 provinces and 146 cities, so relatives easily because necessarily must participate in addicts' recovery.
Robredo must attend to up to eight million druggies, as President Rody Duterte counted in Feb. Going by findings since the 2000s, half of them – four million – are habitual users needing treatment. One-fourth – a million – are hard-core so require months-long in-clinic care. The rest can join regular group counseling. Publishing their confessions as drug crazies would bolster the prevention side. The four million occasional users can be made to stop their "patikim-tikim" (tasting) during parties.
The tried-and-tested "12 Steps", on which rehab programs worldwide are based, anchors on spiritual renewal. Robredo can harness civic, business, and church leaders' support. It's been done before. Cebu Rep. Antonio Cuenco, while authoring the Comprehensive Dangerous Drugs Act of 2002, teamed up with tycoon Ernesto Aboitiz and dozens of prominent province-mates, in prevention and rehab. Catholic Cardinal Ricardo Vidal (now deceased) had parishes in his Cebu-Bohol archdiocese hosting drug dependents' self-help sessions to kick the habit.
Tougher still is Robredo's refocus from demand- to the supply-end of the drug menace. As agreed with Sen. Panfilo Lacson, this means annihilating bulk makers-distributors, not just street pushers. By choking the supply, drug prices will become so prohibitive for peddlers to retail and users to buy.
The four million addicts' drug of choice is shabu (meth). By conservative estimate, they each snort half a gram of the white powder a month. That adds up to two million grams – or two tons – per month.
That means the major drug hauls of lawmen, though heroic, are too paltry to dent the supply.
The last well-publicized interdiction, last May by Customs-Manila, was P1 billion shabu hidden beneath tapioca starch from Cambodia. While the amount was staggering, it consisted of only 146 kilos, one-thirteenth of the monthly consumption. Before that, in a warehouse in Tanza, Cavite, in Feb., was discovered 274 kilos of shabu valued at P1.9 billion. Still less than a month's demand. Two Chinese were killed in the shootout. Days later 36 kilos, worth P245 million, was seized in a house of a Chinese national in nearby Dasmariñas, Cavite.
The biggest haul in 2018 was 500 kilos of shabu hidden in two magnetic lifters, found at Manila International Container Terminal. Only one week's demand, though valued at P3.4 billion. Months before, the Philippine Drug Enforcement Agency noted, shabu retail rates in and around Metro Manila had dropped to P1,600-P2,000 per gram in sachet, from the previous P6,000-P8,000. That indicated a market flooding. It turned out that 1.6 tons had been sneaked in four other metal lifters at the Manila piers. The smuggling happened in June, but PDEA got wind only after a raid in Aug. of an emptied warehouse in General Mariano Alvarez, Cavite. PDEA recovered parts of that P11-billion contraband in subsequent raids in Quezon City, Manila, and Muntinlupa. Still three weeks' volume of demand got past the authorities. The separate shipments from Vietnam and Thailand, via Malaysia and Hong Kong, were of the same grade. PDEA chief Aaron Aquino said both came from the Golden Triangle, in the tri-boundary of Myanmar, Laos, and Thailand. The Chinese Triads finance the narco-trade.
In 2017 the biggest haul was of 604 kilos, a little over a week's demand worth P6.5 billion. On a tip from China counterparts, Customs belatedly had raided a warehouse in Valenzuela where the shabu was found in metal printing cylinders. More such cylinders were found in a raided condo in Manila, already emptied of 300 kilos of shabu.
Between those major hauls, police confiscated from buy-busts and raids a few grams to about 40 kilos a day. PDEA's #RealNumbers, from July 1, 2016 to June 30, 2019, recorded:
• 134,583 anti-drug operations;
• 193,086 drug personalities arrested;
• 7,054 high-value targets arrested;
• 5,526 drug personalities killed in shootouts;
• 334 drug dens dismantled;
• 14 clandestine labs dismantled;
• P34.75 billion worth of drugs seized;
• 4,409 kilos of shabu seized;
That last figure is telling: only 4.4 tons – two months' demand – seized in 36 long months.
Operatives obviously need to go for bigger targets. Robredo's hunt down of suppliers must go beyond standard grilling of arrested pushers to name their distributors. Old ways of Customs and Coast Guards under her ICAD cannot suffice. Intelligence must refocus on who and where tons of shabu are made, smuggled, and traded.
* * *
Consumer group AGHAM deems the Dept. of Energy's contemplated policy for Net Metering as "anti-poor" and "will lead to higher power rates." In a statement, Alyansa ng mga Grupong Haligi ng Agham at Teknolohiya para sa Mamamayan, or AGHAM (Filipino for "Science"), challenged the draft revision of the net metering program, which DOE released recently for comments and public consultations.
AGHAM president Angelo B. Palmones called out DOE for "widening the divide and instigating another fight between rich and poor. The draft, if approved and implemented, will mean the upper-class minority will benefit from the new Net Metering, while the already marginalized will be forced to bear the burden of higher electricity rates. Why will DOE push a policy to increase power rates to most consumers, while benefiting net metering program participants who actually make up only a very small portion of the consumer base?"
"Specifically included in the proposal is a compensation increase to net metering customers, effectively doubling their take," Palmones said.
* * *
Catch Sapol radio show, Saturdays, 8-10 a.m., DWIZ (882-AM).
Gotcha archives: www.philstar.com/columns/134276/gotcha