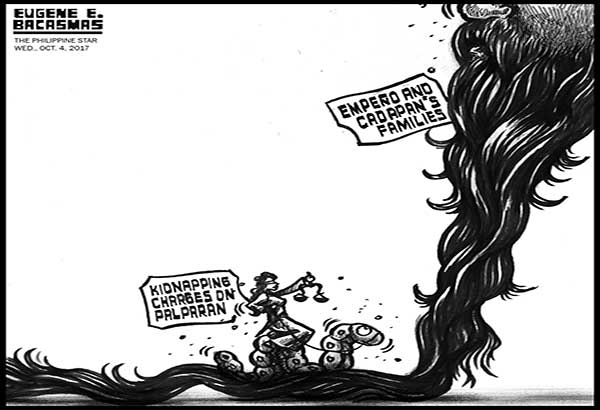 EDITORIAL - Aggravating anguish
(The Philippine Star) - October 3, 2017 - 4:00pm
Eleven years after two University of the Philippines students were snatched from their rented home in Bulacan by armed men, the case against the principal defendants is crawling along.
Retired Army Maj. Gen. Jovito Palparan and two soldiers who were under his command when he headed the 7th Infantry Division at Fort Magsaysay in Nueva Ecija face trial for kidnapping and serious illegal detention. A fourth suspect is at large.
The charges stem from the enforced disappearance of Sherlyn Cadapan, a student of human kinetics at UP and community organizer for the farmers' group Alyansang Magbubukid ng Bulacan, and Karen Empeño, 22, who was a graduating student of sociology. Cadapan, 28, was believed pregnant when she and Empeño were taken from their rented house in Barangay San Miguel, Hagonoy, Bulacan and dragged into a stainless jeep together with farmer Manuel Merino on June 26, 2006. Another farmer who had been arrested, Raymond Manalo, testified that he saw the two students being tortured while in detention by soldiers believed to be under Palparan.
Dubbed "The Butcher" by human rights activists, Palparan has denied involvement in the students' disappearance and has been unapologetic about his counterinsurgency methods. He served as a party-list congressman from 2004 to 2009 before his 2011 indictment for the students' disappearance. In hiding for three years, Palparan was arrested in 2014 in an apartment above a bakery in Sta. Mesa, Manila. The Bulacan regional trial court dismissed his petition to junk the charges and recall his arrest warrant. This RTC ruling was affirmed by the CA.
At least the appellate court has acted on the case. But how long must the families of Empeño and Cadapan wait for justice? The families are still not even sure if the two students are still alive, or where the remains are buried. The long wait for justice, frustratingly typical in this country, aggravates the anguish.