OTS screener faces raps
September 22, 2023 | 12:00am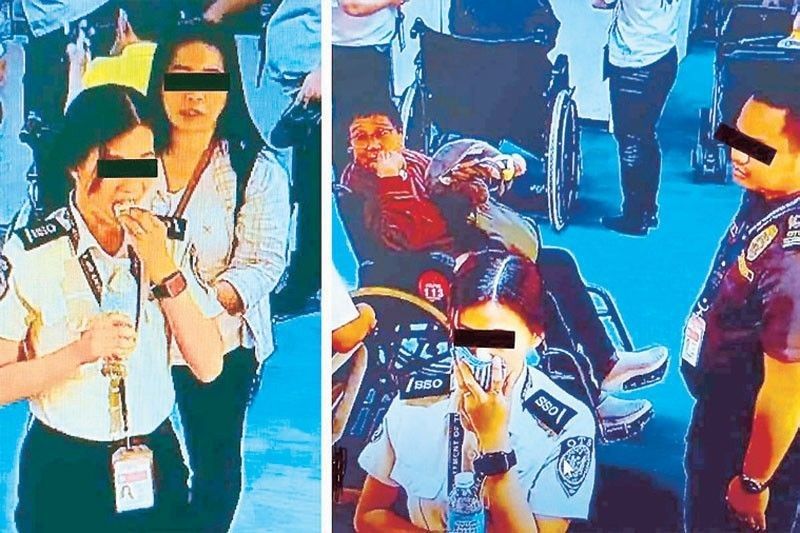 Over missing $300
MANILA, Philippines — The Department of Transportation (DOTr) yesterday ordered the Office of Transportation Security to file criminal and administrative complaints against an OTS screener who was recorded on video swallowing $300 in bills allegedly stolen from a departing Chinese passenger at the Ninoy Aquino International Airport (NAIA).
Transportation Secretary Jaime Bautista expressed dismay over the alleged theft incident at the NAIA, which he has been trying to promote to potential investors who may want to operate the country's main getaway.
Bautista directed DOTr Undersecretary for legal Reinier Yebra to assist in filing the complaints against those found to have connived in stealing from the hand-carried bag of a passenger.
Bautista also authorized the imposition of the maximum penalty on those who will be found guilty, to show the DOTr's commitment to rid the NAIA as well as other agencies of scalawags.
Reports said three OTS personnel were being investigated following the incident.
The OTS conducted an inspection of all personnel at the airport after the Chinese passenger complained that his $300 was missing.
Upon checking closed-circuit television footage, the female OTS screener was seen putting the cash in her mouth and then covering it with a handkerchief apparently to hide the evidence.
According to OTS spokesperson Kim Marquez, the screener was relieved and her access pass confiscated.
Marquez said around 60 OTS personnel have been dismissed, suspended or reprimanded from July 1, 2022 to Sept. 20, 2023. Twelve cases of erring employees are being reviewed.
A TV report yesterday said the woman claimed she merely swallowed a piece of chocolate.
Senators slam airport theft
Senators yesterday expressed anger over the alleged theft incident involving an OTS employee at the NAIA Terminal 1.
Sen. Grace Poe, who chairs the Senate public service committee, said this is yet another "gimmick" of corrupt personnel at the airport.
Poe said the OTS screener may have been ordered by her cohorts to swallow the money stolen from a passenger.
She also urged authorities to properly vet applicants to the OTS.
"How to 'Love the Philippines' if we are like this?" Senate Majority Leader Joel Villanueva said, referring to the country's new tourism campaign slogan.
Villanueva said authorities should subject all airport personnel to retraining, and identify the screener's cohorts in the "airport mafia."
"How can we convince tourists to love the Philippines if upon landing at the airport, their security will be at risk? Let's give them a happy experience, not a horror story," Villanueva said in Filipino.
Sen. Joseph Victor Ejercito said he would study a bill seeking to increase the compensation for OTS personnel so they would not be tempted to steal from passengers. – Marc Jayson Cayabyab