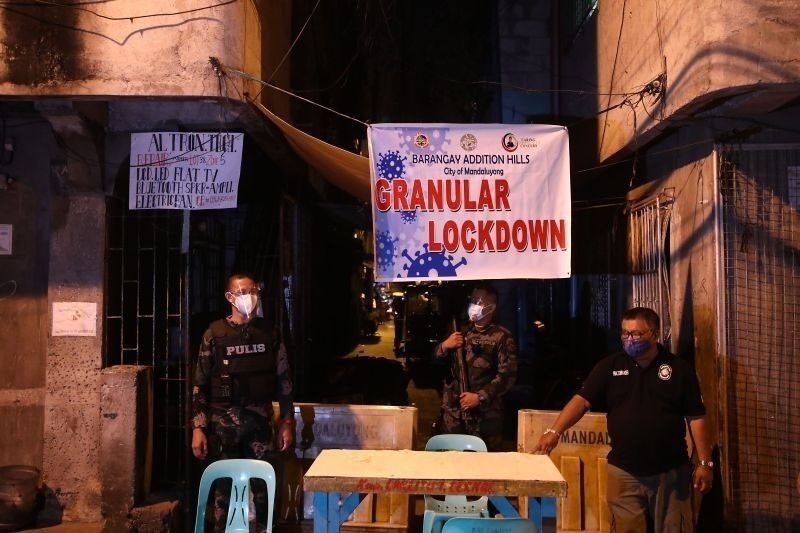 A cop joins rounds as the local government imposed a seven-day granular lockdown on Block 41 Zones 4, 5, and 9 at Barangay Addition Hills in Mandaluyong City on Friday midnight, March 12, 2021 to limit the movement of residents and curb the spike in COVID-19 related cases.
The STAR/Miguel de Guzman, file
Granular lockdowns, integrated contact tracing app eyed for Metro Manila
MANILA, Philippines — Contact tracing app integration and granular lockdowns are the measures being eyed in Metro Manila to curb the spread of the more infectious COVID-19 Delta variant, according to Mayor Francis Zamora.
Zamora said months had passed for the national and local governments to integrate contact tracing apps for a streamlined reporting and detection of COVID-19 cases.
The measure should be implemented amid the threat of the Delta variant, Zamora said.
"There should be a uniform contact tracing app," Zamora told "The Chiefs" on OneNews/TV 5 on Wednesday night.
The governments of Pasig, Mandaluyong, Valenzuela and Antipolo have merged their contact tracing systems.
"Contact tracing is very important to detect COVID cases, especially the Delta variant," Zamora said.
Meanwhile, San Juan started inoculating its residents using Johnson & Johnson's single-dose vaccine at the FilOil Flying V Center yesterday.
The local government received 2,800 doses of J&J vaccine out of the 1.6 million doses donated by the US government through the COVAX Facility.
Seniors get J&J vaccines
Meanwhile, local governments in northern Metro Manila have allocated J&J vaccines for senior citizens.
Navotas Mayor Toby Tiangco said 1,600 doses of the single-shot vaccine would go to the city's elderly.
At least 300 seniors have registered for vaccination using J&J vaccines.
Valenzuela received 4,000 doses of the Janssen vaccines.
The vaccination of senior citizens using the J&J doses will start today, according to city information officer Zyan Caiña.
"This is a single-shot dosage so our seniors will have to leave their homes only once," Mayor Rex Gatchalian said.
Caloocan administered 7,500 doses of J&J vaccine for senior citizens yesterday. The city received 10,300 doses.
Malabon also got 2,600 doses of the singe-shot vaccine.