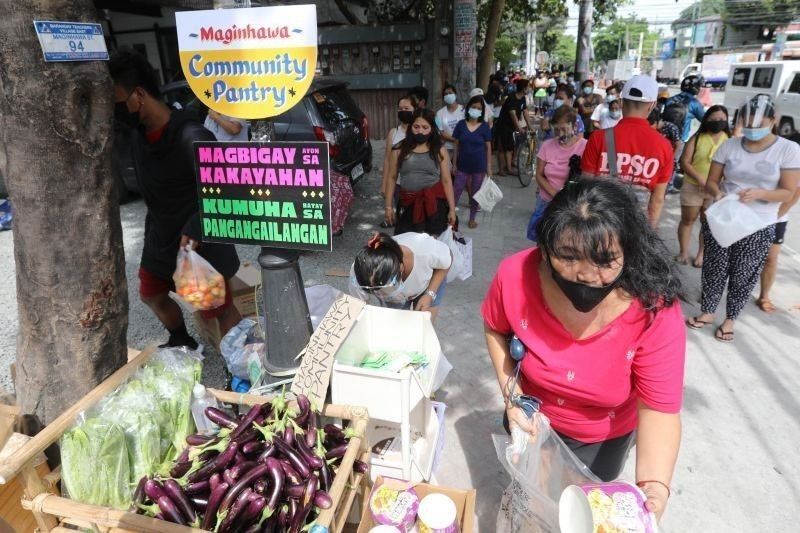 People line up to receive food from the Maginhawa Community Pantry put by Good Samaritan Ana Patricia Non on Maginhawa Street in Quezon City on April 17, 2021.
The STAR/Boy Santos
Belmonte orders probe of Quezon City pantry red-tagging
MANILA, Philippines — Following incidents of profiling and red-tagging, Quezon City Mayor Joy Belmonte yesterday assured Maginhawa community pantry organizer Ana Patricia Non that the city government is fully supporting the initiative.
Belmonte reached out to Non after the latter shared her security concerns that led to her decision to suspend the operations of the pantry yesterday.
"I would like to personally assure Ana Patricia Non and other like-minded individuals that the local government of Quezon City fully supports community pantries," Belmonte said in a statement.
"Indeed, these initiatives highlight the bayanihan spirit inherent in our QCitizens. The city government will therefore ensure that the organizers and beneficiaries of community pantries remain safe and unimpeded," she added.
The mayor said she has ordered an investigation of the experiences of Non and the volunteers, including repeated requests for contact information and the sharing of materials that red-tagged community pantries on the social media page of the Quezon City Police District.
QCPD director Brig. Gen. Antonio Yarra apologized to Non for the social media post.
"The QCPD expresses sincere apology particularly to the affected party for the inconvenience that the inadvertent post could have caused and reassure her of safety and protection," Yarra said in a statement.
Yarra said they are reaching out to Non, claiming they are willing to support her "noble cause" in helping others during the pandemic. He also reminded handlers of their social media platforms to be more circumspect and sensitive in their functions.
During a press briefing, Non expressed gratitude to Belmonte for her assurance regarding their safety. She also noted the support of the city government since last week.
Non said they are eyeing to resume operations today, adding that "mas marami po ang nangangailangan kaysa nagbabatikos (there are more people in need than those criticizing).
Belmonte said she will also meet with the commander of the police station with jurisdiction over Maginhawa to further discuss security issues in the pantry.
"For several days now, our Task Force Disiplina and barangay leaders have assisted in maintaining peace and order in the Maginhawa community pantry," said the mayor.
"They are only there to help remind the public about observing minimum health standards and to assist in controlling any crowds that may form. Task Force Disiplina is instructed to do the same for any other community pantries in the city should barangay personnel need additional assistance," she added.