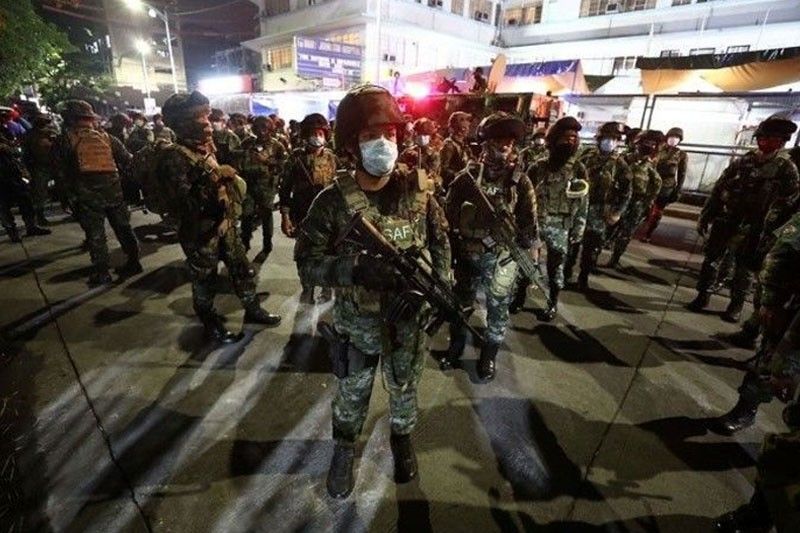 In this May 3, 2020, photo, PNP-SAF officers are seen enforcing a hard lockdown in Tondo, Manila.
The STAR/Miguel de Guzman, file
PNP opens another molecular laboratory
MANILA, Philippines — The Philippine National Police yesterday opened another molecular COVID-19 testing laboratory at Camp Crame where at least 90 officers can be tested daily, PNP chief Gen. Camilo Cascolan said.
Cascolan said the Department of Health has issued a permit for the molecular laboratory at the PNP General Hospital to increase its testing capacity to 150 per day by Nov. 15.
Hospital staff, according to the PNP, would be collecting and processing specimens from police officers and their dependents as well as from patients under emergency and hospital care.
Official RT-PCR results will be released within 24 to 48 hours.
The PNP's first COVID-19 testing center at Camp Crame in Quezon City has been operational since May. The police Health Service molecular laboratory started operating last month.
Fifteen more police officers tested positive for COVID-19 on Wednesday, bringing to 7,097 the total number of infections among PNP personnel.
Records showed that most of the fresh cases came from the National Capital Region Police Office and the PNP headquarters with three each.
PDEA gets P13 million equipment
Meanwhile, the Philippine Drug Enforcement Agency (PDEA) has received P13 million worth of equipment from the United States Drug Enforcement Agency (DEA).
The equipment were turned over by officials of the DEA, US State Department and Bureau of International Narcotics and Law Enforcement Affairs on Wednesday, PDEA chief Wilkins Villanueva said.
Villanueva said these equipment would enhance the PDEA's anti-drug operations at the airports.
He thanked the USDEA for the donation.
The equipment included three Rigaku handheld drug analyzers, two N2200 handheld narcotics detectors, two Viken HBI-120 handheld X-ray imagers, one B&W TEK tactic ID-1064 handheld Raman spectrometer and a Heuresis handheld X-ray unit.
These will be turned over to the PDEA's Inter-Agency Drug Interdiction Task Group, Villanueva said.