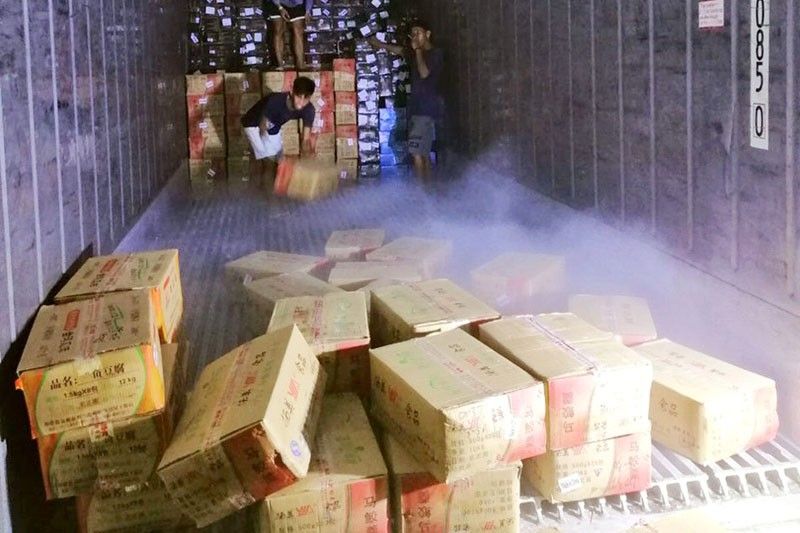 Workers unload boxes of ASF-infected pork dumplings
Another Pangasinan town under state of calamity due to ASF
Eva Visperas
(The Philippine Star) - January 26, 2020 - 12:00am
MALASIQUI, Pangasinan, Philippines — This town, where hogs in three barangays tested positive for African swine fever (ASF), has been placed under a state of calamity.
A resolution declaring a state of calamity was passed by the municipal council on Thursday to contain the spread of the disease and assist affected hog raisers in Barangays Apaya, Polong Norte and Mabulitec, Mayor Noel Anthony Geslani told The STAR yesterday.
Geslani said 395 hogs were culled in Barangay Apaya and 283 in Polong Norte. Piggeries in Mabulitec are being monitored.
He said P2 million was initially allocated to assist affected hog raisers.
Geslani said he ordered the closure of the slaughterhouse in the town while it is being disinfected.
He appealed to hog raisers to observe the lockdown among other preventive measures to prevent the spread of the swine disease.
Binmaley had been earlier placed under a state of calamity due to ASF, which has affected five barangays.
Last year, pigs in Barangay Baloling in Mapandan and Apalen in Bayambang were hit by ASF.
Pork dumplings from China
Meanwhile, tests conducted on Jan. 22 showed that a shipment of pork dumplings and pork-chicken balls from China held at the Manila North Harbor last month were infected with ASF.
Customs Commissioner Rey Leonardo Guerrero said the Manila International Container Port buried the seized items as recommended by the Veterinary Quarantine Service.
Records from the Bureau of Customs (BOC) showed that the shipment, which includes chicken wings, was consigned to Dynamic M Int'l Trading Inc., which has a warehouse in Kawit, Cavite.
The BOC said it would file charges against the company and recommend the revocation of the license of its broker.
In October, two shipping containers loaded with pork and processed meat from China were intercepted at the Port of Manila.
The Philippines banned the entry of hogs and processed meat from 16 countries, including China, that were hit by ASF.
China, the world's largest producer of pigs, was affected by ASF in August last year.
Disease control
Amid new ASF cases in Luzon, the National Economic and Development Authority (NEDA) sought stricter disease control and preventive measures.
NEDA Undersecretary Rosemarie Edillon said there should be stricter quarantine procedures as well as improved management and care of livestock.
Edillon stressed the need for stricter biosecurity measures in meat processing plants to ensure that infected meat are not distributed to the market.
She said quarantine checkpoints and disinfection facilities should be expanded to include seaports, airports and expressways.
More than 140,000 pigs that tested positive for ASF in Bulacan, Pampanga, Nueva Ecija, Tarlac, Rizal, Cavite, Pangasinan, Bataan and Metro Manila have been culled since August. – With Czeriza Valencia, Robertzon Ramirez, Louise Maureen Simeon