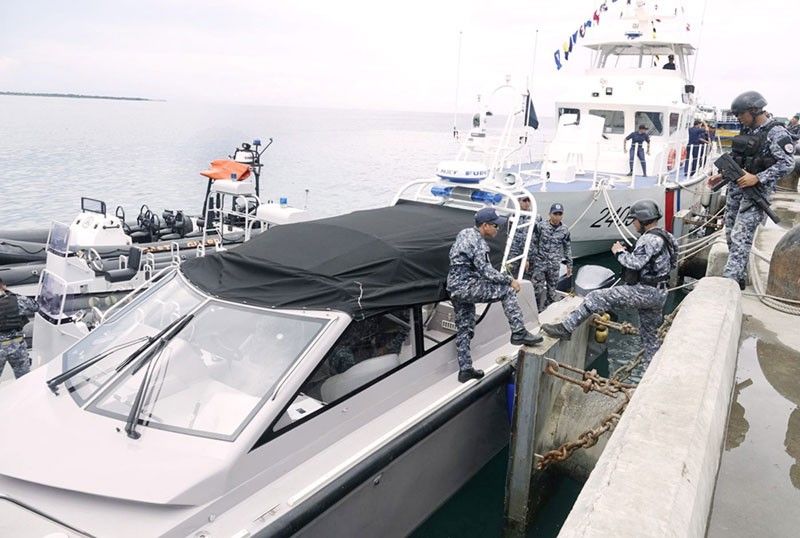 Personnel of the Philippine Coast Guard's anti-terrorism unit and their newly acquired high speed vessel that were deployed off the coast of Zamboanga peninsula yesterday.
The STAR
Coast Guard deploys anti-terror unit, vessel in Mindanao
Roel Pareño
(The Philippine Star) - October 18, 2019 - 12:00am
ZAMBOANGA CITY, Philippines — The Philippine Coast Guard (PCG) deployed its anti-terrorism unit off the coast of Zamboanga peninsula and Basilan and Sulu yesterday.
Commodore Joseph Coyme, PCG–Southwestern District commander, led the sendoff ceremony at the Zamboanga International Port.
Coyme said the PCG unit, whose members are capable of close quarters assault and rescue mission, was deployed with its newly acquired high speed vessel from Japan and three rigid hull inflatable boats.
He said the PCG unit would help not only in strengthening maritime security efforts but also in intensifying security numbering of motorized pumpboats.
The PCG has so far registered 41,000 motorized boats.
"We have embarked on this endeavor because in our findings two years ago, 95 percent of motorized boats are being used by lawless groups, especially kidnap gangs, with obvious reasons that the geographical composition of Western Mindanao is linked with islands and islets," Coyme said.
Lt. Gen. Cirilito Sobejana, Western Mindanao Command chief, said the deployment of the PCG anti-terrorism unit would "significantly reduce the maneuver space of kidnap gangs and terrorists and block their mobility corridor."
"It will be a big deterrent and reduce their plan to conduct kidnapping," Sobejana said.