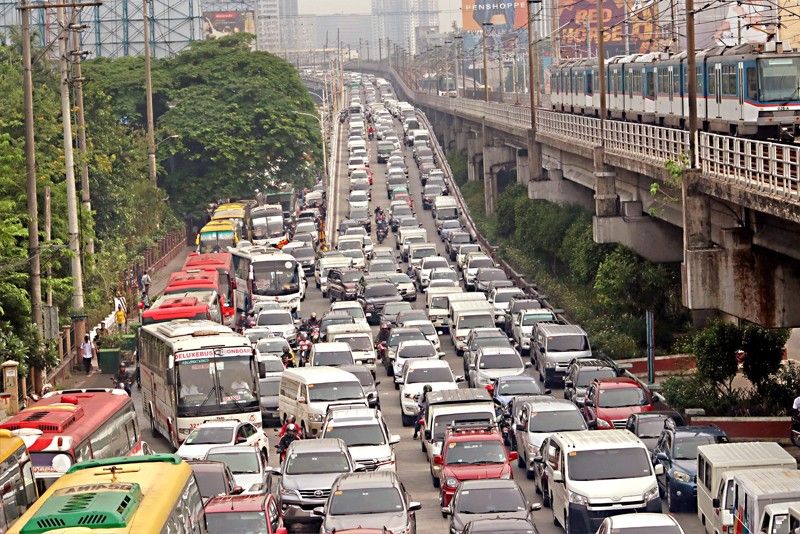 Traffic slows to a crawl along EDSA's southbound lane in Kamuning, Quezon City yesterday due to weekend road repairs by the Department of Public Works and Highways.
Boy Santos
C-5, EDSA 'deadliest' roads in 2018
MANILA, Philippines — Circumferential Road 5 (C-5) and EDSA have the highest number of fatal road crashes in Metro Manila in 2018, according to data from the Metropolitan Manila Development Authority (MMDA).
The agency's Metro Manila Accident Reporting and Analysis System (MMRAS) showed that 27 road deaths happened on C-5, 21 on EDSA, 17 on Roxas Boulevard, 11 on McArthur Highway and 10 on Commonwealth Avenue.
Bong Nebrija, MMDA traffic czar, said yesterday that fatal accidents on these roads usually happen in the "wee hours, which means there is no traffic so motorists usually speed up."
He said these five roads cannot be considered accident-prone areas as the fatal crashes are "self-inflicted" accidents and not because of the roads' design.
Nebrija said most motorists figured in road crashes on C-5 and EDSA due to their behavior while huge vehicles could have contributed to the fatal crashes on Roxas Boulevard and McArthur Highway.
For Commonwealth Avenue, Nebrija said that the deaths could be attributed to reckless driving, as it has been dubbed Metro Manila's "killer highway."
MMRAS data, however, showed that the number of deaths on Commonwealth Avenue have been significantly reduced due to the construction of the Metro Rail Transit Line 7.
"The lanes on Commonwealth Avenue became narrower. That is why there were fewer fatal road crashes," he said.
Nebrija said the MMDA has set a maximum speed limit on all roads in Metro Manila as well as intensified its road users' education and information drive on road safety.