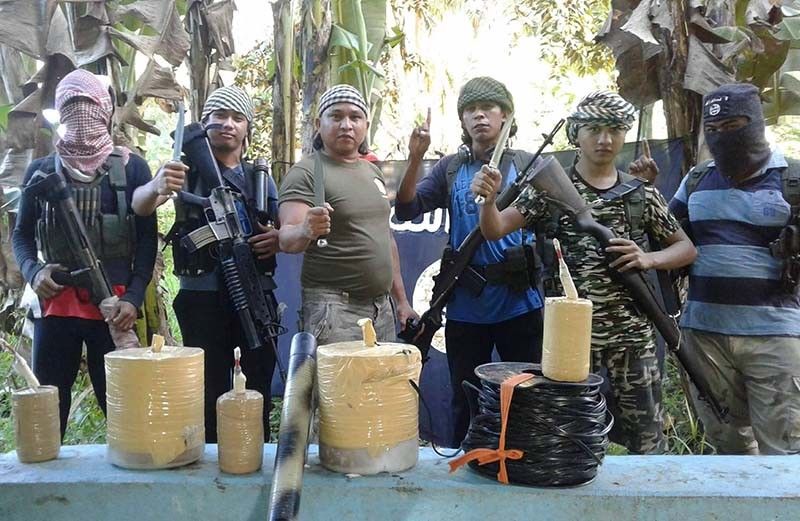 The police and military are expecting the surrender soon of more misguided Islamic extremists in southern provinces.
File photo
2018 Yearender: More extremists surrender to gov't
John Unson
(Philstar.com) - December 29, 2018 - 4:30pm
COTABATO CITY, Philippines — Hundreds of wanted radical Islamists surrendered in 2018, remorseful of abusing a religion that moderate peace-loving Muslims find perfect and incomparable.
In Basilan province alone, 187 members of the Abu Sayyaf, feared for its practice of beheading captives if ransom demands are not met, returned to the fold of law this year through the efforts of the Autonomous Region in Muslim Mindanao, the Western Mindanao Command and the Regional Police Office-ARMM.
More than a hundred Abu Sayyaf bandits in Basilan surrendered from between 2016 to 2017.
No fewer than 30 members of the outlawed Bangsamoro Islamic Freedom Fighters in Maguindanao also yielded in batches from between March to November 2018 after having been convinced by the provincial government and units of the Army's 6th Infantry Division to reintegrate into the local communities.
The Abu Sayyaf and the BIFF, apparently trying to sabotage the now 22-year peace efforts of the government and the Moro Islamic Liberation Front, are both using the Islamic State flag as banner.
Among those who bolted this year from the Abu Sayyaf in Basilan, a component province of ARMM, is a 12-year-old Yakan child-warrior, Tarik, and his 14 year-old brother, whose parents were killed in hostilities with pursuing soldiers about five years ago.
They are now in the protective custody of the office Gov. Mujiv Hataman, the outgoing chief executive of the autonomous region, whose second elective term is to end on June 30 next year.
Lt. Gen. Arnel dela Vega of the Western Mindanao Command said Saturday the surrender of Basilan-based Abu Sayyaf terrorists and BIFF bandits in Maguindanao was a result of the extensive humanitarian programs of ARMM regional and provincial officials.
"Economy has been improving in areas where they once ran `shadow governments' that compelled under duress poor villagers to support them. People there have means of livelihood now," Dela Vega said.
Dela Vega cited as example how the once notorious Al-Barka municipality in Basilan, scene of deadly Abu Sayyaf-military clashes in recent years, bounced back from poverty and underdevelopment wrought by conflicts via ARMM's infrastructure and socio-economic programs.
Galvez said units of WestMinCom in Basilan have just reported to him that the ARMM's P1 billion "transcentral road" project cutting through hinterlands in the center of the island province where remnants of the Abu Sayyaf are holding out is now more than halfway.
"Road-building equipment and workers are now breaking through the mountains in the Sampinit Complex there that the transcentral road is to traverse, supposedly an impregnable bastion of the Abu Sayyaf. With this, we are sure that more will soon surrender," Galvez said.
Records from the ARMM police indicated that the Abu Sayyaf tried to kill thrice in the past two years using home-made bombs Engineer Soler Undug, chief of the Basilan District Engineering Office, to disrupt the implementation of regional government road projects, connecting lairs of terrorists to municipal centers, that he was helping oversee.
Galvez said the WestMinCom appreciates the launching last April 2018 in Basilan of the ARMM's Program Against Violent Extremism, or PAVE, focused on providing reforming Abu Sayyaf bandits psycho-social, livelihood and religious interventions needed to hasten their reintroduction into mainstream society.
"The WestMinCom supports the PAVE. It will help heal the conflict-affected communities in Basilan," Galvez said.
A 25-year-old former Abu Sayyaf member, who asked to be identified only as Mansur, said he and eight relatives joined the group in 2005 after having been indoctrinated by clerics who circumvented teachings in the Qura'n to suit their vested interests.
"We have learned from preachers now providing us spiritual reorientation that the teachings of those who recruited us were wrong. They deliberately duped us into believing that hating and killing non-Muslims will lead us to paradise," Mansur said in Yakan dialect.
Adam Sajili, now farming in Sumisip town in Basilan with the help of the ARMM agriculture department, said their recruiters also kept silent on Islamic teachings espousing religious tolerance in any preaching discourse.
"We were taught to ignore the Islamic teaching that says there is no compulsion in religion, something obviously intended to ensure tranquility among Muslims and non-Muslims," he said in Filipino.
An ustadz (theologian) now benefitting from the PAVE said poverty and lack of access to schools in the past condoned the Abu Sayyaf's control of the local communities in isolated areas in Basilan.
"Now there are mainstream schools in many barangays in Basilan, connected to villages via good roads," said the ustadz, who lost two brothers, Jipanul and Sarratul, in an encounter with soldiers near Maluso town in Basilan in 2013.
Col. Gerry Besana, spokesman of WestMinCom, said Saturday in Lanao del Sur, also an ARMM component-province, dozens of remnants of the Maute terror group, which started as the Dawlah Islamiya, also turned themselves in to local authorities this year.
Combined Maute and Abu Sayyaf terrorists instigated the May 23 to October 16, 2017 conflict in Marawi City that left more than a thousand dead, among them soldiers and police personnel, dislocated some 300,000 innocent residents and left historic, centuries-old Meranao dwelling enclaves there in ruins.
The BIFF members in Maguindanao who surrendered this year, four of them bomb-makers trained by the slain Malaysian terrorist Zulkifli bin Hir, most known as Marwan, are now beneficiaries of livelihood and education support from the third-termer Gov. Esmael Mangudadatu, who shall also step down from office on June 30, 2019.
Major Gen. Cirilito Sobejana, commander of 6th ID, said credit for their surrender has to go to local officials, to Chief Superintendent Graciano Mijares of the ARMM police and to the Maguindanao Program for Education and Community Empowerment, or MagPEACE.
The Maguindanao provincial government's vaunted MagPEACE, which provides college education to poor but deserving Muslim, Christian and Lumad beneficiaries, has produced more than 3,000 professionals in the past six years.
"Many of the MagPEACE professionals are from areas where there is BIFF presence. I've learned too that some of them are relatives of BIFF members. This is the kind of diplomatic community-building initiative that will help address the security woes in Moro-dominated areas," Sobejana said.