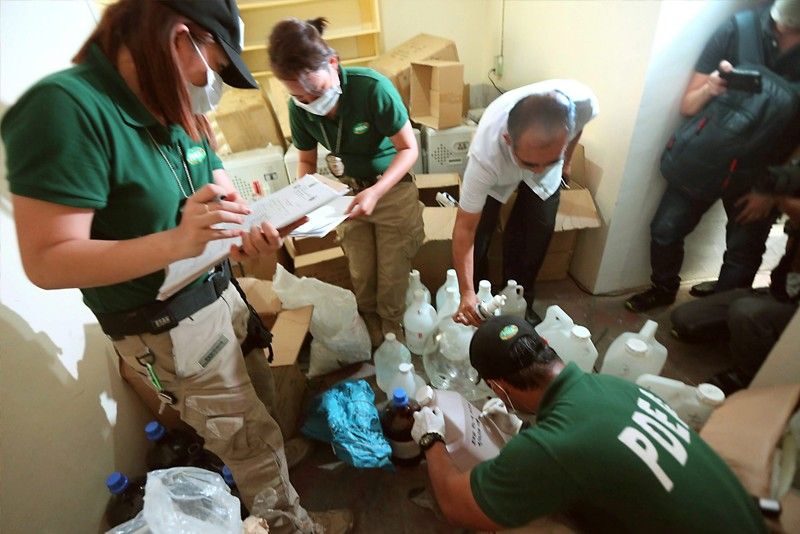 Philippine Drug Enforcement Agency personnel take an inventory of the chemicals seized during a raid on a house in Malabon City yesterday.
Boy Santos
PDEA raids warehouse of Malabon shabu laboratory
MANILA, Philippines — The Philippine Drug Enforcement Agency (PDEA) raided a warehouse of the Dragon Wu drug ring in Malabon yesterday.
PDEA deputy director for operations Ruel Lasala and spokesman Derrick Carreon led members of media in raiding a one-story house along Tila street in Barangay Santolan at past noon yesterday.
Lasala said among the chemicals found in the warehouse used in the manufacture of shabu include sulfuric acid, acetone, ethyl acetate, ethanol, methanol, sodium hydroxide and sodium acetate.
The raid was conducted through a search warrant issued by Manila Regional Trial Court Branch 53 Executive Judge Reynaldo Alhambra.
The operatives also confiscated equipment for shabu production like a separatory funnel, round bottom flask, reaction vessels and dryers.
A resident who requested anonymity told The STAR trucks usually arrived in the middle of the night for the delivery of gallons of suspected chemicals.
In a press conference, Lasala said the house was used as a warehouse for the chemicals and equipment used in two shabu laboratories raided by the PDEA in Batangas and Tinajeros, Malabon last week.
Boxes of cigarettes were found in the house, probably as a coverup for their transactions, Lasala said.
The shabu laboratories and warehouse were discovered after a seven–month-long investigation by police and PDEA in coordination with China's Office of the National Narcotics Control Commission.
Shen Yue, the commission's director for operations, said the Dragon Wu drug ring is a transnational drug syndicate based in Hong Kong and operating in the Golden Triangle – the border of Laos, Myanmar and Thailand.
While most of the suspected members of the Chinese syndicate have been arrested, at least four remain at large, PDEA said.