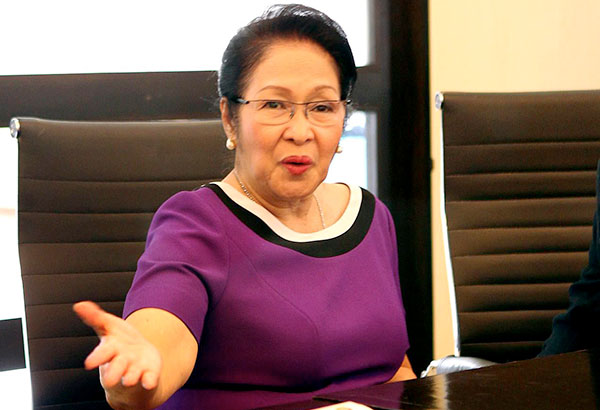 In a televised press briefing, San Juan City Guia Gomez said that her camp will challenge the looming recall "legally and according to the right process." JOEY MENDOZA
San Juan mayor to fight coming recall elections
MANILA, Philippines — San Juan City Mayor Guia Gomez on Thursday said she will not accept the recall election notice issued by the Commission on Elections.
In a televised press briefing, Gomez said that her camp will challenge the looming recall "legally and according to the right process."
"The recall petition orchestrated by Francis Zamora is not the true will of the people of San Juan. It is a product of their imaginations. I will not allow myself to fall into his ill motives," Gomez said.
She added that she will only step down as the mayor of San Juan City when her term expires on June 30, 2019.
"I will not allow a group of individuals obsessed with powers to make a mockery of my mandate. Francis Zamora, in spite of their massive vote buying effort, lost in the 2016 elections—refusing to accept defeat," the 75-year-old mayor said.
Zamora lost to Gomez by only 200 votes in the last mayoral race.
Gomez, moreover, debunked the allegations that she is not performing her job.
"Never for one moment did I leave the country even when I filed to allow me to leave the country. But I chose to stay and took care the needs of our people," she said in a mix of English and Filipino.
Gomez added that San Juan City has enjoyed development during her term, citing the Seals of Good Governance from the Department of Interior and Local Government it received in 2016 and 2017.
"This honor belongs not to me alone, but to the people of San Juan. To belittle the [Seal of Good Governance] is not to belittle me, but to belittle the public servants and those who are really working for San Juan," she said.
READ: Comelec OKs San Juan recall polls
Estradas' four-decade rule
The recall election process was aimed at putting an end to the 48-year-rule of the Estradas in San Juan, Zamora said in an interview last December.
He accused the Estradas of wanting to perpetuate themselves in power in the city to control business and own large pieces of land.
Last December, the Comelec en banc ruled that the recall petition signed by some 30,000 residents is sufficient in form.
Gomez's son, Sen. JV Ejercito, said the Zamoras reportedly used public funds to entice residents to sign the petition for the holding of recall election to oust his mother.
A recall election is way for voters to express loss of confidence in an elected official.
READ: JV: Zamoras used public funds to push recall elections