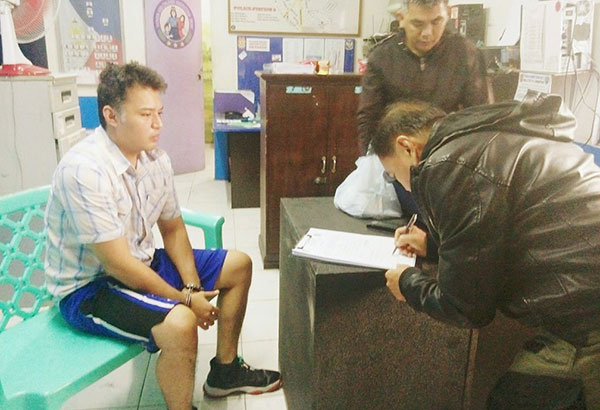 In this October 2016 file photo, police question actor Mark Anthony Fernandez after they confiscated a kilo of dried marijuana leaves found in his car. PSN/Gary Bernardo
PDEA chief surprised over Mark Anthony Fernandez's release
(philstar.com) - December 28, 2017 - 5:34am
MANILA, Philippines — The head of the Philippine Drug Enforcement Agency was not expecting the release of detained actor Mark Anthony Fernandez, who is facing charges for possession of marijuana.
In a statement published by the Philippine News Agency, PDEA Director General Aaron Aquino said he was "personally surprised" by Fernandez's acquittal. He said Fernandez was apprehended during his time as regional director of the Philippine National Police Region 3 branch.
Despite his reaction to the actor's release, Aquino, whose agency leads the government's brutal war on drugs, said he would still respect the rule of law and the course of action of the PNP against Fernandez.
Fernandez, 37, was detained at the Angeles City Jail in San Fernando, Pampanga in October last year and was freed on December 22. This was also confirmed by his former girlfriend, actress Claudine Barretto, on social media.
Judge Ireneo Pangilinan Jr. of the Angeles City Regional Trial Court Branch 58 said that the actor was released due to procedural breaches committed by Angeles cops in handling the evidence against Fernandez.
Fernandez was arrested by the police for possession of 1 kilo marijuana at a checkpoint in Barangay Virgen delos Remedios in Angeles City, Pampanga in October 2016. The dried leaves were estimated to cost P15,000 in street prices.
He was deemed in violation of the Republic Act of 9165 or the Comprehensive Dangerous Drug Acts of 2002.
READ: Mark Anthony Fernandez nabbed in Angeles for drug possession | Mark Anthony Fernandez moved to Angeles City jail
The actor denied owning the dried marijuana leaves found in his car, claiming that it was planted by the police. He was, however, tested positive for marijuana use.
Fernandez admitted that he had been smoking marijuana since he was diagnosed with cancer in 2008.— Rosette Adel