PNP launches new text hotline
MANILA, Philippines - The Philippine National Police (PNP) launched yesterday a new text hotline that would allow Filipinos to report a crime or ask for help.
"If 'Itaga Mo sa Bato' had been launched earlier, the Davao blast could have been prevented," said PNP chief Director General Ronald dela Rosa in a speech during the program's launch.
He said he initially rejected having a PNP program named after him – his nickname is "Bato" or rock – would make the program easy to recall.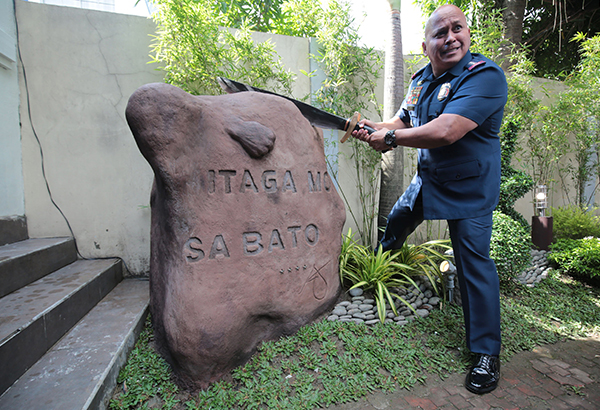 WRIT IN STONE: PNP chief Director General Ronald dela Rosa poses with a marker for the launch of the police quick response hotline called 'Itaga Mo sa Bato' at Camp Crame yesterday. MICHAEL VARCAS
"Itaga mo sa bato" is a Filipino idiomatic expression loosely translated as "mark my word."
Dela Rosa and other PNP officials signed a memorandum of agreement with Globe and Smart officials for hotline 2286.
Each text message costs P2.50, which the PNP said is meant to prevent pranksters from taking advantage of the hotline.
"For example, a concerned citizen could text us about a certain suspicious package, he could text us to 2286 and once we receive the message, we will take immediate action," said Chief Inspector Mark Foncardas of the Police Community Relations Group.
"From the public, it will help us at least come up with more specific information where terrorists activities and other similar violent incidents happen," he added.
PNP hotline 09178475757 and Text PNP 2920 are still online and can receive messages.