De Lima lawyers to ask court to reconsider dismissal of bail petition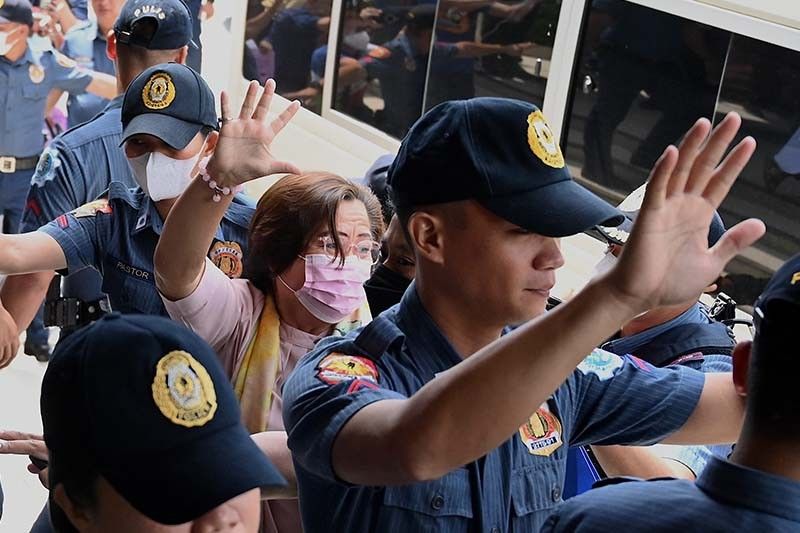 MANILA, Philippines — The legal team of former Sen. Leila de Lima will ask the Muntinlupa court to reconsider its dismissal of her petition for her temporary liberty, which will keep her in detention as she undergoes trial in her remaining drug case.
In a statement on Wednesday night, the defense team of de Lima said they were not expecting the dismissal of their petition for bail, and they will file a motion for reconsideration.
"We are hoping that in our [motion for reconsideration], the court will see our position that testimonies of convicted criminals, especially when they bear anger at the accused, are never acceptable or credible," they said in Filipino.
The Muntinlupa Regional Trial Court Branch 256 on Wednesday dismissed the bail petition filed by De Lima and four of her co-accused in the case.
It held: "Considering the foregoing and after a careful review of the totality of prosecution's evidence, the Court is convinced that the evidence of guilt against all the above-named accused for the crime of conspiracy to commit illegal drug trading is strong."
The court, in a ruling penned by Presiding Judge Romeo Buenaventura, however stressed that it has not prejudged the final outcome of the case. It said: ""The culpability or innocence of the accused will still be decided on the basis of all evidence presented by the parties and only after trial on the merits of the case."
This is the last drug case De Lima is facing, with two already dismissed. Prosecutors however have already asked the court to reconsider the acquittal of the former senator in her second case.
The dismissal of her bail plea also dismayed rights groups and minority lawmakers from the House of Representatives. Sen. Risa Hontiveros, on Thursday, expressed frustration at the court's resolution.
"She deserves a speedy trial as enshrined in our Constitution," the senator said, as she noted: "I cannot help [but] think about all the speedy trials of other prominent individuals recently, while Leila, who brought to light the abuses of the bloody drug war under the Duterte administration, is still languishing in jail for six years and counting."
"Again, for the sixth year in a row, this ruthless tide of injustice against Leila must stop, and the trumped-up charges immediately dropped," Hontiveros continued.
De Lima earned Duterte's ire for her investigations into alleged extrajudicial killings in the "war on drugs," which is now the subject of an International Criminal Court investigation.
Her cases, alongside those against journalist Maria Ressa, have gained international attention. Calls from abroad for the cases to be dismissed have been rejected as meddling in domestic issues.