China accuses US of countering peace in expanding access to Philippines bases
February 2, 2023 | 8:19pm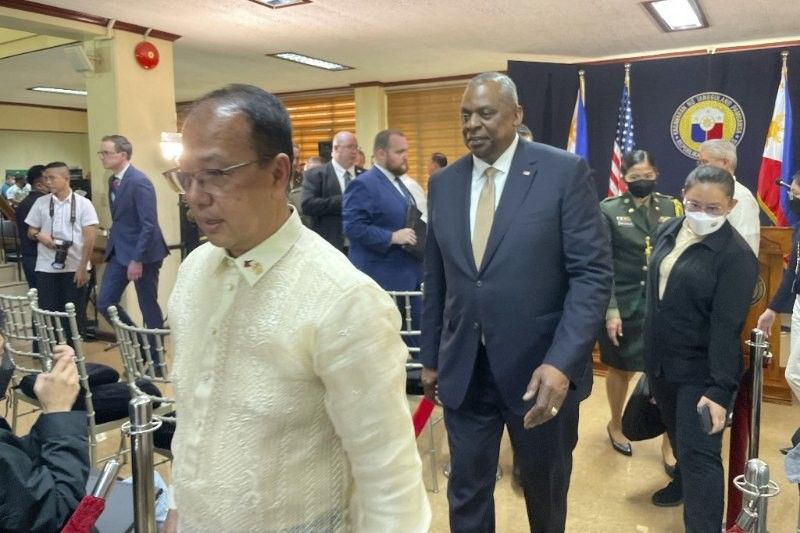 MANILA, Philippines — As the United States and the Philippines add new locations under a military basing agreement, Beijing accused Washington of escalating regional tensions anew.
The United States' actions, the Chinese Embassy said Thursday, "undermine regional peace and stability" and "contradict the common aspiration of regional countries to seek peace."
This comes as US Defense Secretary Austin hammered down Washington's promise to back the Philippines in asserting its rights over the disputed waters in the South China Sea, saying it is ready to assist its treaty ally should there be armed attacks.
The Philippines has welcomed the possibility of holding joint patrols with the US in the West Philippine Sea, as it is within the ambits of the two countries' Mutual Defense Treaty.
China, in response, doubled down on its rhetoric, claiming that the expanded US-Philippines cooperation runs counter to the "common aspiration of the Filipino people to pursue sound economic recovery and a better life in cooperation with China."
"China always holds that defense and security cooperation between countries should be conducive to regional peace and stability, not target against any third party, even less to harm the interests of a third party," the Chinese Embassy in Manila said in its statement.
"It is hoped that the Philippine side stays vigilant and resists... being taken advantage of and dragged into trouble waters," it added.
China also accused the US of going on a smear campaign against Beijing. Austin, during Thursday's joint press briefing, said discussions with his Philippine counterparts included the "destabilizing activities" in the waters around the country.
"These efforts are especially important as People's Republic of China continues to advance this illegitimate claims in the West Philippine Sea," Austin said.
Philippine Ambassador to the United States Jose Manuel Romualdez, meanwhile, said in a separate interview that the new areas of joint military operations under the Enhanced Defense Cooperation Agreement between Manila and Washington are not meant to oppose any country. — Reports from Kaycee Valmonte